Cupressus goveniana / Gowen cypress
Cupressus goveniana, as described in 1849 by George Gordon (1806 – 1879), in Journal of the Horticultural Society of London, 4th edition, is commonly known as Gowen cypress. Gordon named the species in honor of James Robert Gowen, Secretary of the Horticultural Society of London and thus, his boss.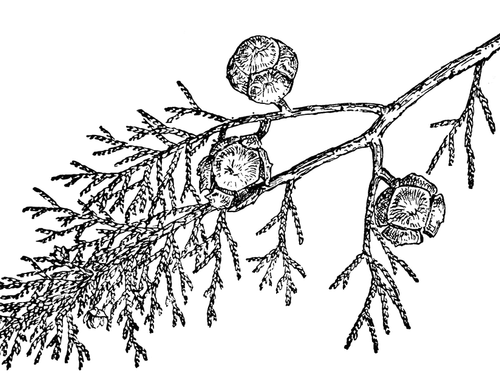 Description. Gowen cypress is an evergreen coniferous species of tree or shrub that grows to mature heights of 33 feet (10 m) tall, but to 165 feet (50 m) when growing under favorable conditions, or maturing and bearing cones at as little as 8 inches (20 cm) tall when growing on shallow, hard-pan soils.
Crown is globose to columnar, with dense or sparse branching.

Bark is smooth or rough, with fibrous texture.

Branchlets are decussate, measuring 0.04 to 0.06 inch (1 - 1.5 mm) in diameter.

Leaves lack abaxial glands or sometimes with embedded abaxial glands that do not produce drops of resin. They are not glaucous.

Pollen cones measure 0.12 to 0.16 inch (3 - 4 mm) long and 0.06 to 0.08 inch (1.5 - 2 mm) wide; pollen sacs number 3 to 6.

Seed cones are globose, measuring 0.08 to 1.2 inches (1 - 3) cm, with grayish brown color, not glaucous. Seed scales 3 to 5 pairs, with smooth consistency, and a nearly flat umbo at maturity.

Seeds measure 0.12 to 0.2 inch (3 - 5 mm), colored dark brown to jet black, and is sometimes slightly glaucous. The type variety is distinguished from var. abramsiana by its smaller 0.52 to 0.8 inch (13 - 20 mm) long cones and darker (brown-black, not glaucous) seeds.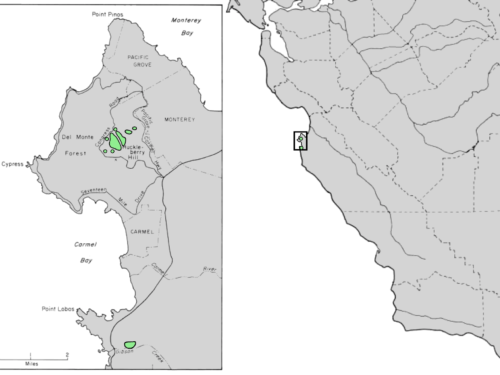 Distribution. This species is native to USA — California, where it is found growing at elevations of 200 to 2,500 feet (60 - 800 m) above sea level in coastal closed-cone pine forests, especially on sterile soils. The type variety occurs naturally only at two groves in Monterey County, located in the S.F.B. Morse Botanical Reserve (locally referred to as Huckleberry Hill) and in Point Lobos State Park.
Hardy to USDA Zone 8 (10 to 20°F / -6.7 to -12.2°C), and is will suited for culture in Mediterranean climate zones.
Attribution from: James E. Eckenwalder; Cupressus. Flora of North America Editorial Committee (editors); Flora of North America North of Mexico, Vol. 2. ©1993. Oxford University Press.