Cupressus arizonica / Arizona cypress
Cupressus arizonica, as described in 1882 by Edward Lee Greene (1843–1915), in Bulletin of the Torrey Botanical Club, vol.9; is commonly known as Arizona or roughbark Arizona cypress. The species name recognizes Arizona, an American state where this conifer is endemic. This and most other new-world cypresses are assigned to subgenus Hesparocyparis.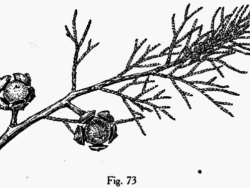 Description. Arizona cypress is an evergreen coniferous species of tree that grows to mature heights of 80 feet (25 m) tall, with a broadly conical crown.

Bark is gray to black-brown in color and furrowed.
Branches spread horizontally.
Shoots are short, thick, and four-sided; spreading in all directions.

Foliage is scale-like, measuring mostly 0.08 inch (2 mm) long; and is acuminate, typically glaucous-green; with resin glands on the dorsal side of the leaf. They are not conspicuous or only slightly so;

Seed cones are shortly petiolated and globose. They are large, measuring 0.8 to 1.2 inches (2 - 3 cm), colored dark red-brown, with a bluish frosting. Cones are composed of 6 to 8 scales with prominent dorsal processes.

Seeds measure 0.16 to 0.2 inch (4 - 5 mm) long, colored dark brown, occasionally with bluish frosting. There are circa 90 to 120 seeds to a cone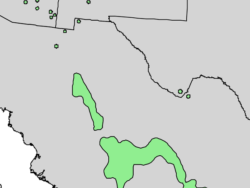 Distribution. This species is native to USA — Texas, New Mexico, and southeastern Arizona; and Mexico — Chihuahua, Coahuila, Durango, Tamaulipas, Zacatecas; growing at elevations of 3,300 to 5,000 feet (1,000 - 1,500 m) above sea level in the US, and up to 7,250 feet (2,200 m) in Mexico.

J.A. Bartel, in 1993, in the article: Cupressaceae: Cypress family, in Journal of the Arizona-Nevada Academy of Science, identifies it as occurring from Big Bend in Texas, northwest to Greenlee County and the Santa Catalina Mountains in Arizona, with Cupressus glabra occurring in still more northwestern portions of Arizona.

Robert P. Adams, in 2008, in his book: Junipers of the World: The Genus Juniperus. 2nd edition, places it in the 4-corners area of Coahuila-Chihuahua-New Mexico-Arizona and northwest from there through central Arizona to the Prescott area.
Hardy to USDA Zone 7 — cold hardiness limit between 0° and 10°F (-17.7° and -12.2°C).



Attribution from: Mirko Vidakovic; Conifers: morphology and variation; translated from Croatian by Maja Soljan; ©1991, Graficki Zavod Hrvatske, Croatia .