Conifer Registration
As a service to its members the American Conifer Society provides a way to register new conifers. ACS has established a database of conifer cultivars that resides at the Dawes Arboretum in Newark, Ohio, and is duplicated at the Royal Horticultural Society (London), that is used by scholars and researchers world wide. The ACS's current Conifer Registrar is Gregory Payton, Director of Living Collections at the Dawes Arboretum in Ohio.
To see a checklist of cultivars registered through this program, click here.
Gregory Payton explains:
International Cultivar Registration Authority (ICRA) name registration is a service that has been in operation for more than 50 years and provides conformity and reference for cultivar names. The ICRA does not conduct trials or judge if one cultivar is better or more useful than another. The authority's sole function is recording distinct cultivar names. Although participation is voluntary, adherence to the standards for cultivar names is highly recommended. These standards are outlined by the International Code of Nomenclature for Cultivated Plants (ICNCP), which is published by the International Society for Horticultural Science (ISHS). It is strongly recommended that cultivar names conform to standards set forth by this publication. More information can be found here: https://www.ishs.org/scripta-horticulturae/international-code-nomenclature-cultivated-plants-ninth-edition.
Most plant-group registrars also produce lists of name registrations, and these lists are published as a reference to the public. In addition to publication and confidence that their name will be properly recorded and recognized forever, registrants also receive a certificate suitable for framing!
The Dawes Arboretum serves as the representative for North American conifer registrations, working in concert with the Royal Horticultural Society, RHS Garden Wisley, United Kingdom. For North American registration form requests and submissions contact:
The Dawes Arboretum (Conifer Registrations)Notes on REGISTERING A CONIFER
7770 Jacksontown Rd. Newark, OH 43056
For more information on the program and lists of additional ICRAs, visit the ISHS website at https://www.ishs.org/nomenclature-and-cultivar-registration/icra.
The steps to registration are as follows:
Download these two documents: Notes on Registering a Conifer and the Registration Form..
Carefully read the Notes document before filling out the Registration.
Send the completed Registration document and a fresh specimen to the Registrar at the address on the Registration form.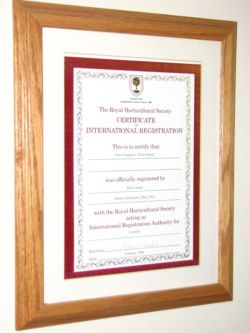 Also send a photo(s) (or .jpg image[s]) to the Registrar. The photo(s) should depict the quality which distinguishes the plant from other similar plants, e.g., a conifer noted for early red or yellow foliage should be photographed when this characteristic is most evident.
The Registrar will then review the document, specimen and photos for accuracy; specimens will be pressed and held indefinitely in a herbarium at Dawes for future reference.
A copy of the registration will be forwarded to RHS in England.
Upon acceptance by Dawes and RHS the registrant will be presented with a certificate.