Chamaecyparis obtusa / Hinoki cypress
Chamaecyparis obtusa, as described in 1847 by (Siebold et Zuccarini) Stephan Friedrich Ladislaus Endlicher (1804–1849), in Synopsis Coniferarum, 63rd edition, is commonly known as 檜 or 桧 (Hinoki or Finuchi) in the Japanese language or simply Hinoki cypress or false-cypress. The epithet references the blunt (or obtuse) foliage tips.
There are two recognized varieties:
For more taxonomic data, please refer to the Tropicos entry for this species.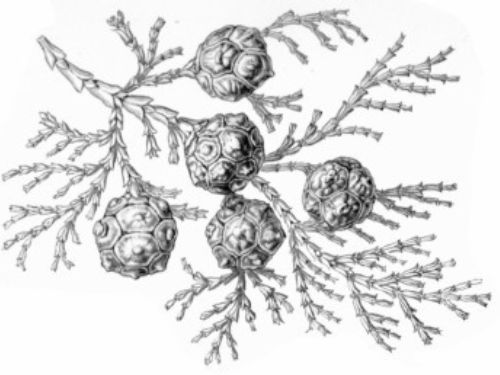 Description. Hinoki cypress is an evergreen coniferous species of tree in the Cupressaceae family which grows to mature heights 130 feet (40 m) tall with a 10 foot (3 m) trunk diameter, measured at breast height.
Trunk is straight, bark reddish brown, fibrous, and fissured into thin strips.
Branchlets are slender and closely arranged in one horizontal plane.
Foliage is subulate on seedlings, then scale-like, densely imbricate, closely appressed, dark green above, with white marks beneath The apex is obtuse and often keeled.
Seed ones are globose at maturity , 0.3 to 0.5 inch (8 - 12 mm) in diameter, with 8-10 scales , each scale smoothly rounded and minutely mucronate, the apical pair of scales fused.
Seeds about 0.12 inch (3 mm) long, narrowly winged, and about 0.16 inch (4 mm) in diameter.
Distribution. This species is native to southern Japan.
For more pictures of mature plants in nature or large public gardens, please refer to the TreeLib entry for this species.
Attribution from: Chris Earle, The Gymnosperm Database, ©2012