Chamaecyparis lawsoniana / Lawson cypress
Chamaecyparis lawsoniana, as described in 1864 by (A. Murray) Filippo Parlatore (1816–1877), in Annali del Museo Imperiale di Fisica e Storia Naturale di Firenze, is commonly known as Port Orford cedar, white or Oregon cedar, ginger pine, or Lawson cypress. This conifer was introduced to cultivation in 1854 when William Murray sent seed from California to Charles Lawson (1794-1873), then head of Peter Lawson and Son nursery of Edinburgh, Scotland. Golden Gate nursery of San Francisco offered plants for sale in 1858-59. [source: Jacobson].
For more taxonomic data, please refer to the Tropicos entry for this species.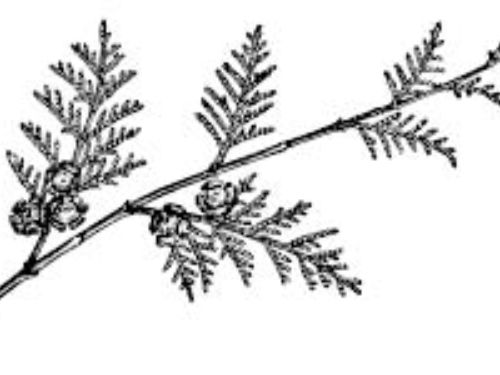 Description. Lawson cypress is a large evergreen tree, maturing at heights of 200 feet (60 m) tall or more, with trunks up to 4 to 7 feet (1.2 – 2 m) in diameter, measured at breast height.

Bark is reddish-brown in color and is fibrous to scaly in vertical strips.

Foliage is feathery, growing in flat sprays, usually somewhat glaucous blue-green in color. The leaves are scale-like, measuring 0.15 inch (3–5 mm) long, with narrow white stomatal lines on the underside, and produced on somewhat flattened shoots. The foliage gives off a rather pungent scent, not unlike parsley.

Pollen cones measure 0.14 inch (3 – 4 mm) long, dark red, turning brown after pollen release in early spring.
Seed cones are globose, measuring 0.25 to 0.5 inch (7 – 14 mm) in diameter, and are comprised of 6 to 10 scales, colored green at first, later maturing brown in early fall, 6 to 8 months after pollination.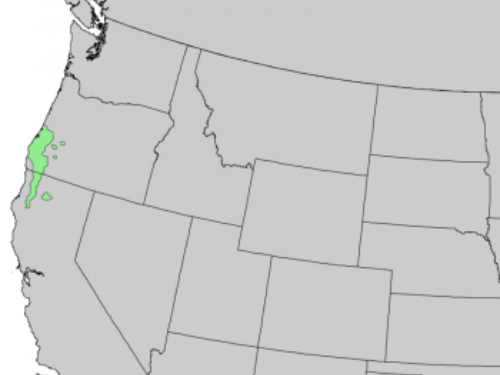 Distribution. This species is found from Coos Bay in southwestern Oregon to the Klamath river in northwestern California, near the coast and locally to 5,500 feet (1,700 m) in the Siskiyou Mountains and Mt. Shasta area. Prefers sandy and clay loams and rocky ridges. It is commonly grown, easily propagated, and is tremendously prolific with cultivars. Only a tiny fraction of cultivars originated in North America. A deadly root-rot (Phytopthora lateralis) appeared in Oregon circa 1950, and has resulted in a dramatic decrease of the commercial availability of the species.
For more pictures of mature plants in nature or large public gardens, please refer to the TreeLib entry for this species.
Attribution from: Wikipedia, The Free Encyclopedia