Chamaecyparis hodginsii / Fujian cypress
Chamaecyparis hodginsii was first described by, (Dunn) Rushforth in 2007, and has gone through several nomenclature changes over time. Synonyms include:
Cupressus hodginsii (Dunn 1908)
Fokienia kawaii (Hayata 1917), nom. illeg.;
Fokienia maclurei (Merrill 1922);
Fokienia hodginsii ((Dunn) A. Henry et H.H. Thomas 1911);
Fokienia hodginsii (Dunn) A. Henry et H.H. Thomas var. kawaii (Hayata) (Silba 2000)
In particular, this species is still referred to in most current sources as
Fokienia hodginsii
. However, Gadek et al. (2000) and Little et al. (2004) both present molecular data showing it as nested within
Chamaecyparis
. Rushforth (2007) presents a fairly intricate argument based mostly on cone morphology and development to place it within
Chamaecyparis
, and a recent molecular analysis by Mao et al. (2010) also places it within
Chamaecyparis
where it will be treated in this database.
Common names include Fujian cypress — 福建柏 in the Chinese language, Fújiànbǎi in the pinyin language and Pơmu in Vietnamese. The name derives from the old Romanized name of Fujian province, China, from where the first specimen was introduced to Europe, collected by a Captain Hodgins in 1908.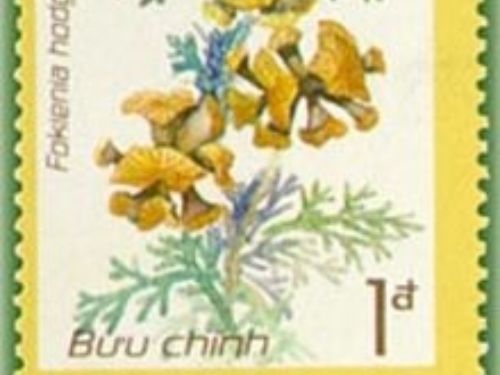 Description. Fujian cypress is an evergreen coniferous tree, growing up to 80 to 100 feet (25–30 m) tall. It has greyish-brownish bark that peels off when the tree is young. In older trees, the bark presents longitudinal fissures and becomes aromatic. The leaves are arranged in flattened branchlet systems, with the branchlets in one plane. The leaves on adult trees are in opposite decussate pairs, the alternating pairs not evenly spaced so appearing as whorls of 4 at the same level; they are sub-acute, about 0.08 to 0.2 inch (2 – 5 mm) long, glossy green above, with white stomatal bands below. The lateral leaves are ovate and compressed, and facial leaves are oblanceolate with a triangular apex. On young trees, the leaves are larger, up to 0.3 to 0.4 inch (8 – 10 mm) long and 0.25 inch (6 mm) broad.
The male cones are oval or cylindrical and around 0.1 inch (2.5 mm) long, occurring on terminal shoots. They have from 3 to 5 pairs of scales. The female cones are much larger, 0.6 to 1 inch (15–25 mm) long and 0.5 to 0.9 inch (14 – 22 mm) broad, globose or sub-globose, and will ripen in their second year. They have 5-8 pairs of scales. There are two winged seeds on each scale which are around 0.16 inch (4 mm) long, angular and pointed. On the upper and lower surfaces there are 2 large resin blisters. The wings are lateral and very unequal.
Distribution. This species is native from southeastern China (Zhejiang, Guizhou, Yunnan and Fujian provinces) to northern Vietnam (Ha Bac, Ha Giang, Ha Tinh, Hoa Binh, Son La, Nghe An, Lao Cai, Lai Chau, Thanh Hoa, Tuyen Quang, Yen Bai and Vinh Phu provinces ), west-central Vietnam (Dac Lac, Gia Lai, Lam Dong provinces), and west to northern Laos.
Attribution from: Chris Earle, The Gymnosperm Database © 2012