Cephalotaxus oliveri / Oliver's plum-yew
Cephalotaxus oliveri, as described in 1898 by Maxwell Tylden Masters (1833–1907), in Bulletin de l'Herbier Boissier, 6th edition, is commonly known as Oliver's Plum-yew; as well as 篦子三尖杉 (bi zi san jian shan) in the Chinese language; and as Phi luoc bí in Vietnamese. The species name honors Daniel Oliver (1830 - 1916), keeper of the Royal Botanic Gardens at Kew, United Kingdom from 1864 - 1890, who published an illustration of the species under a mistaken name while he was editor of Icones Plantarum.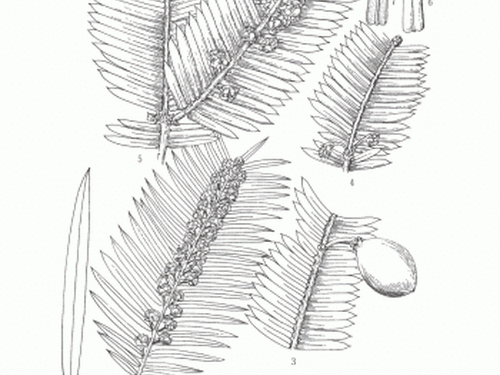 Description. Oliver's Plum-yew is an evergreen coniferous species of shrub or small tree which will grow to mature heights of 12 feet (4 m) tall.
Bark is scaly and yellow to grayish brown in color.
The hard and leathery leaves are held at a 55 to 70° angle to the branchlet axis; they are dull matte green in color, linear-lanceolate, in shape, 0.6 to 1.3 inches (1.5 - 3.2 cm) long by 0.09 to 0.12 inch (2.3 - 3.2 mm) broad. Stomatal bands occur on abaxial surfaces.
Seeds cones are borne solitary, attached by ca. 0.12 inch (6 mm) peduncle.
Seeds are obovoid, ovoid, or almost globose in shape, measuring 1 inch (2.5 cm) long by 0.6 inch (1.6 cm) broad. Pollination takes place during March and April, seed maturity generally occurs from August through October.
Distribution
. This species is native to China — northern Guangdong, Guizhou, western Hubei, Hunan, eastern Jiangxi, southern and western Sichuan (especially Emei Shan), eastern Yunnan provinces. Some authorities also place it in Thailand; Laos; Vietnam, and eastern India. It is most commonly found growing in coniferous and broad-leaved forests at elevations of 1,000 to 6,000 feet (300 - 1,800 m) above sea level.
Hardy to UDSA Zone 8 — cold hardiness limit between 10° and 20°F (-12.1° and -6.7°C).
Attribution from: Fu Liguo (傅立国), Li Nan (李楠), and Robert R. Mill; Sections on Cephalotaxaceae, Ginkgoaceae and Pinaceae; In Wu Zheng-yi and Peter H. Raven (editors); Flora of China, Volume 4; ©1999, Science Press, Beijing.