Cephalotaxus latifolia / Broad-leaf plum-yew
Cephalotaxus latifolia, as described in 1999 by W.C. Cheng and L.K. Fu ex L.K. Fu et al. in Novon, 9th edition, is commonly known as Broad-leaf plum-yew (translated from Latin); as well as 宽叶粗榧 (kuan ye cu fei) in the Chinese language.
This name was invalid as originally described (as Cephalotaxus sinensis var. latifolia W. C. Cheng et L. K. Fu in W. C. Cheng et al., Acta Phytotax. Sin. 13(4): 86. 1975), and when later raised to species rank (L. K. Fu, Acta Phytotax. Sin. 22: 280. 1984), because two types (male and female) were designated. Cephalotaxus latifolia is more similar to C. harringtonii (Knight ex J. Forbes) K. Koch (C. drupacea Siebold et Zuccarini), from Japan and Korea, than to C. sinensis, with which it has been united by some authors. Cephalotaxus harringtonii has often been recorded from China (e.g., by S. Y. Hu, Taiwania 10: 25-26. 1964; A. Farjon, World Checkl. Bibliogr. Conif. 28. 1998), but apparently always as a misidentification of either C. latifolia or C. sinensis.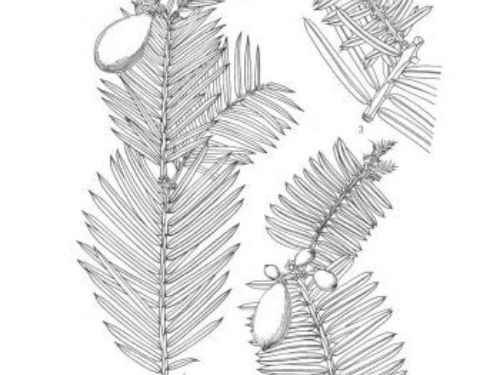 Description. Broad-leaf plum-yew is an evergreen coniferous species of shrub or small tree that grows to mature heights of 18 feet (5 m) tall.
Bark is grayish brown in color.
Branches are stout. Leafy branchlets are oblong in outline, measuring 2.2 to 3.6 inches (5.5 - 9 cm) long and 1.6 to 2 inches (4 - 5 cm) wide.
Leaves: are borne at 65 to 80° angles to branchlet axis, and are sessile but decurrent for the whole length of internode. Leaf blades are dark olive green in color adaxially, linear, more-or-less straight, measuring 0.64 to 1.2 inches (1.6 - 3 cm) long and 0.112 to 0.16 inch (2.8 - 4 mm) inch wide, with a thick and leathery texture. Midveins are raised adaxially and bordered on each side by a paler, longitudinal channel that is strongly raised abaxially, measuring 0.01 to 0.02 inch (0.25 - 0.5 mm) wide. Stomatal bands are white, measuring 0.032 to 0.04 inch (0.8 - 1 mm) wide, consisting of 11 to 15 rows of stomata, that are circa 2 to 3 times as wide as midvein. Marginal bands are green in color measuring circa 0.012 inch (0.3 mm) wide. Leaf bases are cuneate, and slightly asymmetric, with flat margins (slightly revolute when dry). Leaf apices are abruptly mucronate, with a mucro measuring 0.008 to 0.016 (0.2 - 0.4 mm).Although its leaves usually terminate in a relatively long cusp (as in C. sinensis), occasional variants with very shortly mucronate leaves occur. These variants are similar to C. latifolia and C. mannii (C. hainanensis); their taxonomic status, and their relationship with the latter two taxa, need investigation.
Pollen cone capitulae are axillary on lower side of branchlet axis, attached by a scaly 0.06 to 0.1 inch (1.5-2.5 mm) peduncle. Bracts number around 9. They are ovate, borne in 4 rows, with apical bracts measuring circa 0.028 to (0.7 mm) long and 0.012 inch (0.3 mm) wide, and mucronate apices.
Seeds cones are borne in clusters of 2 to 6 together, attached by a scaly 0.08 to 0.16 inch (2 - 4 mm) long; peduncle.
Seeds are obovoid shaped, measuring 0.72 to 0.8 inch (1.8 - 2 cm) long. Apex has a small mucro at center.
Distribution
. This species is native to China — northwestern Fujian, northern Guangdong, northeastern Guangxi, southeastern Guizhou, southwestern Hubei, western Jiangxi, and southeastern Sichuan provinces, found growing in thickets in mountainous areas at elevations of 3,000 to 8,000 feet (900 - 2,400 m) above sea level.
Hardy to USDA Zone 7, cold hardiness limit between 0º to 10ºF (-17.7° and -12.2°C).
Attribution from: Fu Liguo (傅立国), Li Nan (李楠), and Robert R. Mill; Sections on Cephalotaxaceae, Ginkgoaceae and Pinaceae; In Wu Zheng-yi and Peter H. Raven (editors); Flora of China, Volume 4; ©1999, Science Press, Beijing.