Cephalotaxus fortunei / Chinese plum-yew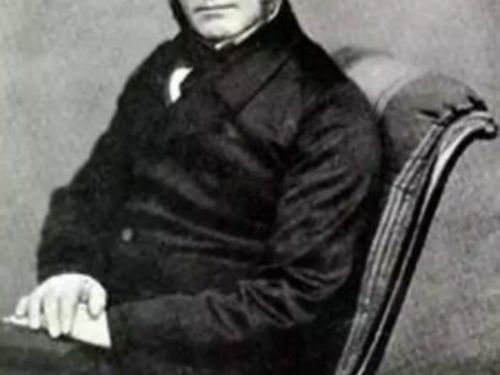 Cephalotaxus fortunei, as described in 1850 by William Jackson Hooker (1785 – 1865), in Botanical Magazine, vol.76 is commonly known as plum-yew, or Chinese plum-yew; as well as 三尖杉 (san jian shan) in the Chinese language. This species name honors Robert Fortune (pictured to the right), who collected it in China and introduced to Europe circa 1849 and the U.S. circa 1858.
There are two described varieties of this species.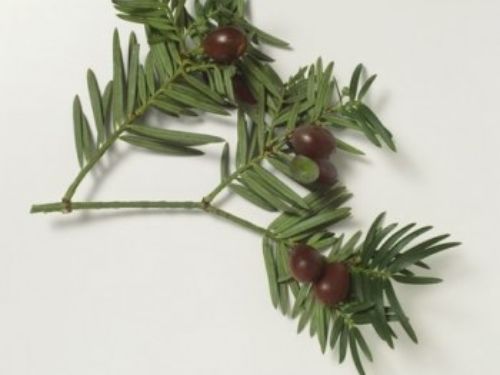 Description. Chinese Plum-yew is an evergreen coniferous species of tree which grows to mature heights of 65 feet (20 m) tall, with a trunk up to 8 inches (20 cm) in diameter at breast height. It is usually multi-stemmed, with an open, loosely rounded crown.
Bark is dark red-brown, peeling in strips.
Branches and shoots are slightly pendant.
Leaves grow almost horizontally spreading, borne at 30 to 110° to branchlet axis. They are deep-green in color and adaxially glossy, linear-lanceolate shaped, distally gradually attenuate (from proximal 1/3 of blade), falcate or more-or-less straight and flat. Individual needles measure 1.4 to 5 inches (3.5 - 12.5 cm) long by 0.13 to 0.2 inch (3.2 - 5 mm) wide, the longest in the genus. They are leathery but usually rather soft and flexible. The leaves have 0.05 to 0.08 inch (1.2 - 2.1 mm) wide stomatal bands, usually consisting of 17 to 24 rows of stomata.
Pollen cones are distinctly pedunculate with a 0.08 to 0.2 inch (2 - 5 mm) peduncle, and globose shape. The measure 0.24 to 0.4 inch (6 - 10 mm) in diameter, with 3 or 4 pollen sacs.
Seed cones are borne in clusters of 3 to 6, each with a 0.12 to 0.47 inch (3 - 12 mm) peduncle. Arils are yellow or green initially, turning purple when ripe, measuring 0.56 to 1 inch (1.4 - 2.5 cm) long by 0.36 to 0.6 inch (0.9 - 1.5 cm) wide, with numerous indistinct striations or prominent longitudinal ridges.
Seeds are ellipsoid, measuring 0.52 to 0.96 inch (1.3 - 2.4 cm) long and 0.28 to 0.56 inch (0.7 - 1.4 cm) wide.
Distribution
. This species is native to northern Myanmar and China — southern Anhui, Fujian, southern Gansu, Guangdong, Guangxi, Guizhou, southern Henan, western Hubei, Hunan, Jiangxi, Shaanxi, Sichuan, Yunnan, and Zhejiang provinces, growing in mixed, coniferous, and broad-leaved forests, thickets, and roadsides at elevations of 650 to 11,200 feet (200 - 3,700 m) above sea level. It is quite tolerant of shade.
Hardy to USDA Zone 7, cold hardiness limit between 0º and 10ºF (-17.7° and -12.2°C).
Attribution from: Kim E. Tripp; Cephalotaxus: the plum yews; ©1995 Arnoldia 55(1): 24-39.