Cedrus libani / Cedar of Lebanon
Cedrus libani, as described in 1823 by French botanist Achille Richard (1794 - 1852), in Dictionnaire classique d'histoire naturelle, 3rd edition, is commonly known as Cedar of Lebanon or Lebanon cedar. This conifer is the national emblem of Lebanon, and is prominent both on the Lebanese flag its coat of arms.
There are two recognized subspecies:
Cedrus libani subsp. libani, the type which is described here.
Cedrus libani subsp. stenocoma
Some botanists also classify the Cypriot cedar (Cedrus brevifolia) and Atlas cedar (Cedrus atlantica) as subspecies of C. libani. However, a majority of the modern sources consider them distinct species.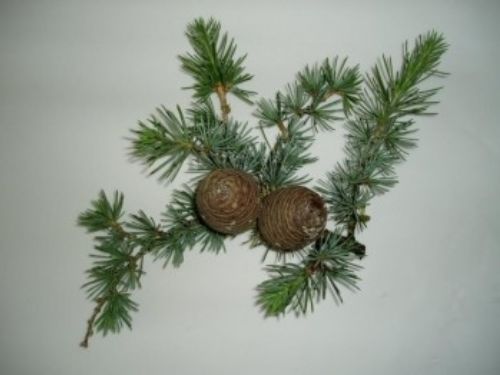 Description. Cedar of Lebanon is an evergreen coniferous species of tree which that grows to mature heights of 65 to 90 feet (20 – 40 m) tall with a trunk up to 10 feet (3 m) in diameter, measured at breast height.

The tree's crown is dense, pyramidal in youth, developing a wide umbrella shape with age.

Bark is dark gray and fissured.

Branches are very thick, long, on young trees, ascending at first, later becoming horizontal.

Shoots are glabrous or slightly pubescent.

Needles are produced on short shoots, in tufts of 30 to 40, usually stiff, and dark green in color. Individual needles measure 0.6 to 1.4 inches (1.5 – 3.5 cm) long, about 0.04 inch (1 mm) wide, and are acuminate, and 4-sided.

Pollen cone "Flowering" occurs from June to September.

Seed cones are erect, with a flat or slightly concave apex, measuring 3.2 to 4 inches (8 - 10 cm) long and 1.6 to 2.4 inches (4 – 6 cm) broad, brown in color, and resinous. Cones ripen from August to October; shedding seeds until spring.

Seeds measure 0.6 to 0.7 inch (15 – 18 mm) in size with a 1 inch (25 mm) long wing.
Distribution. This species is originally native to Asia Minor. Currently found in Syria, and Lebanon — the Jebel Alaonite mountains, where it is now very rare (according to Paule (1975) there are about 2,000 to 3,000 hectares of forests of this species), but it is still plentiful in the Taurus and Cilician Taurus in Turkey. It grows at elevations of 4,000 to 6,500 feet (1,300 - 2,100 m) above sea level.
Attribution from: Vidakovic, Mirko. ©1991. Conifers: morphology and variation. Translated from Croatian by Maja Soljan. Croatia: Graficki Zavod Hrvatske.