Cedrus deodara / Deodar cedar / Himalayan cedar
Cedrus deodara, as described in 1830 by (Roxb. ex D. Don) George Don, in Loudon's Hortus Britannicus, is commonly known in the English language as Deodar cedar, Himalayan cedar, or deodar; as well as देवदारु (devadāru) in Sanskrit; देवदार (devadār) or दारूक (dāruk) in Hindi; دیودار (devadār) in Urdu; or as 雪松 (xue song) in Chinese.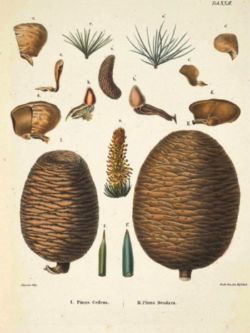 Description. Himalayan cedar is an evergreen coniferous species of tree that grows to mature heights of 150 feet (50 m) tall, with a trunk up to 10 feet (3 m) in diameter, measured at breast height.

Its crown is conical when young, with a drooping leader and branches drooping at the ends, older trees become rounded with age.

Branches are held horizontally arranged, with pendulous shoot ends.

One-year shoots are densely pubescent.

Needles are blue-green, about 30 in a cluster, measuring circa 1 to 1.5 inches (3-5 cm) long.

Pollen cones (flowers) appear in September and October.

Seed cones appear solitarily or in pairs and are ovate- or barrel-shaped. Individual cones measure 3 to 4 inches (7 - 10 cm) long and 2 to 2.5 inches (5 - 6 cm) wide, rounded at the apex, bluish when young, reddish-brown when ripe; maturing from September to November. The cones disintegrate from September to December shedding the winged seed.

Seed scales measure 2 to 2.5 inches (5-6 cm) wide, and are typically glabrous on the upper side.

Seeds measure circa 0.68 inch (17 mm) long, and 0.24 inch (6 mm) wide, with large, light brown wings.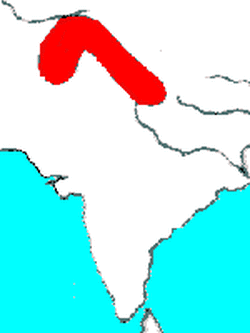 Distribution. This species is native to the western Himalayas in eastern Afghanistan, northern Pakistan (especially in Khyber Pakhtunkhwa and the regions of Azad Kashmir), northern Republic of India — Jammu and Kashmir, Himachal Pradesh and Uttarakhand states, southwestern-most Tibet and western Nepal, growing at elevations of 5,000 to 10,500 feet (1,500 – 3,200 m) above sea level.
Hardy to USDA Zone 6 — cold hardiness limit between -10° to 0°F (-23.2° and -17.8°C).