Athrotaxis selaginoides / King Billy pine
Athrotaxis selaginoides, first described in 1841 by David Don (1799–1841), is commonly known as King Billy pine, named in honor of William (KIng Billy) Lanne (1835-1869), who was the last living male Tasmanian native.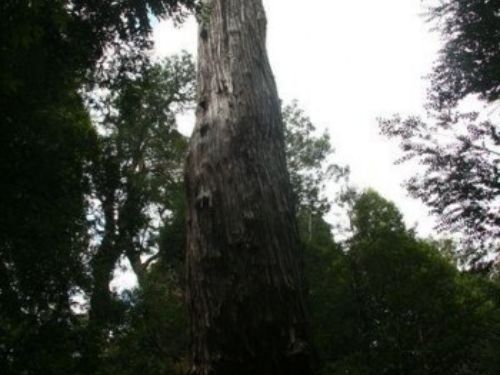 Description. King Billy pine is a conical, evergreen coniferous species of tree which will grow to a mature height of 100 feet (30 m) tall and 6 foot (2 m) diameter trunk at breast height, most often seen with a long clear trunk and small tufted crown. In exposed conditions it can be small, twisted, shrub-like, hugging the ground. Its bark is dark orange-red, slightly furrowed, exfoliating in long soft and spongy strips. Branchlets are upright and smooth, tufted near the crown, and are bright light green in color. Leaves are spirally arranged, shiny green, free and spreading, acute, awl-shaped, lanceolate, pointing forwards, with an incurved apex and sharply acuminate, 0.3 to 0.5 inch (8 - 13 mm). long, keeled on the back with 2 small glaucous depressions, and two bright bluish-white bands beneath with complete margins. Pollen cones occur terminally on short branchlets, with 2 pollen sacs. Seed cones occur on a peduncle ca 0.1 inch (2 - 3 mm) long and are globular, ca. 1 inch (2.5 - 3 cm) long, orange, at first, later turning brown with papery, triangular, acuminate and denticulate scales. There are 2 to 4 seeds per cone scale.
Distribution. This species is native to Australia — the island of Tasmania in mountainous regions of the central plateau, extending almost to the West coast, growing at elevations of 2,900 to 3,900 feet (914 - 1,219 m) above sea level.
Attribution from: Silba, J. ©1986. An international census of the Coniferae. Phytologia memoir no. 8. Corvallis, OR: H.N. Moldenke and A.L. Moldenke.