Witch's Brooms at the Hoyt Arboretum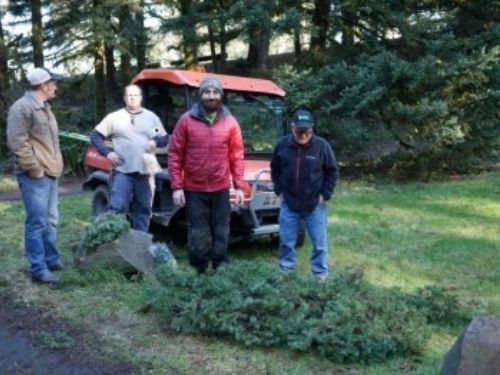 True coneheads know that witch's brooms can be the key to exciting new cultivars. Those of you that attended the 2014 WR Annual Meeting and visited the Hoyt Arboretum with us might recall the brooms that we noticed during our visit: one a congested mass in a Pseudotsuga menziesii, one a yellow mutation on a branch in a Sitka spruce. The Hoyt is an ACS Reference Garden and we have a long history of collaborating on projects together. This time, thanks to the help of Oregon Tree Care and the assistance of Hoyt Curator Martin Nicholson, we were able to collect some scion wood from the brooms a few weeks ago! We have not yet decided on a name for the Sitka broom, as its survival is questionable. We did agree, however, that the most appropriate name for the Fir would be 'Fischer's Flats'. The name honors prior Curator Ernie Fischer, and was found on a street named Fischer Lane. Additionally the broom had a flat, prostrate form.
Scion wood from the brooms will be propagated by Conifer Kingdom, Nathan Miller and European Nursery. We look forward to seeing the results!
Comments