What is a Japanese Cedar?
Learn about the diverse shapes and colors of a fan-favorite conifer, the Japanese cedar.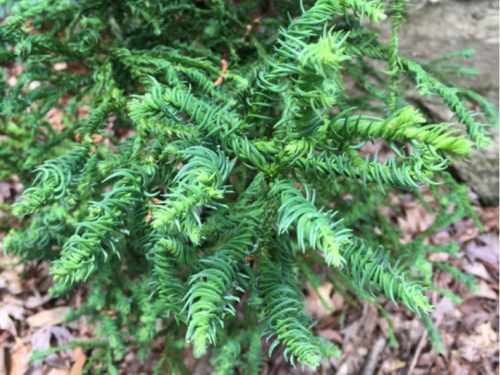 When you love and appreciate the beauty of something, it is human nature to want to nurture it, collect it, and own it. I have to admit, taking on the task of building a garden in the deep South using mostly conifers has been a somewhat challenging experience.
Couple the desire to acquire and collect all you can with the arrogance to believe that you can keep it alive where others have failed, and it enables one to build one heck of a collection, at least for a while.
"Kill and Learn" is my motto after trying to maintain the various genera and species in the heat of the South, and I have an upscale BMW in dead plants on my resumé to prove it.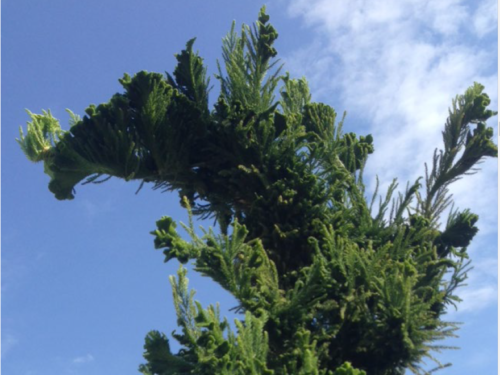 Cryptomeria: A Diverse Genus
One monotypic genus that truly inspires my collecting addiction is Cryptomeria japonica. Provide raised beds for good drainage and enough moisture, and most Japanese cedars will do great here.
What I like most about Cryptomeria is the varied and mutated cultivars. I call it the "Chernobyl" of genera. The diversity of cultivars, which range from very large to very small, with unique foliage and winter changes in color, testify to the diversity of this genus.
The twisted needles of 'Rasen', the fasciations and cockscombs of 'Cristata', and the wiry, long branches of 'Araucarioides', which I call the "Medusa Crypt", are only a few of the cultivars I could list that exhibit highly unusual foliage.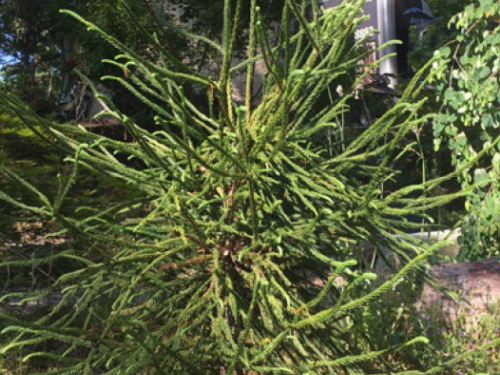 Large, Medium, and Dwarf Japanese Cedars
Many large growing cultivars like 'Yoshino', 'Jindai' and the yellow tipped 'Sekkan' are available for screens, but many more cool dwarfs abound. Medium sized trees, like the 10' 'Taisho-tama', stay nice and compact, as do 'Yellow Twig' and 'Pom Pom'.
And, some grow into "meatballs" – about as high as they are wide - like 'Globosa Nana', 'Elegans Nana', and 'Little Diamond'. Then there are true miniatures like 'Tenzan'. The one pictured here is 20 years old.
The Many Colors of Cryptomeria japonica
Many Cryptomeria change colors in the winter, here in the Southeast. For instance, Cryptomeria japonica 'Knaptonensis', which has beautiful, white-tipped foliage in spring and summer, bronzes heavily in the winter.
You can always bet your neighbor $20 that it's not dead...you won't win twice! Others, like the 'Birido' shown to the right, turn purple.
Given proper drainage and enough moisture, Cryptomeria japonica cultivars will give you a very diverse group of plants to utilize in your garden design.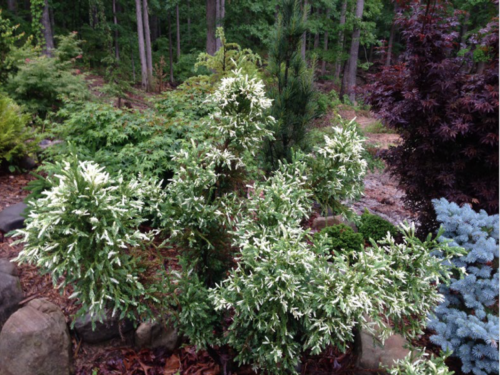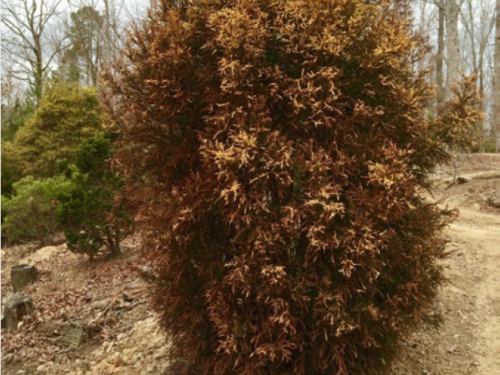 Photographs by Jody Karlin.
Jody Karlin settled in Atlanta in 1989 after graduate school in NY and started Just Add Water, his custom design aquarium business. He bought his first house and first conifer in 1997 and proceeded to collect anything and everything he could get his hands on. His two acre garden now has 2000 plant cultivars.

This article was originally published in the Summer 2017 issue of Conifer Quarterly. Join the American Conifer Society to access our extensive library of conifer-related articles and connect to a nationwide group of plant lovers! Become a member for only $40 a year and get discounts with our growing list of participating nurseries in our Nursery Discount Program.
Comments
Recently discovered your website while looking up care for Cryptomerias. Beautiful trees but local deer keep eating them. Any solutions?

deer and their preferred diets are a widely variable problem. In Washington state, I've never had one of my scores of Cryptomeria ever touched by a deer. If they're starving in your area, they'll eat everything that's green.

possible solutions:
► maybe erect a feeding station and stock it with things they prefer ??
► mean dogs in the yard ??
► repellents ??
► 8-foot-tall fence ??