Variegated Plants: Ginkgo biloba
Learn about variegated ginkgos with Mr Maple co-founder, Tim Nichols.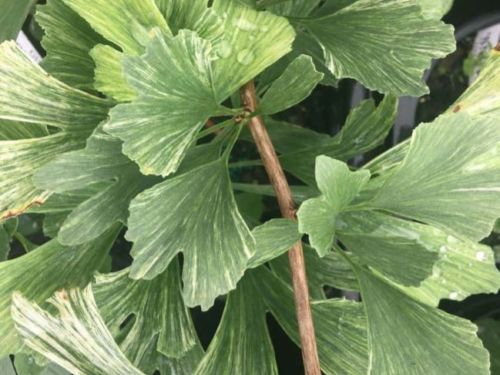 Propagation and Cultivation of Ginkgos
First, I don't think I can talk about cultivation of ginkgo without talking about giving them lime. Ginkgos prefer a more alkaline growing condition. You will notice a big difference in the health and growth of a tree with a more alkaline pH vs. a more acidic pH.
Variegated ginkgos are sought by collectors for their unique character and interesting variegated foliage. Many can prove difficult to propagate while maintaining the variegation. One common tactic is to prune out "reversions." While this method may be effective from time to time, some non-variegated branches may appear variegated the following year, while variegated branching may show no variegation the following year. It is still important, as with most variegated plants, to produce from plants that display the most stable variegation.
Another method is to give variegated ginkgos more sun. Often variegated ginkgos lose variegation more quickly in shadier conditions than in sunnier growing conditions. At our nursery, we have played around with the idea of rooting variegated selections, but these same problems appear to affect both grafted selections and rooted selections.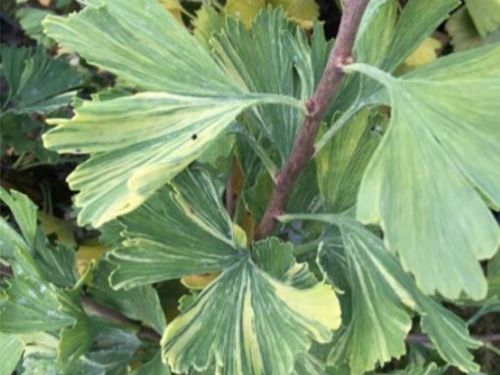 Ginkgo Cultivars: 'Jagged Jester'
While 'Variegata' may be the most common of the striped variegated selections, many other cultivars exist, such as 'California Sunset', 'Jerry Verkade', 'Joe's Great Ray', 'Majestic Butterfly', 'Sunstream' and 'White Lightning', to name only a few. Some of these may have a white striping variegation, while others may be more a creamy yellow. All of these striped, variegated selections can revert and do so frequently.
Ginkgo biloba 'Jagged Jester' is one of the most unique ginkgos I have seen. While this variegated plant still can revert, it reverts to one of my favorites, 'Jagged Jade', which has thick attractive foliage. Some believe this thicker leaf to be an indicator of a polyploid ginkgo, but I don't know anyone who has tested this in a lab.
'Jagged Jester' was found as a variegated sport on the cultivar 'Jagged Jade' by one of our friends, Crispin Silva in Moalla, Oregon. We would expect 'Jagged Jester' to grow to 5 or 6 feet in 15 years. Fall color is a bright neon yellow.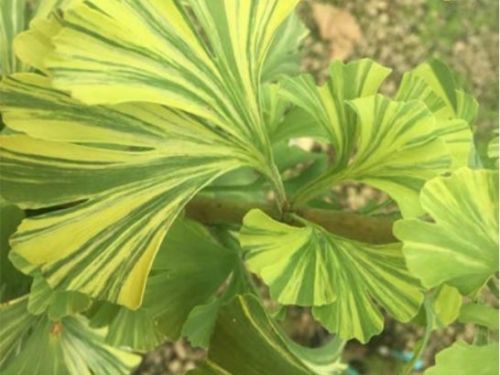 Ginkgo Cultivars: 'Pevé Maribo'
'Pevé Maribo' is a variegated sport that was found on the ever popular dwarf 'Mariken' by Piet Vergeldt in the Netherlands. The creamy yellow variegation gives this dwarf a little extra added flare and makes it unique. While this variegation is just as unstable as other variegated ginkgos, it reverts to 'Mariken', a 2010 ACS Collectors' Conifer of the year. This isn't a very risky plant, as either way it will be beautiful, dense and compact. 'Pevé Maribo' may reach 4 feet x 5 feet in 10 years.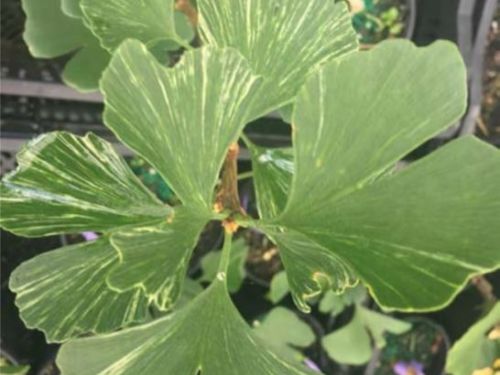 Ginkgo Cultivars: 'Beijing Gold'
'Beijing Gold' is a uniquely variegated ginkgo that doesn't revert. In the spring, older plants may leaf out completely yellow. As the spring progresses, chlorophyll pushes green into the leaf while the yellow begins to leave. By late spring to early summer, the foliage has turned to a solid green. New growth during the summer will often display white striped variegation.
While the older growth does not show this variegation, this ginkgo does not revert. Fall color, like most ginkgos, is a bright, neon-yellow. While the name makes one think this tree originated in China, the farthest I can trace this tree back is to the Netherlands in the late 1990's to early 2000's. 'Beijing Gold' may reach 8 to 10 feet in 15 years.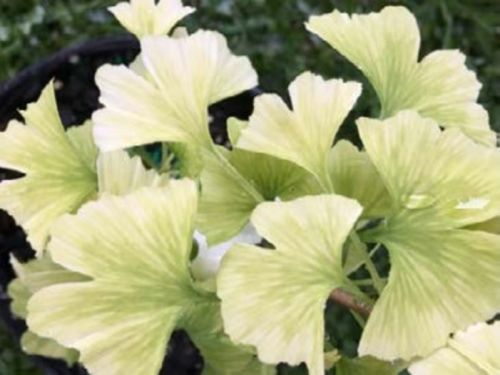 Ginkgo Cultivars: 'Snow Cloud'
'Snow Cloud' is perhaps my favorite ginkgo, primarily because it doesn't revert and displays a snow-like frosty variegation. Originally brought over from Japan by our good friend Barry Yinger of Asiatica Nursery, the original name on this ginkgo was 'Frosty'.
Years later, as soon as we tracked down a 'Frosty' from one of Barry's customers, we started grafting it and getting it into production. 'Snow Cloud' hit the market, which happens to be the same tree. While 'Frosty' may have been the original name, 'Snow Cloud' is now the more accepted name in the nursery trade.
In hot climates, the white frosted variegation will fade more, but it always puts on a great spring display of variegation. Give 'Snow Cloud' morning sun and protection from the hot afternoon sun for best variegation. Fall color is a bright, golden yellow. We expect 'Snow Cloud' to reach 6 to 8 feet in 10 years.
Text and photographs by Tim Nichols.

Tim Nichols is co-founder of MrMaple; he and his brother, Matt, own a nursery near Asheville, NC with over 1,000 cultivars of Japanese maples alone. Click here to visit their website.

Click here to learn more about Ginkgo biloba and here for dwarf G. Biloba trees.

This article was originally published in the Fall 2018 issue of Conifer Quarterly. Join the American Conifer Society to access our extensive library of conifer-related articles and connect to a nationwide group of plant lovers! Become a member for only $40 a year and get discounts with our growing list of participating nurseries in our Nursery Discount Program.
Comments