10 Types of Junipers that Everyone Should Know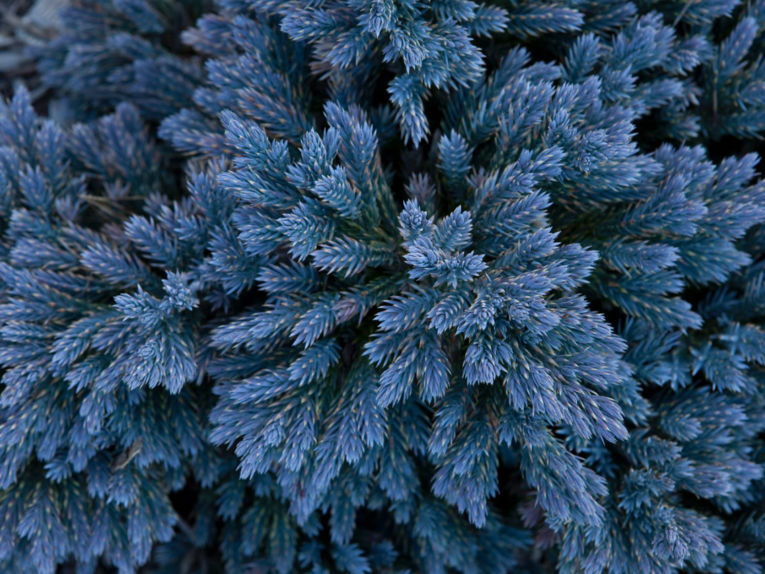 Junipers tend to be the Rodney Dangerfield of the garden: they get no respect. They are often over-planted and under-cared for in commercial settings, and at best get dismissed as 'boring'. We see too many poor examples to believe that junipers can be an asset to the garden, indeed, at times even work as specimen plantings. There are almost 60 species of junipers and about 400 cultivars. The cultivars are the plants that will give you the most bang for your garden buck, as they have been selected for smaller size, slower growth rate, and, many times, dramatic foliage. Junipers are members of the Cypress family and are native to Europe, Asia, Africa and North America. Their 'berries', which are actually seed cones with very fleshy, tight scales, were the original flavoring for gin. Note: unless otherwise specified, junipers tend to perform best in Zones 4-8 with reports of good performance in higher zones if the summers are not too humid.
1. The Juniperus squamata 'Blue Star'
This bun-shaped juniper pictured above is hardly boring! While all junipers are reasonably drought-tolerant, J. squamata is happiest with a bit more water than most. As the late Derek Spicer pointed out, this one does well in England, where moist air and frequent rainfall is the norm. Its blue color is especially vibrant in colder weather, and it certainly lights up what can sometimes be a drab winter landscape.
2. Juniperus horizontalis 'Blue Chip' (Blue Chip creeping juniper)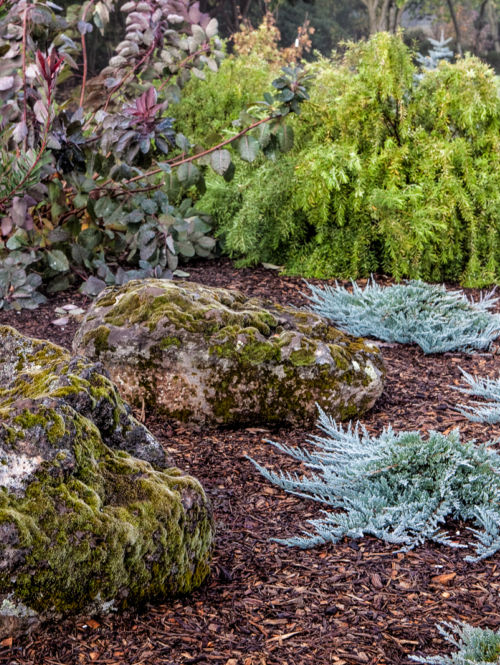 Blue Chip creeping juniper is a tough ground-cover with a softer blue tone than Blue Star. When young it resembles a starfish, and with somewhat diligent pruning it can be kept this way. Better to plant it where it has room to roam, and it will fill in and make a lovely, low-water grass substitute. Like many other junipers, its colors changes seasonally (see, we told you that they weren't boring!) so that it is a deeper blue in colder temperatures and greens up a bit in summer. Here is a shot of the same group in warm weather: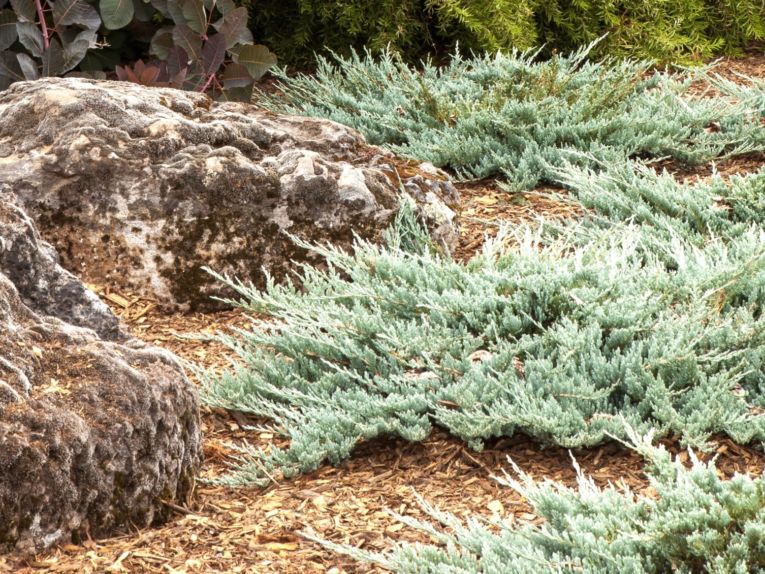 3. Juniperus squamata 'Floreant'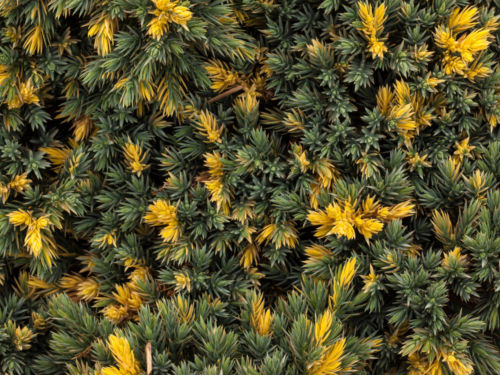 Another J. squamata worthy of specimen status is 'Floreant', which has tweedy, two-toned foliage in a nice, tidy bun shape. Like 'Blue Star', it appreciates a little more water than other junipers. This one can be used to good effect 'bridging' dark and light foliage in surrounding plantings. Use it where its foliage can be admired up close. Makes a good container choice.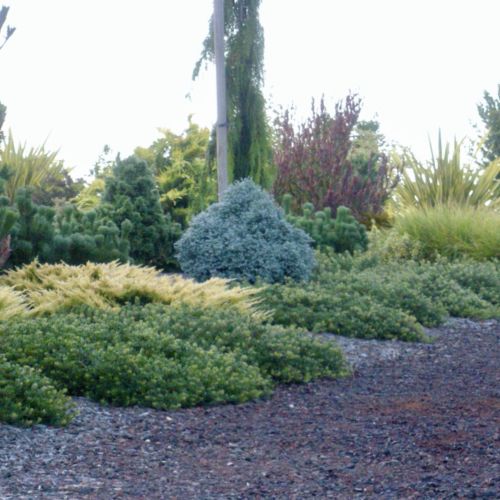 Juniperus horizontalis 'Lime Glow' has a slightly more shrub-like presence than those mentioned previously, but it is nonetheless low and somewhat spreading. It works very well in massed plantings or as repeated throughout the garden as a leitmotif. The limey-yellow is a bright spot in spring and summer gardens, contrasting beautifully with green and blue foliage. It is especially effective when used below or around the base of large trees or shrubs of deep green. This selection is known for its dramatic color change with cold weather, when it takes on hues of lavender and toffee. Note: when conifers turn color in winter like this, it is only the needles on the tops of the branches that turn. Underneath they remain brilliant green.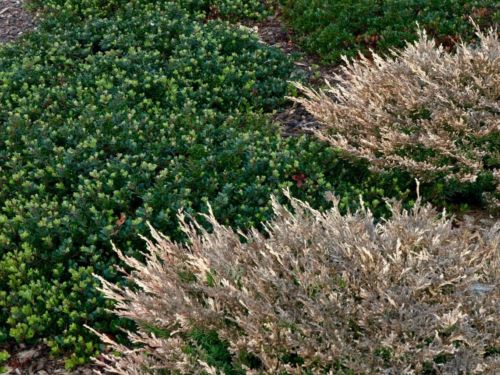 5. Juniperus x pfitzeriana 'Daub's Frosted'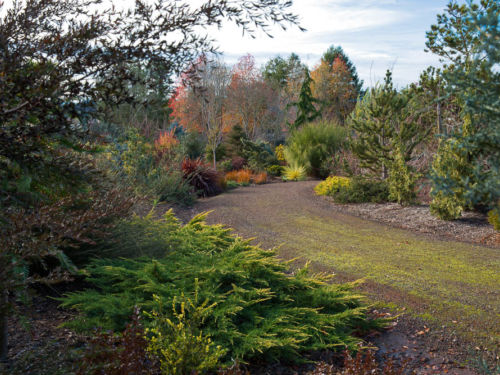 This lovely selection is a cultivar of a hybrid of Juniperus sabiana and Juniperus chinensis. These species hybridize naturally in the wild and have also resulted in synthetic hybrids. While its full, botanical name is a mouthful, mercifully all that you have to remember is 'Daub's Frosted'! This cultivar, if left to itself, will stay fairly low and spreading, with its two-toned foliage on display year-round, although most dramatic in springtime with new growth. It is also attractive when staked as a young plant and allowed to flow from about 2-3'. It can also be pruned to showcase its cinnamon, twisty bark. This is one of the most attractive border plants out there, will even give flowering perennials serious competition!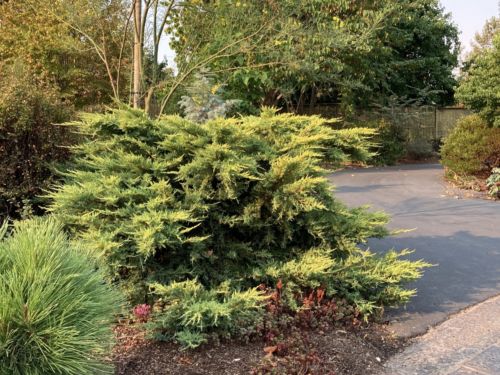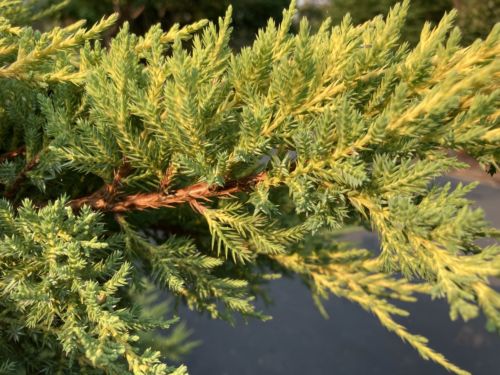 6. Juniperus conferta 'Blue Pacific'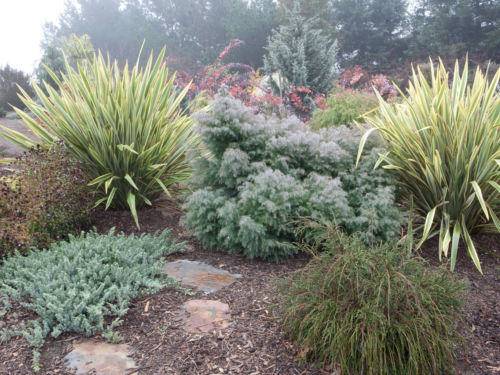 Another blue carpet juniper is Blue Pacific, which, as a cultivar of Juniperus conferta is a slightly more tender selection than those noted thus far, performing best in zones 6-9. While drought-tolerant once established, it does better with somewhat regular water for the first few years and also appreciates well-draining soil. This selection has softer needles than those already discussed and has a slightly different sprawling form. It also holds its regular color a soft aqua with hints of silver, all winter long, and cones more prolifically than the other ground cover junipers. So many to choose from!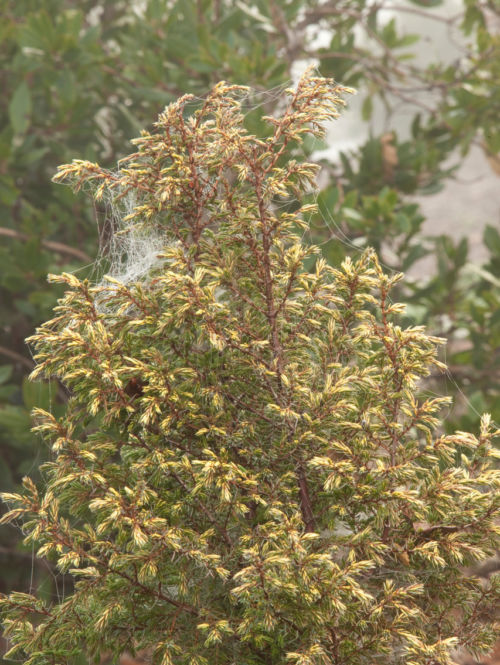 Now we're moving away from ground-hugging cultivars to an upright form called Gold Cone. This tidy shrub has a narrow shape, making it perfect for use as a single accent piece (think exclamation point) or in groups. The gold-tipped foliage is attractive both in color and texture. Tipping the terminal bud keeps it slightly shorter and squatter. Like most junipers, it tolerates full sun and tough conditions. One of the cold-hardiest junipers, this one will withstand the wintertime temps of zone 3, yet also performs very well in warmer, dry summer climates.
This cultivar looks relatively sedate for much of the year, but when the new growth flushes in spring you will see what the fuss is about. Each branch produces creamy white new foliage that makes for a lovely and eye-catching display. This is a dwarf but is not a ground-hugging selection. Over time it will make a small shrub about 2 1/2 feet by four feet. Can be easily pruned to create a more angular shape. Works well interplanted with both other conifers and plants such as roses and large succulents.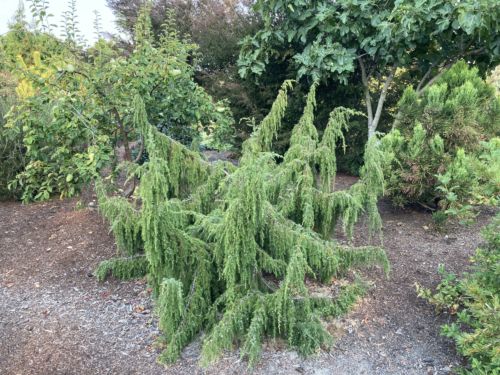 Now we're in the realm of the really unusual junipers, with 'Oblonga Pendula' providing not just color and texture to the garden, but superb, interesting form as well. The rich, green needles are a bit prickly but appear soft and pet-able. It cones regularly and prolifically, adding even more interest to an already striking presence. While it can certainly be pruned, this specimen, about 15 years old, has never been altered in any way. One of the best focal point junipers, but difficult to find in the trade.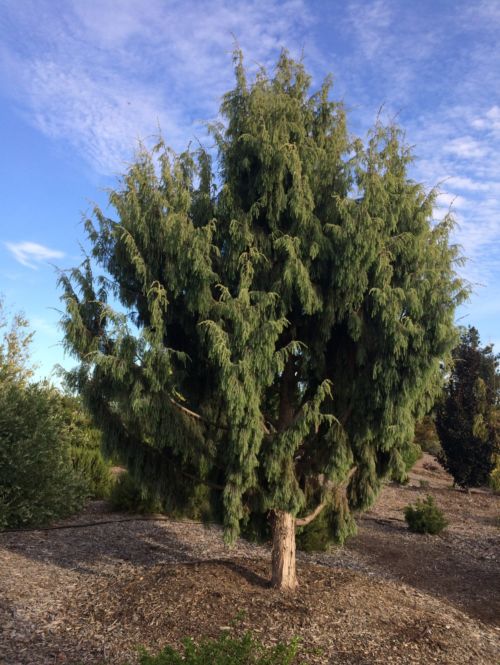 Native to the Canary Islands, and hence a subtropical selection, Juniperus cedrus does best in Mediterranean climates in zones 9 and 10. It is a large, upright tree whose upward facing branches drip with long, graceful branchlets. The needles are grayish green with a double white stomatal band which gives the foliage a tweedy appearance. The bark is brown and peeling and the combination of its shape, color and habit make it an extremely attractive tree. While it will not grow in most of the U.S. keep an eye out for it if you are in West Coast botanical gardens or arboreta. Should you visit the Canary Islands, note that there are various forms of this species, depending on which island it grows. Some are more weeping, some greener or bluer. It is threatened in the wild.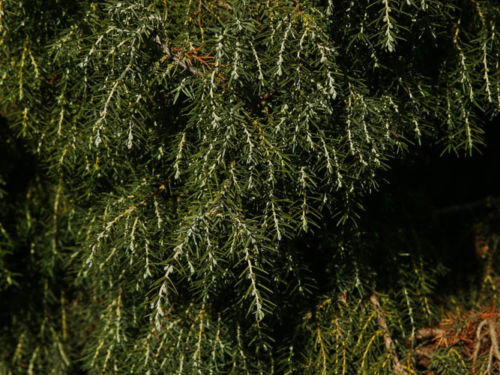 There are hundreds more junipers out there, almost all of them tough, garden workhorses and many of them attractive, eye catching additions to the mixed bed or border. Try the trailing forms over a low rock wall, or along a driveway, the shrubbier shapes in a mixed bed, and if you are lucky enough to score an 'Oblonga Pendula', give it a spot all to itself! There. Do you respect junipers now? We thought that you might!
Comments
I love the Juniperus squamata 'Floriant', an unknown by the seller and all the happier I to know it is thirsty(er) and needs a show stopper positioning in the garden. It has that! To be a globe! How delightful.
We have a grouping of Juniper trees hiding a electrical box. They are getting too high! Can you top a Juniper tree without damaging them? How will the shape of the tree change?
Hi David, so sorry to have missed this question. You can prune them, but go slowly and pay attention to how shortening or removing each branch will change the shape of the tree. Junipers will not produce growth from old wood, so you have to leave enough growing tips to allow for some regrowth. Pruning won't harm the health of the tree, but you may get a shape that you don't like. If they are really too tall, you might want to replace them with something else.
Juniper and white pine are the only native conifers in Illinois. I live in northern Illinois in oak savanna (not much of that left) next to a conservation area where they have culled out invasive species and let the junipers grow. Squirrels and mice hide their acorns, walnuts and hickory nuts under the junipers. The junipers provide the partial shade and shelter that oaks prefer. All of these hardwoods and the juniper thrive in clay soil that turns as hard as concrete during the dry summer months.
Hi, I have a beautiful juniper tree, 30 feet tall and likely 25 feet wide from branch tip to branch tip at widest point. I need help identify the variety. I see some called "Hollywood" or "Chinese" — this juniper has a very elegant look, balanced, looks like a huge bonsai. :-) The pictures online don't match the size of this one, I'd like to be certain of the type (neighbor thought a twisted juniper). I could send a photo! Thanks for your help! Beth