10 Types of Cedars that Everyone Should Know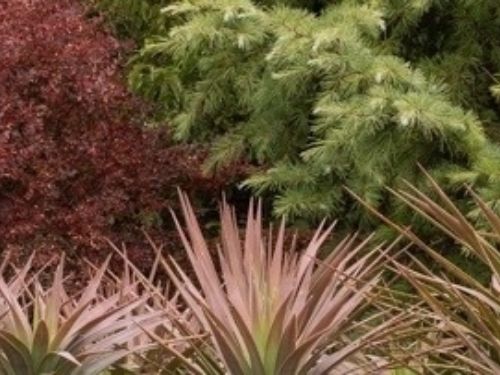 Why plant a cedar? The short answer is that they are striking garden selections, with lovely, textural foliage that can be had in shades of blue, white, cream or green. To add to that, they are tough plants when given the right conditions, take well to pruning, are relatively disease and pest-free and with cultivars that can be had in a variety of sizes and forms.

Cedars are complicated, but that's not their fault. Humans have classified plants and animals within family groups, and we give each group and then each plant within it a name to make it clear which plant we mean. Simple, right? Not so with cedars, because somewhere along the way, plant finders and explorers and then the population at large, started calling anything with aromatic bark a cedar. Consequently, we have 'fake' cedars, such as western red-cedar (which is Thuja plicata, (not related to real cedars), Eastern red cedar, (Juniperus virginiana), which not only is not related to real cedars, but is not related to western red-cedar either! This goes on, with Calocedrus and Chamaecyparis using false cedar in their common names. Fortunately, you can forget about all that for now, because we are going to focus on what we have to call TRUE cedars, those of the genus Cedrus, which is a member of Pinaceae, the pine family.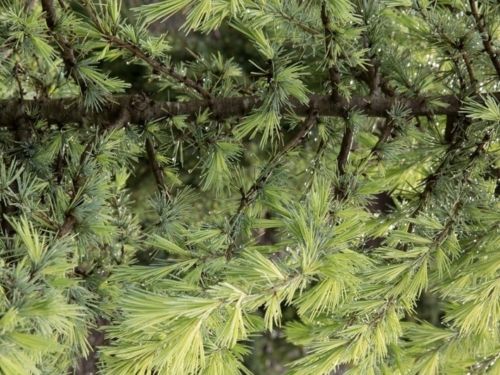 True cedars (and remember, that is all that we are discussing here!) hail from the mountains of the western Himalayas of Asia and the Mediterranean region of Europe, where they are often found at high altitudes. Cedars are generally hardy to zone 6, although cedar of Lebanon (Cedrus libani) is a bit more tender. They flourish in well-draining soil and do best in areas that replicate their native conditions. This makes them an excellent choice for West Coast Mediterranean climates but they also do very well in other parts of the US where they are hardy. New Jersey's Grounds for Sculpture, for example, boasts a magnificent weeping blue Atlas cedar.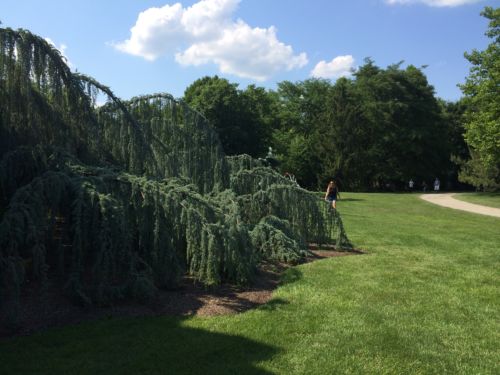 Thankfully, we can find cedars for our gardens that will either not get that large, or can easily be pruned to keep them the right scale for the other plantings. There are only four species of cedars, but those four yield over 100 cultivars developed for landscape planting. Cedrus cultivars are available with blue, green, yellow or cream foliage. What are the best of these? Here's a list to get you started. We'll begin with blue: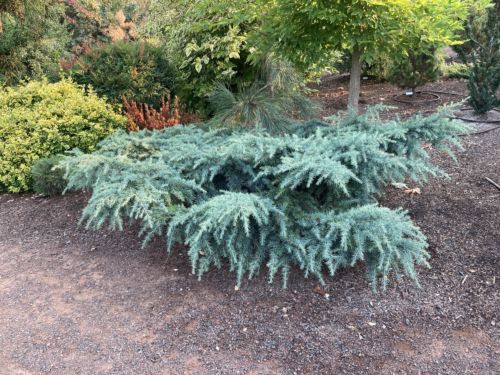 'Prostrate Beauty' Himalayan cedar starts us off because it is difficult to imagine a garden that would not be enhanced by its inclusion. It has a low, spreading habit and its color is a vivid, clear blue with light green undertones. This specimen is about 7' wide but it can easily be kept smaller by pruning the tips. It holds its color in colder temperatures, when it really glows in the soft, low light of the winter sun, taking on a slightly turquoise hue. Gardeners always seem to be on the hunt for the elusive blue flower; why not add blue foliage as well?
2. Cedrus atlantica 'Glauca Pendula'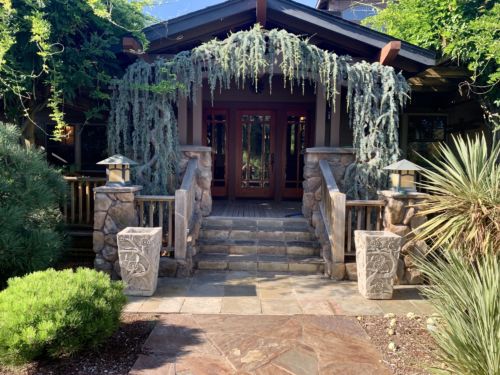 As noted earlier, this cultivar can get massive, but it doesn't have to! Cedars, with their soft wood, are easily pruned and respond well to pruning. This pair in the photo above are pruned twice a year, in spring and in fall, with the majority of the pruning designed to keep the hanging branches over the door tipped back and thinned out. Weeping cedars all need to be staked or supported until they reach the desired height, at which point you can remove the support and they will weep from that point. These two were purchased as "serpentines" (which you can see if you look at the left one particularly) in 15-gallon size, and then trained up rebar supports to meet in the middle, arching over the door. They are pruned twice yearly, mostly to keep the weeping branches from descending too far and creating an unwelcome (or barricaded!) entry.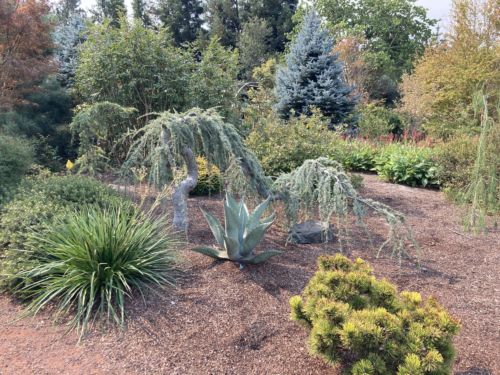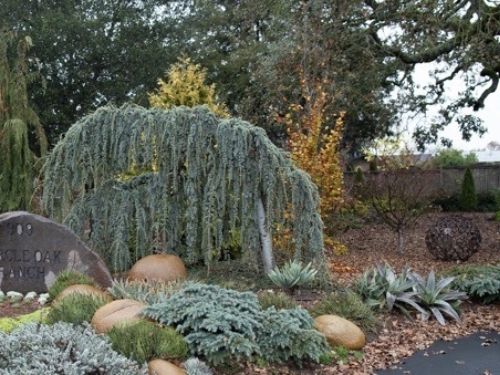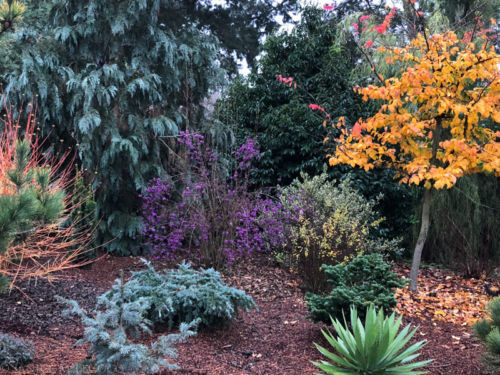 For an even richer blue color, try 'Feelin' Blue', which is lower and slower-growing (this one we class as a 'dwarf') than 'Prostrate Beauty' (an intermediate). Like other blue cedars, it holds its color year-round, with some reporting the deepest color in late summer. If you think that blue livens up a summer bed, look at what it does when paired with autumn's hot tones. The purple beautyberry (Callicarpa bodinieri var. giraldii 'Profusion', which is hardy to zone 3, adds amethyst jewel tones to the cedar's sapphire needles.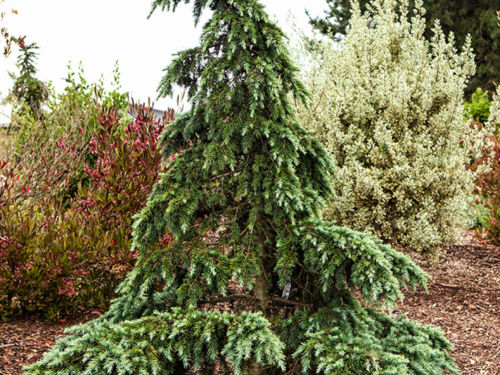 For an upright, dwarf form, 'Devinely Blue' (named after a propagator named Bill Devine, so NOT misspelled) is a lovely choice. While not as pure-blue as the other selections, the foliage has a distinct blue cast and the needles are long and graceful. This one never needs pruning if you place it properly. A true dwarf, it is slow growing and a sedate garden denizen. It is the perfect selection for a small garden, where it can serve as a focal point.
There are other blue cedars that are also garden-worthy. Likely the one that is the most dramatic is Cedrus atlantica 'Sapphire Nymph', worth checking out for the name alone. The reason that it does not make this top 10 list is that it is extremely brittle and breaks easily. A high wind, a carelessly tossed tennis ball for a dog, even bumping into it can cause significant breakage. So investigate it if you can provide a safe place for it, as it is a stunner.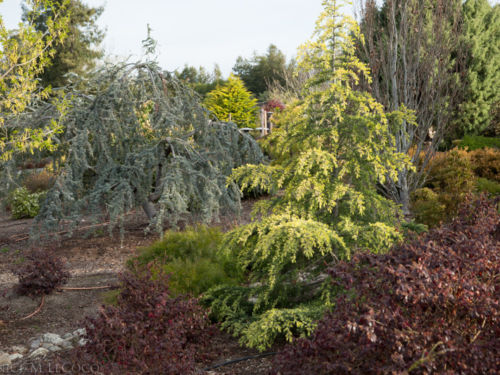 A Monrovia Nursery introduction (hence the botanical name of 'Monkinn'; Monrovia tends to include 'Mon' in their introductions, then registering a different name under which the plant is sold), this cedar is liberally sprinkled with sunshiny yellow tips. The foliage exposed to sunlight is yellow; anything shaded remains green, which produces a dramatic and brilliant two-toned effect. This is a relatively new cultivar, whose exact origins are not clear, and there hasn't been much time to observe it in the garden. Some sources say that it is shrubby and low-growing but the specimen above, which was purchased directly from Monrovia, is clearly upright with excurrent (strong apical dominance) form.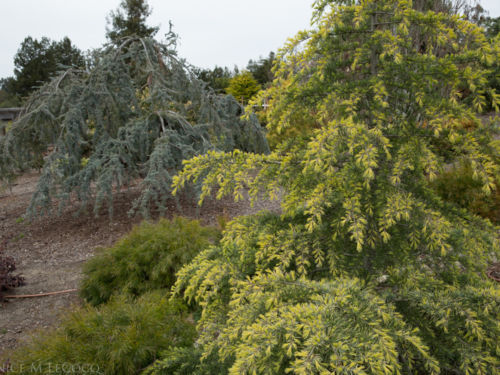 'Gold Cascade' Himalayan cedar starts off broadly spreading but will grow more conical with age (see the photo at the link above). The rich, yellow color is reminiscent of 'Aurea', a large, fast-growing Himalayan cedar cultivar. The specimen in the photo above has been pruned to keep it smaller and flatter than it naturally wishes to be. Note the dramatic effect of the yellow and blue (Picea pungens 'Lucretia') foliage combination.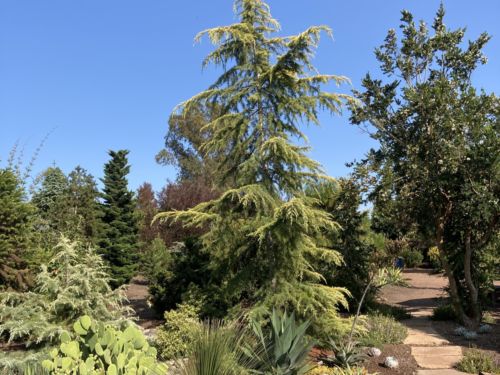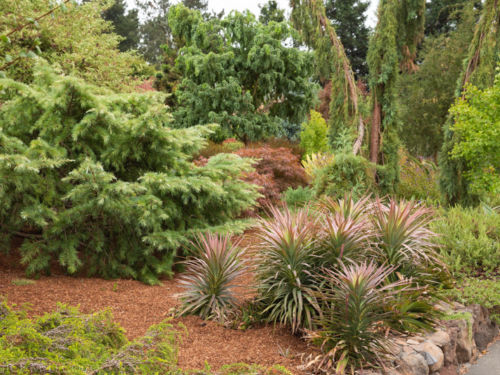 This is one of the best light-colored cedars for livening up the winter landscape, when its creamy foliage brightens even the dullest of days. While, if left to its own devices, it will eventually become broadly conical or upright, it can easily be pruned to keep it more shrub-shaped, as is the case with the specimen above. It has luxurious foliage tipped with creamy light green and can be used as a specimen planting or as part of a mixed shrub border.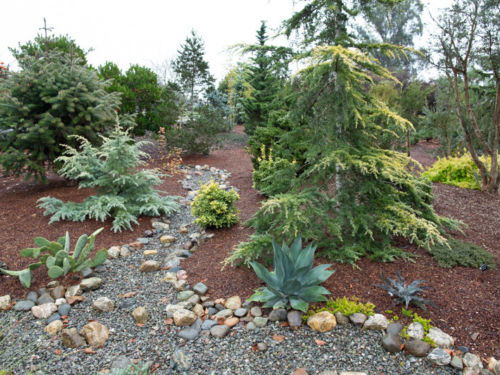 'Snow Sprite' Himalayan cedar is similar to some of the yellow-needled cultivars, however it has distinctly white-tipped branches, rather than yellow, especially with the flush of new growth in spring (note: in some climates cedars push new growth twice a year, which means that they stay fresh-looking in late summer). 'Snow Sprite' is classed as a dwarf, and grows at a sedate rate, and, like all cedars, can be pruned easily to slow it down or keep it in a mounded shape. The photo above shows 'Snow Sprite' on the left and 'Aurea' on the right, making it easy to compare color and habit.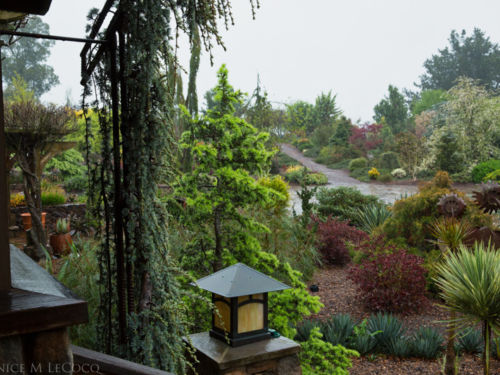 Lest you think that cedars are only available in blues, yellows or white, we'll move now to rich green selections. One of the best is 'Hollandia', a deep, saturated green upright dwarf Himalayan cedar cultivar. There is nothing dusty or reserved about this hue, and good, deep greens are not always easy to find. We have to remember in our quest for dramatic colors not to neglect green! This particular specimen has been pruned infrequently to keep it at its current height and to keep it a bit narrower than it would naturally be.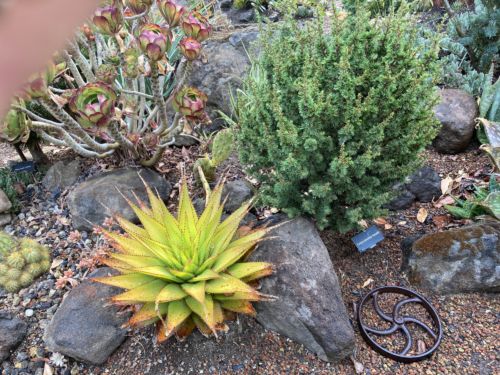 'Kenwith' is the one of the only known cultivars of Cypriot cedars (Cedrus brevifolia). As its name suggests, Cypriot cedar is known for its short, bristly needles that give the plant a scrubbier effect than the longer needles of the other Cedrus genera. 'Kenwith' is extremely slow-growing and works well in a container, a rock garden or in a mixed border. Its congested habit is also a distinctive feature.
There are many, many other wonderful Cedrus cultivars, in fact, almost all of them are garden-worthy plants that even inexperienced gardeners can grow successfully in the right climate. An added bonus is that cedars have decorative pollen cones as well as very large, bold seed cones.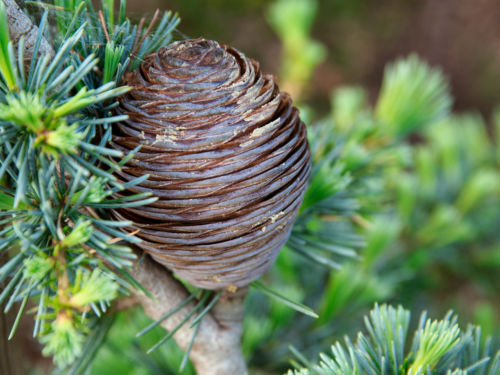 What cedars have you grown? Add photos and comments below!
Comments
I loved the blue weeping cedar style hanging on that entrance frame I have downloaded it to hopefully one day replicate that frame with the other details. I really enjoyed re-creating special bonds with better memories
Cedars are particularly easy to train because they don't 'harden' for a year or so. You can tie new growth in whatever direction you want it to go, and leave the tie on until it hardens, and then keep moving down the tip. That's how those two trees were trained over the entrance of the house.