Trials and Tribulations of a Conifer Collection in the South
By: David Poston, Senior Horticulturist, Moore Farms Botanical Gardens
Situated in USDA Hardiness Zone 8a in the low country of South Carolina, Moore Farms Botanical Garden was established in 2002 on croplands that were once swamps. It's a conifer's nightmare. It's not easy to grow conifers in an area where there's consistent high summer temperatures in the day and night, high humidity, and high water table. Being located in swamplands, the water table is incredibly high. Water will soon fill any hole dug over three feet. To compensate for this, we tend to plant high, amend the soil, and add gravel to the base.
In 2014, I ran across Cunninghamia konishii 'Little Leo' in Architectural Trees' availability. I checked our database to see if we've ever had this in our collection. We purchased one in 2009 and it was marked dead in May of 2010. I was told that it was a weak performer and I wish I had listened. That tree was planted in an area that didn't have irrigation at the time, and, looking back, I thought it may have struggled to get established. Considering how well C. lanceolata 'Glauca' performed in various situations in the garden, I thought I could find a place that it would thrive. I never did.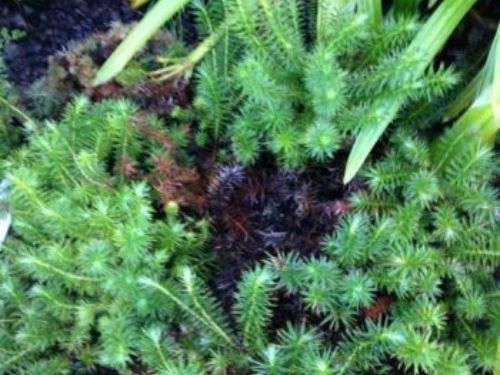 I went ahead and purchased a three gallon tree to place in a more prominent area of the garden with irrigation. All was well until August. The foliage on the inside started to die back. I pruned out the dead with hopes of interior growth and better air circulation. I noticed new buds along the trunk. I found hope in its survival. Then the foliage started to die from the ground to the top. The winter came and finished it off. It didn't make it a full year in the garden.
In the Fall of 2014, I ordered C. lanceolata 'Greer's Dwarf' from Forestfarm Nursery. A dwarf variety said to get only six feet tall, ours has a more prostrate habit. After sitting in the nursery for a year, it was planted in a newly renovated area in January of 2016. It has established well in an area of full sun and no irrigation. It had been receiving supplemental watering throughout the summer. Over the course of two years, there haven't been any issues with any die-back in the interior growth. A "larger" variety of 'Little Leo', this has been a great substitute.
I was excited when I saw Cryptomeria japonica 'Twinkle Toes' at Iseli Nursery in Boring, Oregon. Here is this dense, dwarf Cryptomeria with beautiful golden foliage that I had to have for our collection. The plant was so dense that a simple tap to the foliage made the whole plant jiggle like Jell-O™. I purchased one and planted it in 2016. I picked a spot that received morning sun and afternoon shade because I was concerned that the golden foliage would burn in full sun. It was doing well, until it rained. I wasn't having an issue with water but with fire ants. They built an impressive mound through and around C. 'Twinkle Toes'. I didn't notice it when it happened and by the time I did, the damage was dramatic. I did my best to knock down the mound. With it being such a dense plant, it was extremely difficult to remove the mound inside of the plant. I treated the ant mound and hoped for the best. The majority of the lower branches, the right side, and some of the tip growth had died. With the majority of the foliage dead, and it being slow growing, I considered it a loss.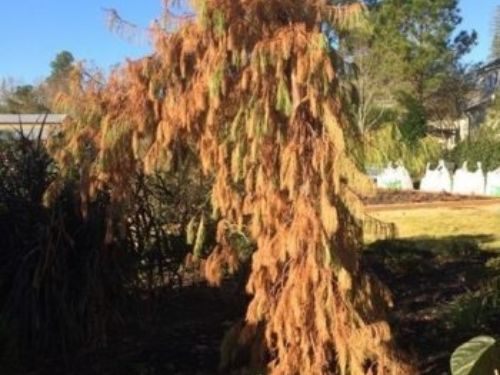 Recently, I have also been focusing on collecting Pinus strobus. There are large, established specimens located in an outer area of the garden. We lost the majority of them to Hurricane Matthew last year. We've had success and we've had failure. 'Coney Island', 'Fastigata', 'Contorta', and 'Niagara Falls' have performed well, but the needle drop from this past year has left them looking scrawny. 'Blue Shag' has been the best performer. 'Angel Falls' didn't fare so well. Planted in full sun with irrigation, when the heat of summer arrived, it began to shed its interior needles. I began to give it supplemental watering in hopes of getting it through the summer. Later in the season, I noticed that the needles had a pale green appearance. They still clung to the tree, but it looked as if all life was being drawn from them. Not long after, they began to turn brown. I did some research and came to the conclusion that it was white pine decline. With the fear that it might spread, I removed it from the garden immediately.
Even though there have been issues and failures in the garden, there have been many more successes. I look forward to expanding our collections and collecting data. Be sure to check out our plant database through our website. www.moorefarmsbg.org
About the Author: David Poston is Senior Horticulturist and manager of the ACS SE Reference Garden at Moore Farms Botanical Garden. Focusing in public horticulture, he has built his knowledge through hands-on experience. David graduated from Sandhills Community College in Pinehurst, NC with an A.A.S in Landscape Gardening. After internships at Longwood Gardens and Atlanta Botanical Garden (ABG), he was hired full time as the Greenhouse & Conservation Nursery Assistant Horticulturist at ABG. He joined the Moore Farms Botanical Garden team in 2012.
Excerpt from the March 2017 Southeastern Conifer Quarterly. Gain access to archives of past newsletters and the National Conifer Quarterly by becoming a member of the American Conifer Society.
Comments