A Tour of Conifers in Australia
Discover the memorable conifers of Melbourne, Sydney, and Hobart.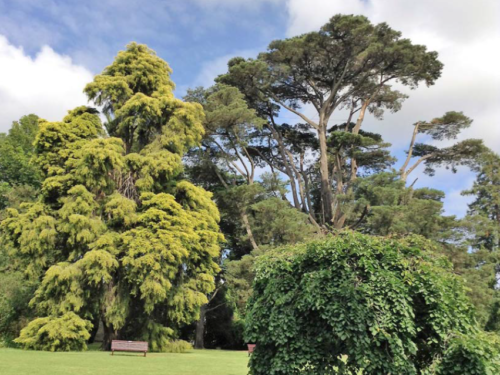 Evelyn has always been keen to attend the Australian Open Tennis Grand Slam in Melbourne, Australia, and I have wanted to visit some of thegardens in and around Melbourne, Sydney, and Hobart, Tasmania.
This would require some delicate balancing of competing interests. For starters, I am a member of the International Dendrology Society, and one of the Australian members put me in touch with a fine gentleman named Alistair Watt. Alistair is noted as having the best conifer collection in Australia. After a brief introductory email exchange, we were invited to spend our first night in the country with him and his wife Julie.
After our arrival in Melbourne, we picked up a car and headed south on the Great Ocean Road to a small town where they live, named Lavers Hill. The scenic drive along the coast through the picturesque towns of Lorne and Apollo Bay took over 4 hours. This drive was highly recommended by fellow ACS members Joe and Jan Hallal, and did not disappoint. Along the way, we would spot our first Koala bears and several colorful bird species.
Landing in Lavers Hill
Upon our arrival, both Julie and Alistair warmly greeted us in their driveway. Any concerns about intruding were quickly vanquished. These were down-to-earth people who appeared genuinely happy we were visiting them. All around us were conifers from the four corners, and most were mature; suggesting Alistair had been at it for a number of years.
Outside of Bedgebury, their garden represented one of the best conifer species collections I had ever seen. While many were familiar, there were some from areas such as New Caledonia and Fiji which had never crossed my path, except as conservatory plants in places such as Edinburgh, Scotland, and Atlanta Botanical Garden. I am guessing he was Zone 8b and in some pockets Zone 9.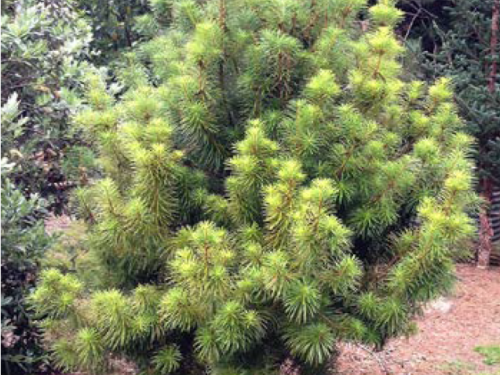 Meeting the President (of the Australian Conifer Society)
Alistair related that most all the material in his collection was wild, collected with a specific focus on species from the Southern Hemisphere; having made many collecting expeditions to New Caledonia, Chile, and Fiji. He also cultivates a large number of non-coniferous genera including rhododendrons from China. I was particularly impressed that he was the founding President of the Australian Conifer Society and served in that capacity for many years.
He has freely shared material with other botanical institutions within Australia. Significant in his plantings were large specimens of Araucaria laubenfelsii, A. montana, and Agathis ovata, as well as a large collection of Mexican pines such as Pinus patula. On the very rare side, were conifers such as Dacrydium guillauminnii, Acmopyle sahniana, and Neocallitropsis pancheri. For me this was rarefied air, and I felt fortunate to be in the midst of a conifer giant in a one-on-one environment.
All too soon the sun disappeared, and we were being summoned to an Australian family home cooked dinner. This was so much nicer than eating in a restaurant. Conversation ran the gamut from plant collecting, to history of Australia and everything in between. It became obvious that Alistair and Julie were well read.
A Farewell to Victoria
The next morning, after a delicious breakfast, the Watts drove us to a rain forest where we were surrounded by huge ferns and other angiosperms. It was here we encountered our first glimpse of wallaby which remotely resemble kangaroos. Mid-morning we returned to their home for a quick good-bye to this splendid place. They invited us to extend for two more nights, but holding to the commitment I promised for balance, we regrettably headed for Melbourne.
On a final note, Alistair is writing a book on the great plant explorer Robert Fortune, for which I hope to offer a review. For those interested in further world exploration, here is an excerpt from my most recent e-mail from him regarding travel in China.
The highlight at the end of our trip was a visit to the fabulous Tianmushan to the southwest of Shanghai. Here at 1,100 meters there are huge Ginkgo growing wild in a superb forest also with gigantic 1,000-year old Cryptomeria with Torreya, Emmenopterys henryi, Liriodendron chinensis, and evergreen oaks.

However, I must confess that the best for me was seeing the wild Pseudolarix amabilis at 45meters in height. The best bit is that we did not have to walk up to 1,100 meters – there is a tourist road and tourist shuttle buses up to that altitude, made of slab paths through the forest! However, we did decline to hire the mountain sedan chairs.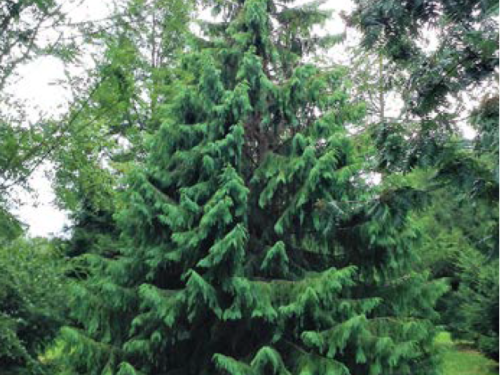 Touring the Royal Botanic Gardens, Melbourne
Our next stop was Melbourne, where we spent four exciting days. Significant among the activities was attending the 2015 Australian Open Grand Slam tennis event. This is a well-organized venue, and transportation to and from the stadium was easy via a train near our hotel.
No visit to Melbourne would be complete without a visit to the Royal Botanic Gardens (RBG). Upon our arrival, we were met by Ms. Jenny Happell, who works as a guide, and Dr. Roger Spencer, Senior Horticultural Botanist, who happily had arranged for a motorized cart. The grounds are vast, and the cart afforded the opportunity to see the entire property.
Knowing that we had a special interest in conifers, great care was given to make sure we saw the extant specimens. This is a species garden with the largest examples of Keteleeria fortunei (China), Cupressus torulosa (India, Bhutan and China) and Pinus patula (Mexico) I had ever encountered.
These were trees, the size of which one only reads about in plant books. The garden offers the visitor an opportunity to see a number of rare conifers as well as flowering trees and shrubs. Like all gardens we visited, RBG Melbourne is well maintained, the plants are well labeled, and the setting is stunning.
Heading Sydney-Side
After a brief plane ride, our next stop was the beautiful city of Sydney. I tend not to be too excited these days by large cities, but Sydney was an exception–great restaurants, hotels, friendly people, and always a sense of feeling safe.
Upon arrival, we were met at our hotel by Stuart Read (also a member of the International Dendrology Society), who is in charge of city planning for Sydney. This turned out to be a most fortunate contact, as Stuart approves all tree selections and planting as well as all architectural designs. As such, he has a unique view of all things horticultural.
After arranging a harbor tour on one of the ferries, we took a casual stroll through beautiful tree-lined neighborhoods where he pointed out significant trees and buildings. Later we went to dinner in some obscure back alley with hundreds of decorative birdcages strung across the street–which one would only find were one in the know. At the conclusion of dinner, Stuart presented me with a handwritten list of conifers we should see the next day during our visit to RBG Sydney.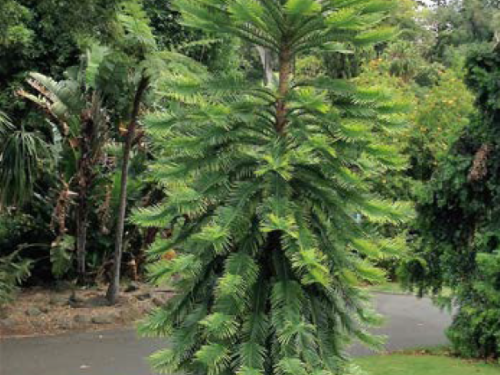 A Conifer Garden in the Heart of the City
It is funny how, if you've been at something for a long time, people re-appear in the most unusual settings. Way back in the late 1990's I visited the Dallas arboretum and established a relationship with their senior director, Jimmy Turner.
Jimmy is now the Director of Horticulture at RBG Sydney. The Royal Botanic Gardens is a major botanical garden located right in the heart of Sydney. Opened in 1816, the garden is the oldest scientific institution in Australia and one of the most important historic, botanical institutions in the world. Its stunning position is on Sydney Harbor, overlooking the Sydney Opera House and a vast expanse of large public parklands.
While Evelyn toured the Sydney Opera House, I was escorted around the gardens; taking great care to see their magnificent collection of conifers. This was the equivalent of a hop-on/hop-off tourist bus, except better. Like the other Royal Botanic Gardens of Australia, this is a species collection which is comprised of conifers from around the globe. Of particular note was a well-formed specimen of Glyptostrobus pensilis, which is native to subtropical southeastern China and northern Vietnam.
Conifers on the (Bondi) Beach
The species is listed as critically endangered and is nearly extinct in the wild due to overcutting for its valuable decay-resistant, scented wood. Most specimens I have observed (even in China) tend to be rangy and not particularly garden-worthy. The lone exception are trees growing at the Lovett Pinetum in Angelina, Texas, which was started by ACS member, Dr. Bob Lovett.

As an aside, if you ever find yourself in east Texas, this is well worth a visit. We also grow several specimens here at the Cox Arboretum, to include one which is getting on nicely after a bear climbed it and broke off the top 6'. Many of the extant conifers at RBG Sydney are clustered in an area very near the café where Evelyn and I enjoyed coffee with several of the arboretum's staff. It was then on for my tour with their top conifer expert, Peter Sweedman. As he whisked me from plant to plant in a motorized cart, it was–Conifer overload!!!

We spent a total of 4 days in Sydney and, thanks to a great transportation system to include the hop-on/hop-off sightseeing bus, we covered much of this leafy city. It was a thrill to visit the famous surfing area on Bondi Beach, which was heavily planted with Araucaria columnaris (Cook pine) and A. heterophylla (Norfolk Island pine).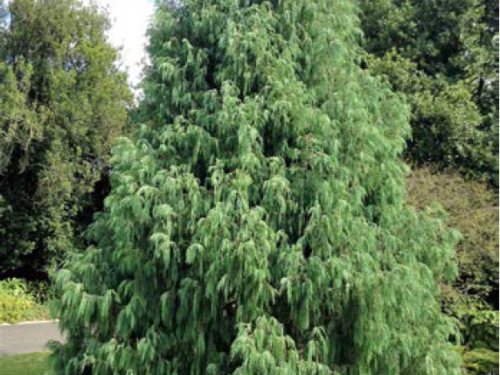 Tuesdays in Tasmania
Our final stop in Australia was on the island of Tasmania and the capital, Hobart. Regrettably, we only scheduled 3 days here, which was not nearly enough time to explore. As was the case in previous cities, the highlight was our day at the Royal Tasmania Botanical Gardens. While this is the second oldest garden in Australia, it seemed much older than Sydney. As I reflect back, Sydney had more modern structures where this garden oozed with old-world charm.
For starters, there are the Historic Walls, which were constructed in 1829 as a measure to shelter more frost tender plants. Constructed by convicts, the walls provide structure and unique heritage value to the Gardens. Other significant structures include the Anniversary Arch built in 1913, and the cast iron entrance gates constructed in 1878.
The garden is widely known for its collection of conifers that was started around 1859, with certain conifers arriving almost at the same time as they were introduced into England (for example Sequoiadendron giganteum). It was a special moment to see ancients such as Wollemi pines (Wollemi nobilis) flourishing alongside Metasequoia.
A Stunning View at Journey's End
If you travel to Hobart, be sure and allot time for a drive up to the top of Mount Wellington for a spectacular view of the city. Rising 4,163 feet, there is a narrow road (Pinnacle Road) you take to the summit. The day we went, the weather was cool and windy, and we were the only visitors. The flora and terrain were quite varied as we made our way to the top.
At some point, we climbed past the tree line and into a dense fog, punctuated by a rocky, tundra-like landscape. Reminding us of nothing, this place is definitely unique and worth the time. On the way back, we stopped at the Cascade Brewery which was established in 1832, and is the oldest continually operating brewery in Australia.
Photographs by Tom Cox.
Tom Cox is past president of the American Conifer Society and the founder and owner of Cox Arboretum and Gardens in Canton, Georgia, where he focuses on evaluating, selecting, and displaying plants from around the world that are hardy in USDA Zone 7b. He is also concerned with preserving critically-endangered plants.
This article was originally published in the Winter 2018 issue of Conifer Quarterly. Join the American Conifer Society to access our extensive library of conifer-related articles and connect to a nationwide group of plant lovers! Become a member for only $40 a year and get discounts with our growing list of participating nurseries in our Nursery Discount Program.
Comments