Tips for Photographing Conifers
Learn how to achieve the best results in conifer photography using a digital camera and image-editing software.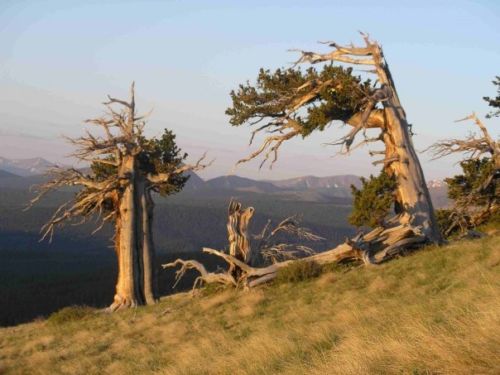 Camera Basics
I use a Nikkor 18-200mm zoom lens on a Nikon D60 camera body with Corel Paint Shop Pro Ultimate Photo X2 software. These days, most digital cameras are capable of producing good quality shots. High resolution and experimentation are keys to producing unique photos.
Be sure to have a fully charged spare battery and enough free space in your memory cards before going out on a vacation or photo session. Also, set your camera to an appropriate resolution such as fine or super fine so that the images are of sufficient quality to enlarge them or to retain better quality after cropping and enlarging smaller portions of an image.

Achieving Special Effects
First, determine the scope of your subject. Do you intend to emphasize a detail of a tree, an entire tree, a tree in the landscape, or a landscape with trees? A zoom lens helps to examine the subject from these perspectives with ease. The viewer's imagination will fill in what is just beyond the picture frame. For example, the effect of cutting off branch tips can exaggerate a windswept characteristic.
The image format, vertical or horizontal, has a lot of impact on your subject. Horizontal formats tend to have a relaxed sense, conveying calmness; while vertical formats tend to have a vigorous sense, conveying motion. Determine if your subject has a vertical or horizontal orientation and how that works with your chosen image format. You can alter and change the image format later using a crop function in image-editing software and still retain a good shot if you started with a high-resolution setting on your camera.
Next, study your subject from various angles and locations around the tree, including kneeling on the ground instead of standing. Take notice of interesting forms, colors, and shadows as you move. Background images can be distracting or enhancing to the subject. Watch how objects in the distance change locations on the picture plane.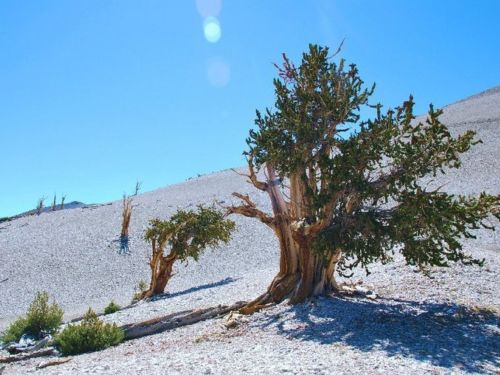 The Role of Lighting in Conifer Photography
Lighting is critical to the subject. Time of day is a factor; to take advantage of it requires more patience. You may want to visit the subject at various times throughout the day to note the subject's lighting conditions. If your subject looks best from its west side, then morning hours will have the dark subject backlit, while afternoon hours will directly illuminate the subject.
Sunrise, early morning, late afternoon, and sunset provide more dramatic lighting with long shadows and warmer colors. Bright sunlight around noon makes the smallest shadows. Overcast skies often bring out colors that may appear bleached in full sunlight.
Weather and time of season are even longer-range effects that can be used. Photographing conifers when deciduous trees are dormant or in fall color can help isolate or highlight an evergreen on a background of gray, yellow, or orange and red, since they can be lost when placed in front of leafy green trees.
A snow-covered ground can be compared to a grass or vegetation-covered ground. Broken clouds in the sky can add an interesting element to the composition, which is lacking with a solid bright blue sky. But, a solid sky can be successful when used to silhouette a subject without background distraction. Sometimes you will be lucky enough to be shooting while clouds are moving quickly, making a subject temporarily highlighted against a shadowed background.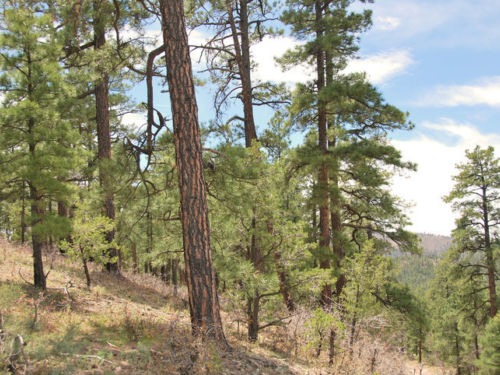 Final Touches for a Conifer Photograph
A complete examination of the subject should include several shots from several viewpoints. In this way, you are composing a two-dimensional image using a few parts of the three-dimensional world. Instant preview is a benefit of digital cameras that allows you to examine the composition while on-site.

Finally, once you've chosen and shot a few frames of the best compositions, fine-tune the images with editing software. Use the crop tool to emphasize the subject. Experiment with color correction, depth of focus, and sharpening tools.
Remove distracting parts, like a nearby tree branch extending from out of the image frame in toward the subject, with a paintbrush tool. Software manipulation of digital images can provide limitless variations, so have fun editing your digital photographs of conifers.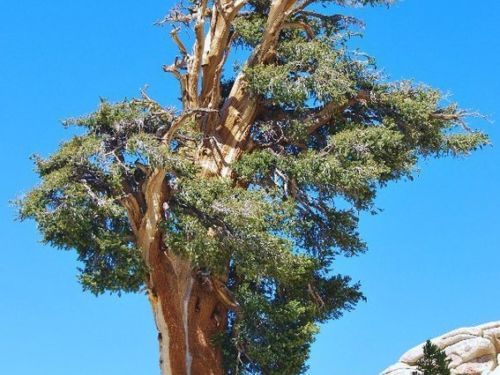 If you wish to submit photos for publication in the Conifer Quarterly, remember that images must be at least 300 dots-per-inch in size, so you should start with a fine or super-fine resolution on your camera.
The original images should be mailed or e-mailed in this size to the editor. For non-print applications, such as Web site posting or general e-mail transmission, smaller images that are less than 5MB are preferred. In these cases, your larger images can be saved in PDF format, which compacts them into much smaller files.
Photographs by David Rasch.
David Rasch has planted more than 100 conifers in his garden in New Mexico. He travels throughout the West seeking large, rare, and individually beautiful conifers; he also collects photographs, prints, and paintings of Western conifers.
This article was originally published in the Spring 2010 issue of Conifer Quarterly. Join the American Conifer Society to access our extensive library of conifer-related articles and connect to a nationwide group of plant lovers! Become a member for only $40 a year and get discounts with our growing list of participating nurseries in our Nursery Discount Program.
Comments