The Southeast Signature Plant Series- Thuja occidentalis 'Maud'
Text and Photos (except as noted) by Jeff and Jennifer Harvey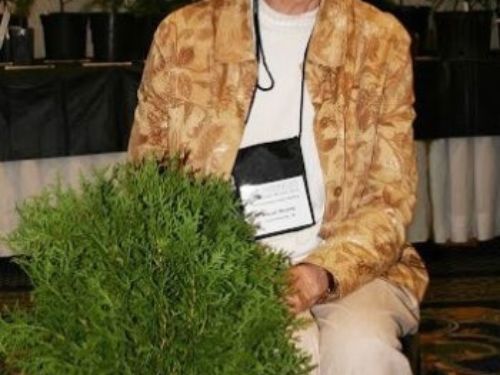 This year, the Southeast Region initiates the Southeast Signature Plant Series, an ongoing project of the Southeast Region to develop new cultivars of conifers that are suited to SE gardens. Selections will be seedlings, witch's brooms, or sports that have not been previously introduced or shared. They will be miniatures or dwarf varieties, whenever possible. Each new cultivar will be named in honor of a person who has been important in the history of the ACS in the SE region. The first Southeast signature plant is Thuja occidentalis 'Maud', named in honor of Maud Henne.
Maud Henne and her late husband Reinhard started their conifer collection around 1985 and became members of the ACS in 1986. Maud was ACS executive secretary while Jordan Jack was ACS president, and between the two of them, they created the Southeast Region of the ACS. Our first president, in 1998, was Mac Stiff.
Maud has been one of the driving forces of the Southeast Region for many years. She has held the office of Regional President and was the newsletter editor until 2015. She also organized several conifer events, including the regional meeting. I believe she started the Outstanding Service Award for the Southeast Region when she gave Jordan Jack the award during one of the first regional meetings Jennifer and I were able to attend.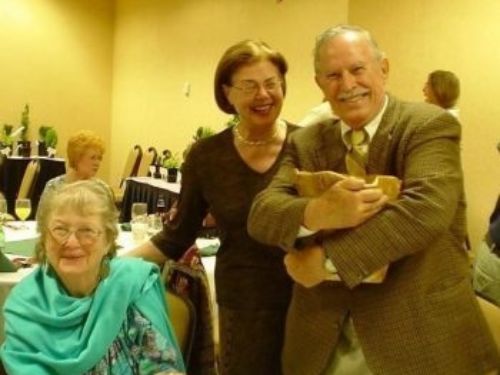 Paperwork for Thuja occidentalis 'Maud' has been submitted, and we expect it to be approved, shortly. It is one of Dr. Clark West's 3rd generation seedlings from Thuja occidentalis 'Filiformis', which we were able to obtain with the help of Chris Deager. Although the parent plant is a threadleaf form, 'Maud' has fan-shaped leaves and is a slower grower. The seedling is currently 11 years old and has a slightly columnar habit with growth rate around 2 to 3 inches a year. Several of us have been able to take cuttings and we hope to be able to share this wonderful plant named after a great lady with the group for many years to come.
Excerpt from the September 2016 Southeastern Conifer Quarterly. Gain access to archives of past newsletters and the National Conifer Quarterly by becoming a member of the American Conifer Society.
Comments