Temperate Conifers of South America
Learn about the myriad Andean conifers of Chile, Argentina, and Uruguay.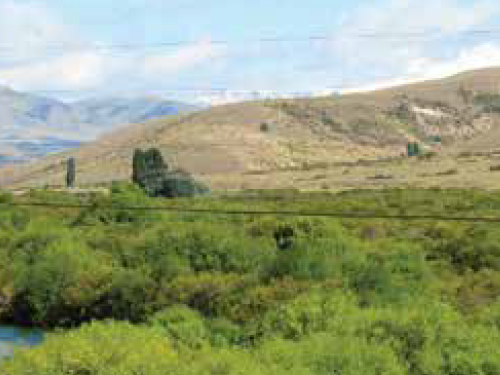 A longtime dream of mine has been to document and photograph in-situ populations of the temperate conifers of South America. These are only found in Chile and Argentina. Very little is ever written about them and, to my knowledge, they have never been discussed in Conifer Quarterly (CQ).
For sake of clarity, it is important to distinguish these temperate (Andean) conifers from those tropical and sub tropical conifers, occurring further north in locations such as southern Brazil, Paraguay and northern Argentina, e.g. Araucaria angustifolia and Podocarpus lambertii. An easy assumption which I made early-on is that any conifer growing south of the U.S. border would not ever be winter hardy in my Zone 7b climate.
While over the years a number of these Andean conifers have made their way to our arboretum, growing them has proven at best to be quite challenging. As I was to learn on this trip, the conditions, in which they naturally occur, is difficult to replicate in the Piedmont region of Georgia.
Andean Conifers in South America
As one who has a fascination with conifer evolution, it was interesting to learn more about these Andean species. With the exception of Araucaria araucana (Monkey Puzzle tree), they are seldom seen in collections, even in the countries to which they are native. While none are particularly garden-worthy, their place in the conifer kingdom is
interesting.
As a starting point, there are only nine species in the region and they belong to three families:
I dare say that none of these conifers are exactly household words. During our travels, we documented all but the following; Prumnopitys andina, Podocarpus salignus, and Lepidothamnus fonkii.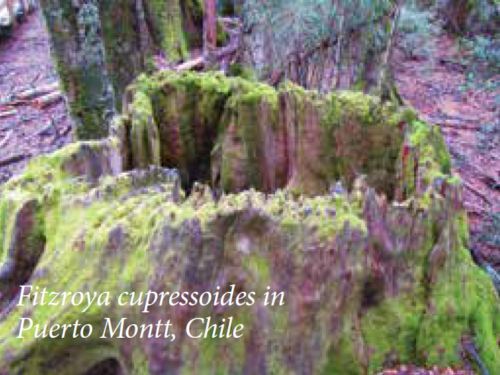 The Conifer Adventure Begins
Our journey began in Santiago, Chile, where we met up with ACS members Ken and Elena Jordan (Roseburg, Oregon). After several days in Santiago, it was off to the port city of Valparaiso, where we boarded a Golden Princess cruise which was to be our home for the next 14 days. I was not certain as to how I might acclimate to being on a ship for that long as I'm used to being out making my own way. As we get older, and I am less able to trek all over the globe, this presented an alternative which worked.

Our first stop was in Puerto Montt, Chile, and Alerce Andino National Park, where a remaining stand of Fitzroya (native common name is Alerce) were protected. While some specimens in the region are dated as 4,000 years old, my guess is that, what we saw were secondary forest. Nonetheless, many of these trees were at least 75' (23 m) tall with virtually no limbs for the first 40' (12 m).
Another characteristic is their slow growth—less than 1" (2.5 cm) per year. Fitzroya is considered one of the largest trees in South America and now receives national protection. It was formerly used for the building of houses, shingles, and boats, and even used in aircraft. One small cathedral in Puerto Montt is constructed entirely from Fitzroya and casts the same red hue as our native redwood.

Exploring Chile
Fitzroya derives its name from Vice-Admiral Robert FitzRoy, the captain of HMS Beagle during Charles Darwin's famous voyage. An associated conifer common in the forest was Podocarpus nubigenus (more on this species later). On the touristy side, the city of Puerto Montt is a small port founded by German settlers over 150 years ago. There is a pleasant main square, the aforementioned cathedral, and the authentic Angelmo market, famous for fresh seafood and souvenirs. We enjoyed a very nice seafood meal with wine in a little "hole-in-the-wall" cafe overlooking the port. Alas, these are sometimes the best meals.
Sailing southward along the coast of Chile, we stopped in Punta Arenas; a formerly bustling city prior to the opening of the Panama Canal in 1914. There is some interesting architecture and fine homes which are emblematic of another era. Situated near the Straits of Magellan, it was interesting to see how people lived this far south and so remote.
We then sailed around legendary Cape Horn at the southernmost tip of South America. This often violent stretch of water between Antarctica and South America can sometimes be the roughest sea in the world. Luckily, it was relatively calm as we sailed past. We then traversed through the Drake Passage and on to Ushuaia, Argentina, which is considered the southernmost city in the world.

Arriving at Argentina
Our next stop was Port Stanley, Falkland Islands. Officially classified as a British overseas territory, there has been some controversy concerning ownership between Great Britain and Argentina, which resulted in a two month undeclared war in 1982. The occupants are considered British citizens, and the city has a distinct British feel.
Having previously travelled to Ascension Island in the equatorial south Atlantic (another British overseas territory), it was interesting to see how they lived on this also remote outpost. It was fascinating on this largely treeless island to see a number of conifers such as Picea orientalis 'Skylands' and Cupressus macrocarpa planted on the grounds of the governor's mansion—all performing quite well.

It was then on to Montevideo, Uruguay, which is an interesting old city in this small country wedged between Brazil and Argentina. A short ride from the port found us four coneheads at the botanical garden. Regrettably, our cab returned exactly at the time we requested, but much too soon to enjoy fully this garden which has a very good plant collection with numerous old conifers. One of special note was a 30' (9 m) Cupressus torulosa, a rare find in any collection.
Finding Fair Winds
Our last stop was Buenos Aires. After a couple of days there, we said goodbye to Ken and Elena, who headed back home to Oregon. This is a city which most people claim to either love or hate. We loved it. Every street is tree lined, with Jacaranda being the principle landscape tree. What a sight it must be in the spring when these trees are covered with blue trumpet shaped flowers.
We found the city to be clean, with beautiful European architecture, wide boulevards, great food and wine, and friendly people. If visiting, a must stop is in the Recoleta cemetery which contains the graves of Argentina's famous, including Eva Peron. The botanical garden is a gem and contains a large area dedicated to conifers from around the world, most of which are straight species. The garden contains numerous statues, winding paths and inviting benches where one can sit and relax for a while. Another highlight is a greenhouse imported from France in 1900. In summary, it makes for a nice escape from the hustle and bustle, and admission is also free.

It was now time to lay the sissy stuff aside and kick the hunt for endemic conifers into high gear. We flew to Bariloche in the lake district of Argentina and rented a car. Bariloche is an idyllic little town reminiscent of a European ski resort. It is also a town where conifers are king; and lays claim to being the chocolate capital of Argentina, a good combination as both are sweet.
Araucaria araucana, Pseudotsuga menziesii, Cupressus lusitanica, C. macrocarpa, Pinus radiata, and P. pinaster are everywhere. We spent our first two nights in a room overlooking scenic Lake Nahuel Huapi, which sits at 2,500' (765m) elevation. Our view was framed by two perfectly formed Araucaria araucana. A postcard setting for sure.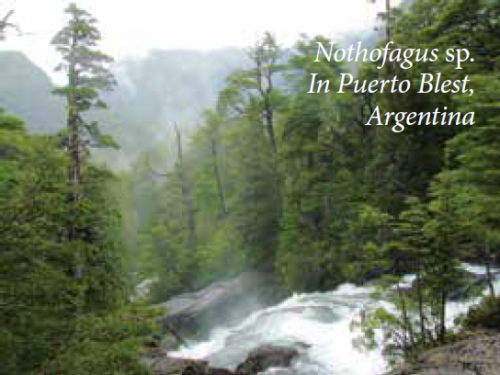 Stumbling into a Valdivian Rain Forest
One day, we drove along the shore of this deep blue lake with its backdrop of rugged peaks of the Andes to Puerto Panuelo, where we caught a boat to Puerto Blest in an effort to search for native conifers. As a side note, this port is also where one would find the legendary Llao Llao hotel and resort—the most famous hotel in Argentina. After an approximate one hour boat ride, we docked and began our trek.
This was the only physically challenging portion of the trip as we had to climb 700 steps alongside a spectacular waterfall. Fortunately the steps were broken up by landings where one can take a rest. Along the way, we saw more specimens of the rare Fitzroya. We would also document specimens of Saxagothea conspicua, Pilgerodendron uviferum, and Podocarpus nubigenus, as well as a wide variety of mosses, mushrooms, and lichens.

We were in the middle of a Valdivian Temperate Rain Forest; one of the world's five major temperate rainforests and the only one in all of South America. The annual precipitation here is around 197" (5000 mm). Snow-capped volcanoes and Andean peaks are the backdrop of these temperate rainforests. We also saw numerous Southern beech (Nothofagus sp.) forests, one of only three of this type of forest in the world.
Seeing the Argentine Araucaria
Before leaving Bariloche, we took another boat to the island of Victoria. It had been recommended by a local horticulturist as a place to see conifers. If one travels to Puerto Blest, then there is no reason to travel here except to see exotic trees. It has plants and trees from all over the world which began as seedlings. Of particular note is a long Sequoiadendron giganteum allee with trees approaching 100' (30 m), as well as large specimens of Pinus ponderosa, taeda, and radiata, and several species of Cupressus. The island was privately owned in the past.
The highlight of the entire journey was soon to unfold. After spending several nights in the charming mountain town of San Martin de los Andes, which is nestled between high peaks next to Lake Lacar, we were off to Lanin Volcano. The principle reason was not to see the snowcapped volcano, but rather to visit a natural forest of Araucaria araucana. This has long been high on my bucket list, particularly after seeing a small grove of planted trees at Bedgebury Pinetum. After driving for what seemed forever on a dirt road which looked as if it had been bombed, we began to see the cone shaped, snow-capped Lanin Volcano.
We were lucky as it danced in and out of clouds making it possible to catch full views. Soon we would find ourselves in the middle of the Araucaria. There were all sizes and various forms, although we saw little evidence of seedlings. At the risk of sounding hyperbolic, this was one of the greatest experiences of all times. There were few vehicles to spoil the moment and the weather was cooperating.
Behind us were large mountains where Austrocedrus chilensis and Nothofagus spp. blanketed the slopes. Facing us was the volcano and in this alpine valley were the legendary Araucaria. It was easy to see the transitional aspects of the area where Austrocedrus grew on the rocky slopes and Araucaria in the lowland on pure volcanic scree. The contrast between conifers of the rainforest and those in drier areas was stark. It offered insight in to how I might attempt to grow these in north Georgia. They are all very site specific.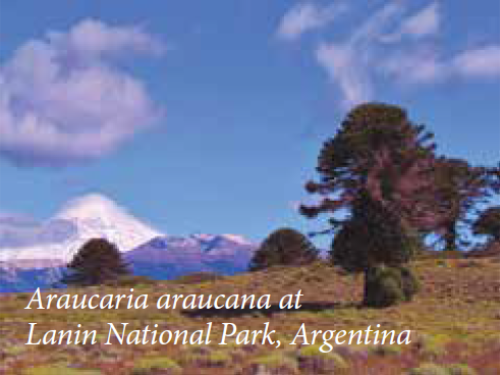 A South American Summary
For many of our readers, there will likely be no interest in trying to grow these conifers. Aside from availability, as mentioned earlier, they are quite site-specific with varying moisture demands. With the exception of Araucaria, they are even rare in botanical gardens and were not even seen in Buenos Aires or Montevideo. Thus, they will likely remain in the domain of the collector and in highly specialized collections.
From a botanical and historical standpoint, they are an important group. It is believed that the southern conifers were much more diverse before the glaciations. Four of the nine conifers are represented by a single species. These are survivors from a much earlier period. As previously discussed, conifers such as Fitzroya cupressoides can live for thousands of years. Like Sequoiadendron giganteum and Pinus longaeva, the Andean conifers offer a glimpse back into the climate history of our planet.
Further, the lineage of conifers from the southern hemisphere show a significantly older distribution than their counterparts in the northern hemisphere and are thought to be an older group. One reason cited is that the scattered persistence of mild, wetter habitats in the southern hemisphere may have favored the survival of older lineages.
Once a part of a larger supercontinent (Gondwana) which included Australia and New Zealand, there are numerous disjunctive genera common between the countries. This is similar to the floristic similarities between the southeastern U.S. and portions of China. Unlike the phenomenon where one waits until they get home to look at their pictures to see if they had a good time, this was a trip guaranteed to please many lovers of conifers and those who also appreciate beautiful scenery, coupled with good food. And, the excellent wine will be a bonus for some.
Conifers du Jour
Saxagothea conspicua (Prince Albert's Yew): This monotypic genus was a rather commonly occurring conifer in this area. It resembles a yew (Taxus) in appearance with .6–1.2" (1.5–3 cm) long lanceolate leaves, which are fairly hard with a prickly spine tip (like the genus Torreya). The dark purple-brown bark is thin and flaky to scaly, which I found attractive. While they can reportedly attain heights of 82' (25 m), we saw none taller than approximately 10' (3 m). At least one nursery in the U.S. (Far Reaches Farm in Port Townsend, Washington) carries this species.
Pilgerodendron uviferum: While mostly seen around bogs and swamps, we found it on wet mountain slopes within the rainforest where it grew next to Nothofagus betuloides, Saxagothea, and Fitzroya. While it can reportedly attain heights of 65' (20 m), we saw nothing approaching this. The specimens we did see displayed an appealing dark brown bark which exfoliated in long strips. Close examination of the densely crowded scale-like needles reminded me somewhat of a succulent.
One prominent feature was that all needles appeared to be of the exact same length. Several trees observed were perfectly conical and rather handsome, which makes me want to try this species in our arboretum. I recall seeing this species during my unforgettable stay at Bedgebury Pinetum in the U.K., but do not recall it being that remarkable. This is analogous to the boy or girl we pay no attention to in high school and then one day we see them as a star on TV. Due to overexploitation as a building material, Pilgerodendron is now protected under CITES (the Convention on International Trade in Endangered Species of Wild Fauna and Flora).
Podocarpus nubigenus: As a genus, Podocarpus are to the southern hemisphere what pines are to the northern hemisphere—that is to say, the most number of species. P. nubigenus is the southernmost Podocarpus species in the world and is one of two occurring in the region covered in this article. The other, P. salignus was not found. P. nubigenus is another conifer growing to around 65'–80' (20–25 m). The specimens we observed were no taller than 15' (5 m). As observed, this is a tree also reminiscent of the genus Taxus, but most like Podocarpus totara from New Zealand. It is of interest to me how the Antarctic flora from this region bears strong resemblance to that of portions of New Zealand. This is an irregularly shaped tree I suspect has no garden merit outside special collections and for conservation.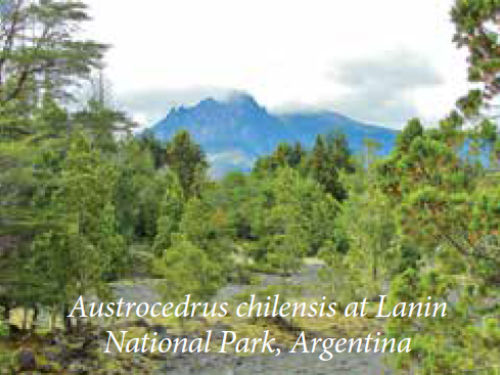 Araucaria araucana: One of only two species of Araucaria native to South America. The other being A. angustifolia from Brazil. Araucaria only occur naturally in the southern hemisphere. This is not an uncommon tree in parks and arboreta and is frequently seen in Portland, Oregon, and the U.K. Attesting to its cold tolerance, I have even seen a tree growing on Long Island, New York. Here in the southeast, the tree is not long lived due to being highly susceptible to the soil born fungus, Phytophthora. Some success has been achieved by using A. angustifolia as an understock. Due to its Jurassic like reptilian branches, it has been referred to as a "queer tree." Perhaps one day we may have this tree living in our collection.
Austrocedrus chilensis: Grown properly, this member of the cypress family can be a nice addition to a collection of rare conifers. The scale-like leaves are a blue-green color and have a prominent white stomatal stripe along the outer edge. The bark is shaggy brown. From personal experience in having killed several and from observation, the tree wants to be planted on the dry side and excellent drainage is a must. What surprised me was the extensive root system it puts out. No doubt this allows it to anchor well on slopes. Along with Araucaria and Pilgerodendron, this species offers the best garden-worthy attributes.
Author's Acknowledgement
I wish to acknowledge the invaluable assistance we received from Jeff and Patty Bisbee (Gardnerville, Nevada), who suggested many of the locations we visited to find these conifers, as well as Jeff's technical assistance with this article. Numerous photographs taken by Jeff of conifers in the region as well as Mexico appear in the recently published two volume book, Conifers Around The World.
References:
Farjon, A. 2010. A Handbook of the World's Conifers. Leiden, The Netherlands, Brill
Debreczy, Zsolt, and Rácz, István. 2011. Conifers Around The World. Budapest, Hungary, Dendropress
Photographs by Tom Cox.
This article was originally published in the Fall 2014 issue of Conifer Quarterly. Join the American Conifer Society to access our extensive library of conifer-related articles and connect to a nationwide group of plant lovers! Become a member for only $40 a year and get discounts with our growing list of participating nurseries in our Nursery Discount Program.
Comments
Would you know if there are any pines in the genus Pinus native to Uruguay? Do you know of any references? There are two species occurring in coastal areas that I'm not able to identify. I've noticed Pinus elliottii and P. taeda are frequently planted and it's not those species. Thanks for any insight you can provide.