Reimagining Your Conifer Landscape Design
Learn how to transform your landscape design and create a conifer garden of your dreams.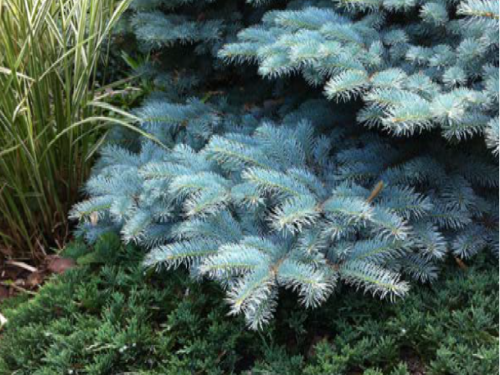 I was given the authority by the condo board to reimagine the front and back yard gardens in 2006, four years after we purchased the condo from my brother. The building is six-flats, with three units on each side, facing south.

The front yard consists of a 50 by 23 plot of land (1,150 square feet), trisected by a curved sidewalk. For most of its existence, the yard was covered by grass with a strip of yews across the front foundation. In the semicircle bed in the middle, various unit owners had planted a few bulbs and numerous daylilies.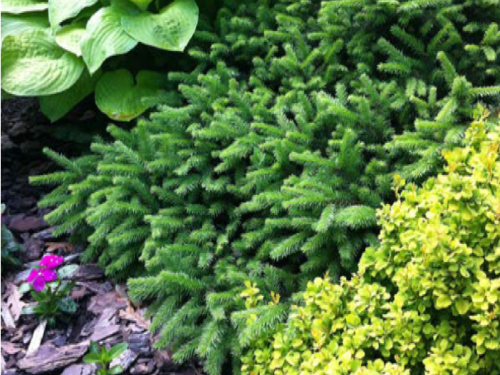 An Overview of the Original Conifer Garden
The center bed was beautiful during the summer when the pastel yellow and peach daylilies blossomed, but that was it. The few bulbs were dwarf irises and tulips. The yews were so badly managed over the years that they looked awful when I moved in. The backyard is slightly larger at 1,500 square feet.
After getting permission to reimagine the plot, I proceeded to draw up plans for the southeast segment of the yard, which included conifers, flowering shrubs and natural hardscaping. One of my specialties, wherever I move, is to add hardscaping using rocks to create gardens.
I typically hunt and find rocks from nearby forests and lakes, creating gardens with rich habitat full of niches for both flora and fauna. I immediately planted my first design, leaving about half of the plot grass and the rest filled with a beautiful variety of trees, shrubs, and perennials.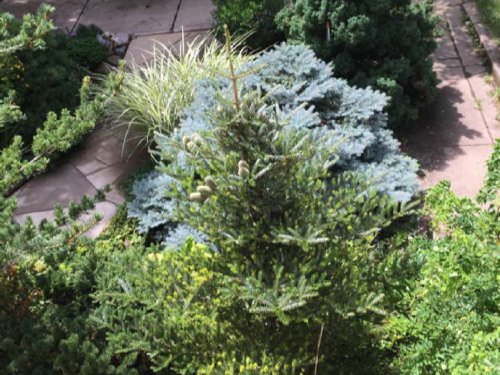 This garden began with Pinus cembra 'Blue Mound', Picea abies 'Layne's Globe', Pinus mugo 'Slowmound', Chamaecyparis obtusa 'Kosteri', Chamaecyparis pisifera 'Golden Mop', Pinus mugo 'Mops', Chaenomeles japonica 'Cameo', Syringa pubescens subsp. patula, Corylus avellana 'Contorta', Robinia pseudoacacia 'Lace Lady', Cotinus coggygria 'Velvet Cloak', Rhododendron 'Thunder', Berberis thunbergii 'Intermedia', and an additional Japanese white pine, which has since succumbed to the drainage from a portable air conditioner unit above.
As beautiful as this plot turned out to be and as happy as I was that the unit owners gave me their seal of approval, I was left hungry to envision and plant more gardens.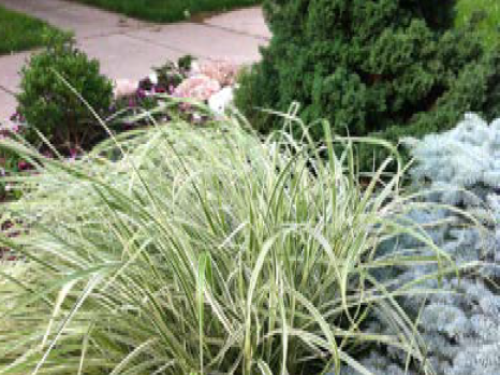 Experimenting with Conifers
I had always been interested in conifers for their year-round interest, even drawing them when I was a young adult experimenting with various art forms. The first landscaping season at the condo left me with a greater interest in conifers. I spent a lot of time at our local Gethsemane Garden Center searching out the most beautiful conifers I could find that would grow slowly.
They had a wide selection available, so picking out more for the next plot was easy. I turned to the plot under my front windows - the southwestern plot - and designed a garden there for planting the next spring.

When the weather warmed enough, I planted conifers in four focal points for interest to the new plot, including Pinus parviflora 'Fukai', Picea pungens 'Globosa', Abies koreana 'Horstmann's Silberlocke', with numerous smaller conifers, shrubs, hostas, and grasses, including Miscanthus sinensis 'Strictus', Picea abies 'Pumila Nigra', Pinus mugo 'Winchester Compacta', and Berberis thunbergii 'Monlers'.
The garden beds expanded over time with Japanese maples and many more dwarf and miniature conifers. After many years of growth, I decided there was no longer any place for grass in my life.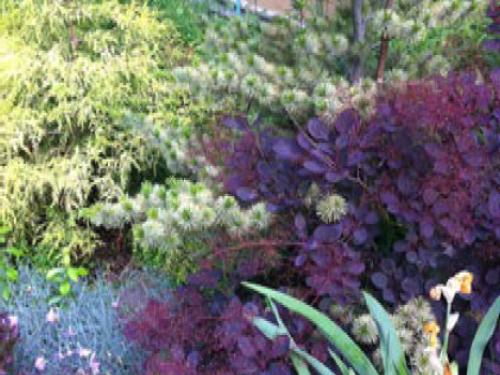 Moving Away from Monoculture
I teach Environmental Biology at Roosevelt University, and know about the dangers of monocultures. That was a great excuse for getting rid of the grass in the front yard, which I proceeded to do in all three beds, as the gardens expanded.
At this stage, the southwestern plot is completely landscaped, the south center plot just took on its next look with a lot of miniature and dwarf conifers and no grass, and the original southeastern bed will lose the remaining grass skirt during the next growing season.

Our yard now contains approximately 60 conifers, 3 ginkgos, and 5 Japanese maples. The backyard is now fair game for my imagination, and I am working on it, plot by plot.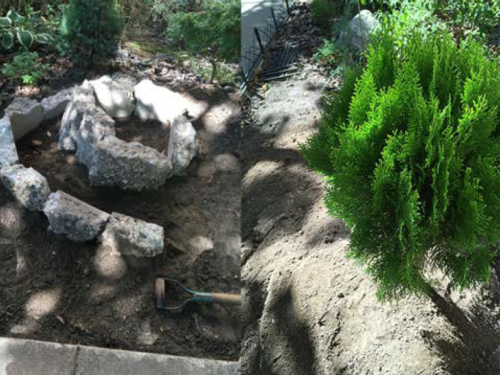 Introducing Dwarf Conifers
This past summer I experimented with adding more dwarf and miniature conifers into a newly de-grassed 60 square foot plot, and I decided to try using leftover chunks of sidewalk debris to build elevation.
Included is a series of pictures highlighting the creation of that garden segment, from laying out the spiral walls of the mound to planting conifers, ferns, dwarf hostas and thymes, to the final mulching stage.
The conifers in this newest plot include Platycladus orientalis 'Morgan' (the featured conifer at the top of the mound), Juniperus horizontalis 'Blue Pygmy', Thuja occidentalis 'Golden Tuffet', Chamaecyparis pisifera 'White Pygmy', Tsuga canadensis 'Jervis', Chamaecyparis obtusa 'Butterball', Picea abies 'Tompa', and Chamaecyparis obtusa 'Bassett'. I cannot wait to see how the newest bed survives the winter, and how the specimens grow together.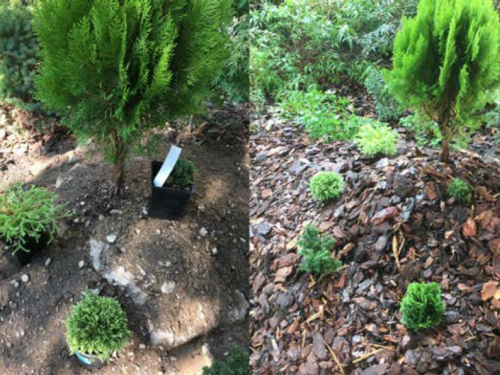 I have many favorites in this collection, but the one that I check on every single day, is Abies koreana 'Cis'. I absolutely love the Korean firs, but this particular cultivar is my pal.
You know you are doing a good job when passersby, dog walkers and other neighborhood residents and business owners stop and exclaim how beautiful your garden is and how it seems so natural, with the merging of one specimen to the next.
The real reward is watching your garden grow, year after year, and to see how each specimen adapts to its environment and adds its own unique imprint to the design.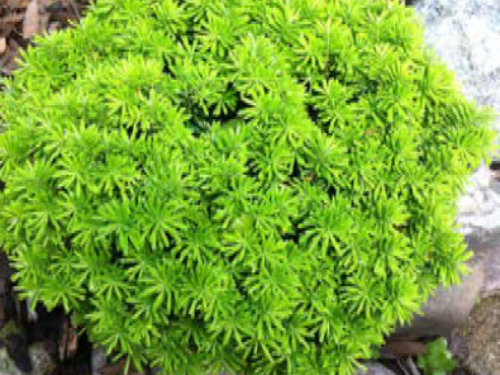 Photographs by Dr. Kenneth Hundrieser.
This article was originally published in the Summer 2018 issue of Conifer Quarterly. Join the American Conifer Society to access our extensive library of conifer-related articles and connect to a nationwide group of plant lovers! Become a member for only $40 a year and get discounts with our growing list of participating nurseries in our Nursery Discount Program.
Comments