Rare Conifers and Evergreen Trees
Curious about rare and unusual conifers? Discover the world's rarest evergreens from the US and internationally.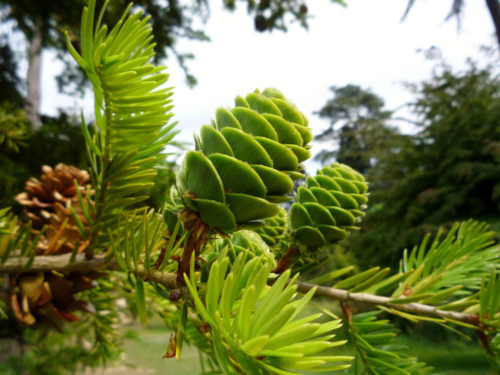 When one thinks of ex situ (outside its natural habitat) collections of rare and endangered conifers, institutions such as Bedgebury Pinetum, Kew Gardens, Arnold Arboretum, and Missouri Botanical Garden come to mind. Each of these do in fact have impressive collections with Bedgebury likely being at the top. One of the last regions one might consider looking would be the Southeast U.S – a region generally viewed as unfriendly to conifers.
When the Cox Arboretum was started 26 years ago, no thought was given to conifers – period. As the years went by here, we started acquiring more and more. Soon a love affair began with conifers; the majority being cultivated varieties (cultivars). Then at some point along the growth curve, I became more and more fascinated with straight species, which I find every bit as beautiful as any cultivar.
In fact, today my major focus is on species conifers. Of primary interest was evaluation of species that had never been trialed in the southeast or rarely seen in any botanical garden or arboretum. By way of example, we are currently trialing 21 different Abies (firs) on their own roots and are collecting data on these firs from various regions of the world to determine what might adapt here.
A Wide Array of Conifers and Evergreen Trees
Today, we are widely considered to house one of the largest (most complete) conifer species collections in the U.S. There are so many species that would not survive further north or further south than Zone 7b. For many species, such as those native to Southeast Asia, our climate is even more hospitable than Northern California, Oregon or Washington.
Several factors contribute to this with the first being that we receive, on average, 55 inches of rain per year, and the rain is distributed throughout each month. The US average is 37. The second factor is no temperature extremes on either side of the dial. While it can get hot, more conifers than not actually benefit from summer heat and humidity.
Other factors in our favor include a long hardening-off period, which enables our plants to shut down early enough to be prepared for winter. Remember, it's not how cold it gets, but how it gets cold. We have a long growing season, and even our coldest days are short lived. Some plants are able to withstand some cold as long as that cold is not long in duration.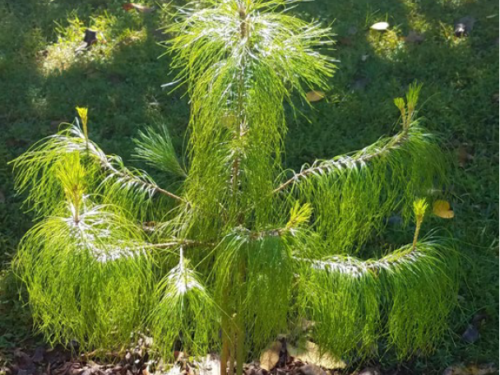 These facts are seldom mentioned (if at all) outside of academia, since most conifer discussion in the U.S. is focused on what does well in regions considered conifer friendly, e.g., Michigan, New York, Oregon, etc. For every plant we cannot grow well, such as interior conifers from the Northwest, there are dozens that will prosper here.
Until now, they have never been tried, there is no literature, and many are next to impossible to locate. Happily, institutions such as the J. C. Raulston Arboretum and Atlanta Botanical Garden, along with pioneering research by Dr. John Ruter, are helping to change this. I also am aware that ACS members Neil Fusillo and Scott Antrim are creating an impressive inventory of species conifers.
A natural off-shoot of a large species collection is that a number of these are rare and endangered. Approximately eight years ago, we were contacted by Botanic Gardens Conservation International (BGCI) and asked to participate in a survey of worldwide gardens holding large ex situ collections of threatened conifers. The overall goal is to support the Global Trees Campaign (GTC), a joint initiative between BGCI and Fauna and Flora International to safeguard threatened tree species.
A Global Survey of Endangered Conifers and Evergreen Trees
A global reassessment of the conservation statuses of the world's conifers was undertaken, and up-to-date assessments were published in the IUCN (International Union for Conservation of Nature) Red List of Threatened Species in July 2013. This work was coordinated by conifer expert Aljos Fargon and jointly undertaken with staff at the Royal Botanic Garden, Edinburgh. The global reassessment highlighted that 34% of conifers are globally threatened with extinction. Yes, extinction.
Maintaining ex situ collections is important as it provides a back-up if wild populations are lost due to natural disasters, vandalism, invasive pests or diseases, or human disturbance. Think of it like a zoo. They are also important for breeding purposes, as in the case of our native eastern hemlock (Tsuga canadensis) which is being decimated by the wooly adelgid (Adelges tsugae). Active breeding work is presently going on using Asian species which are immune, in an effort to develop a disease resistant tree.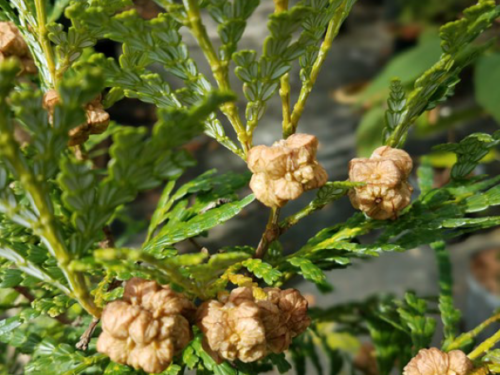 The Big Picture: Depending on the taxonomist, there are approximately 615 conifer species recognized globally. As mentioned above, in 2013, 34% (or 211 species) were listed as threatened with extinction – an increase of 4% since the last complete assessment in 1998. Of these 615 species, many are native to more tropical regions of the world such as New Caledonia, Fiji and New Guinea. These obviously are not suitable for planting outdoors in Zone 7b.
With the exception of several Araucaria, Agathis, and Nageia species, which are grown as houseplants, we do not collect tropical conifers at Cox Arboretum, and they are not counted in our inventory of endangered plants. In our most recent inventory, we verified 76 temperate species on the property that are listed as threatened. Likely, few institutions in the U.S. have this many threatened species growing in one place.
Endangered Conifers: The Florida Nutmeg-Yew
Native here in the Southeast is one of the rarest conifers in the world, Torreya taxifolia. For thousands of years, it was a large evergreen tree endemic to the ravine forests along the Apalachicola River which snakes through the Florida panhandle. Somewhere around 1950, the tree suffered a catastrophic decline as all reproductive-aged trees died. In the decades to follow, the species has not recovered. What remains is a population at approximately 0.3% of its original size, in a manner reminiscent of American chestnut following chestnut blight.
While the pathogen (Fusarium torrayae) has been identified by researchers at the University of Florida, no cure has yet been developed. Propagation efforts spearheaded by the Atlanta Botanical Garden have resulted in a significant quantity of clones being distributed to a number of botanical institutions. We are proud to have received three trees that are growing on.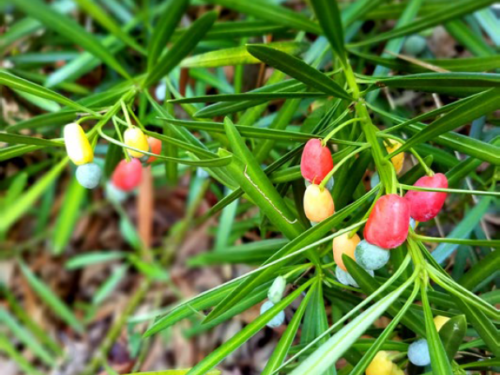 In addition to the aforementioned Torreya taxifolia, I will discuss two more. Pseudotaxus chienii (Whiteberry yew), is the only species of this genus. It is endemic to southern China and is listed as vulnerable on the IUCN Red List. Only 10 populations remain in China. Over the past three generations (90 years) the populations have been reduced by more than 30% due to exploitation and habitat loss.
Adding to its decline are factors such as naturally occurring in low density and poor regeneration ability. While we have but one plant, it has grown well here for over 10 years and is well adapted. The fact that we only have one plant is somewhat problematic as it limits our genetic diversity or gene pool.
The third highlight plant is Cupressus chengiana var. jiangensis, which is only known from a single tree. Reportedly, there are fewer than 50 mature individuals of this variety that have been recorded.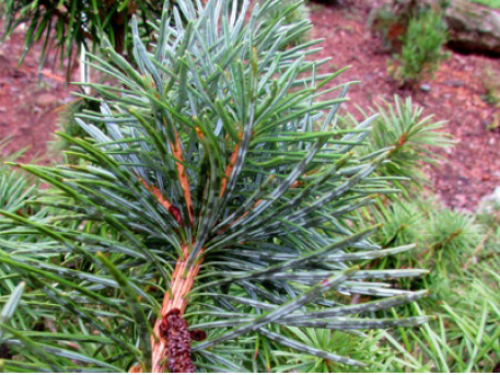 Other rare and endangered conifers of note growing at the Arboretum include:
Torreya fargesii var. yunnanensis
In conclusion, there are many conifer species that are of interest that have proved to be adaptable here in Zone 7b. Visitors here continue to remark about the beauty of many of these and how unusual they are. As an added bonus, we are providing a home for some of the rarest conifers on earth.
Photographs by Tom Cox.
Tom Cox is past president of the American Conifer Society and the founder and owner of Cox Arboretum and Gardens in Canton, Georgia, where he focuses on evaluating, selecting, and displaying plants from around the world that are hardy in USDA Zone 7b. He is also concerned with preserving critically-endangered plants.
This article was originally published in the Summer 2017 issue of Conifer Quarterly. Join the American Conifer Society to access our extensive library of conifer-related articles and connect to a nationwide group of plant lovers! Become a member for only $40 a year and get discounts with our growing list of participating nurseries in our Nursery Discount Program.
Comments