Quarry Lakes Regional Recreation Area: A conifer collection hiding in plain sight
Quarry Lakes Regional Recreation Area: A conifer collection hiding in plain sight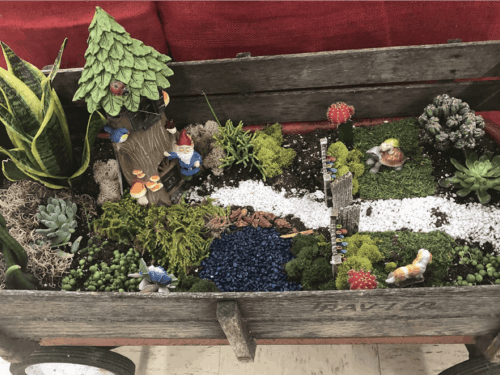 Fun place to visit in the San Francisco Bay Area
Last month we witnessed a perfect example of how the American Conifer Society brings people and conifers together: Sara Malone (website editor) meets Todd Soderberg (Conehead) and Todd introduces Sara to David Pellarin, retired head gardener at Quarry Lakes Regional Recreation Area in Fremont, CA.
In the late 1990's, David was the first employee of this former-quarry-turned-into-a-park. In the almost two decades since, as the gardener, has helped to transform a defunct gravel pit into an up-and-coming arboretum with over 101 species of conifers.
Fremont is on the southeast end of San Francisco Bay, and is bordered by Alameda Creek, which is the source of the water for the lakes that were formed from the gravel pits. In a stunning terraforming of the landscape, the lakes now resemble a bucolic scene painted in the Impressionist style, with trees reflected in the water, and people swimming, fishing and boating. To the east of the 471-acre park is a line of mature trees, remnants of the California Nursery Company, which was established in 1865 and created both a backdrop and a source of plant material for the new park.
History of Quarry Lakes Regional Recreation Area
David, now retired but continuing to work as a volunteer, led a small group of us on a 'tour of the trees' on a hazy, warm November day, all the while providing historical detail about the Park's founding and development. After the quarry operation was closed in 1976, the Alameda County Water District and East Bay Regional Park District purchased the property and started restoration. One of the first steps was the removal of "feral" vegetation, no small feat. As David explained the challenges of planting trees in gravel, nursing them through the extended drought of 2011 to 2017, we were amazed to see how vibrant the growth was in all but a small number of specimens. The list of conifers and a map of their locations in the park illustrates the commitment to both California natives and unusual species that will thrive in an environment that gets hot in the summer but is frost-free in the winter. Drip irrigation is provided to trees not situated in lawn areas and a fence was installed to protect young plants from the ravages of the local deer population.
Our walking tour on the Old Creek Trail included the Bald Cypress Grove and the Rare Fruit Tree Grove on the Isla Tres Rancheros. Although Covid-19 restrictions have changed some park usages, there were many people masked and socially distanced enjoying the park. Trees are each labeled with a post, which contains an alpha-numeric code and the corresponding genus and species names. You can use the code to cross-reference with the map that is linked above.
Quarry Lakes highlights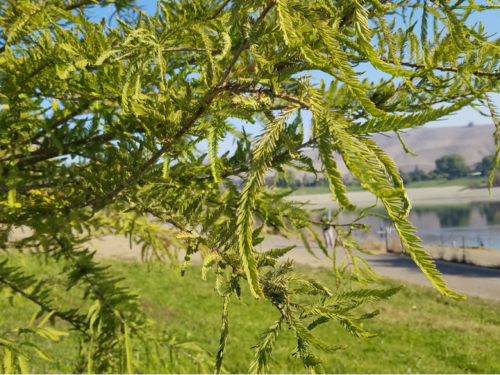 'Nanjing Beauty' is a conical, deciduous to semi-evergreen conifer with needle-like leaves. It is a hybrid cross of Taxodium distichum (bald cypress) and Taxodium mucronatum (Montezuma cypress). This cross was made in China in the late 1970s / early 1980s by Dr. Chen Yong Hui of the Nanjing Botanical Garden. Nanjing Beauty is noted for its rapid growth rate, ease of rooting, high alkalinity resistance, good fall foliage retention and absence of knees.
Cape, or Clanwilliam, cedar grows to about 15 to 22 feet tall but in protected places up to 65 feet. Old trees are spreading, gnarled and massive, with reddish gray, thin, fibrous, flaking bark. Juvenile leaves are up to 0.75 inch long and and 1 inch wide; adult leaves are up to 1.5 inches long.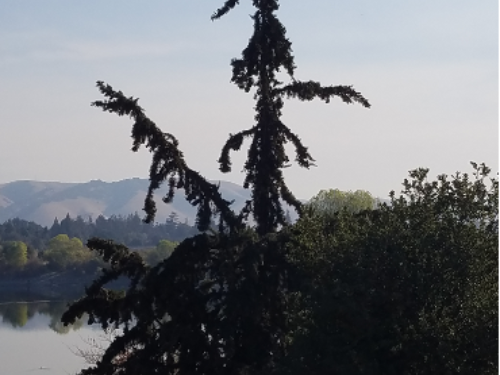 This Cupressus sempervirens, (C21, erroneously listed as "Hoizontalis"), looks more like a Cupressus nootkantensis 'Green Arrow' than what most of us think of as Italian or Mediterranean cypress, the common names of C. sempervirens. The vast majority of the C. sempervirens in cultivation are cultivars with a fastigiate shape, with erect branches forming a narrow to very narrow crown often less than a tenth as wide as the tree is tall. Formerly, the species was sometimes separated into two varieties, the wild C. sempervirens var. sempervirens (syn. var. horizontalis), and the fastigiate C. s. var. pyramidalis (syn. var. fastigiata, var. stricta), but the latter is now only distinguished as a Cultivar Group, with no botanical significance. (Wikipedia)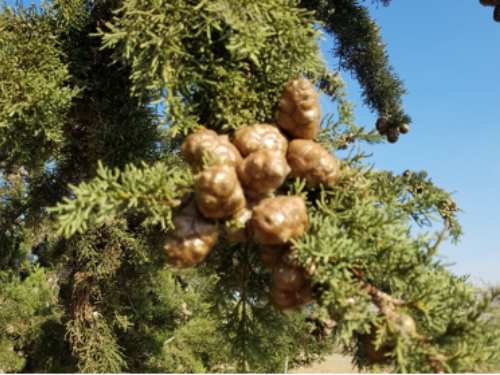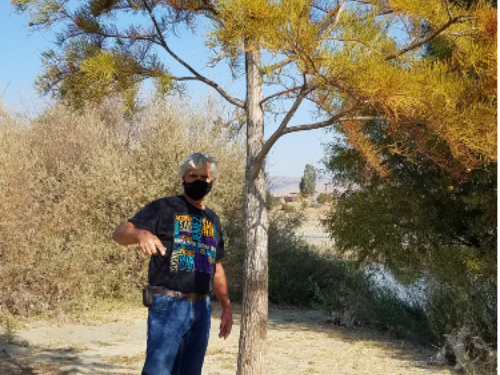 Taxodium ascendens (T2) is in the park area called Bald Cypress Grove and although it is dry in November, as soon as the rains come and the lakes fill, this area will be flooded. T. ascendens is commonly known as pond cypress, and is distinguished by its upwardly pointing needles.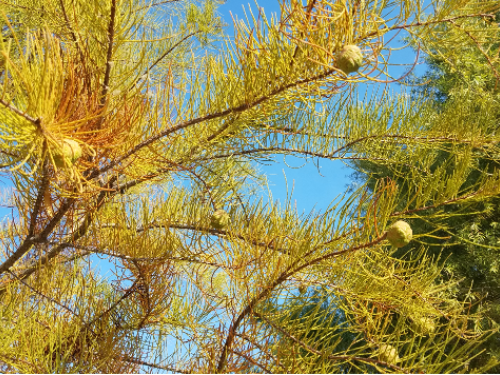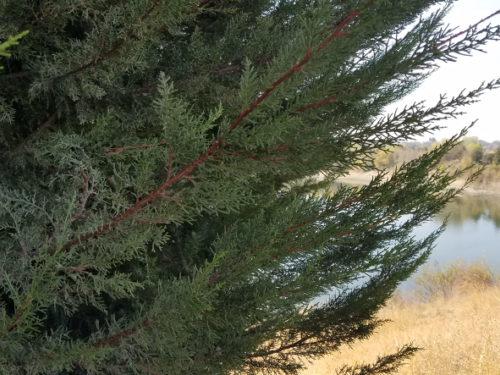 The Santa Cruz cypress, which the ACS classifies as Cupressus abramsiana, is a species of North American tree within the cypress family. The species is endemic to the Santa Cruz Mountains of west-central California. The U.S. Fish and Wildlife Service listed the species on the Endangered Species Act in 1987 due to increasing threats from habitat loss and disruption of natural forest fire regimes. In 2016, the conservation status of the Santa Cruz cypress changed to Threatened. The cited reasoning was a decrease in threats against their habitat. (Wikipedia)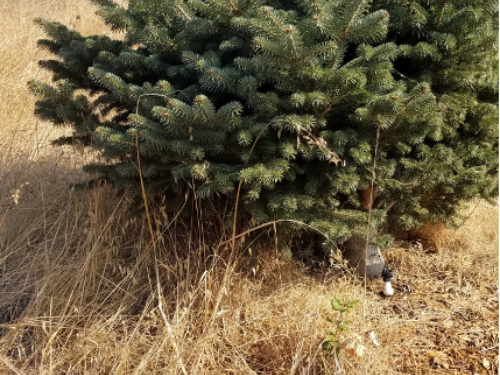 Abies cephalonica, or Greek fir, was important in the past for wood for general construction but it is now too rare to be of significant value. It is also grown as an ornamental tree in parks and large gardens, it is restricted to areas like Quarry Lakes that do not get frost. It is prone to frost damage as it is one of the first conifers to push fresh growth in spring.
For those of you who live in the greater Bay Area, this is a wonderful spot to visit, even if you are not a card-carrying Conehead. It is a lovely setting, with mild temperatures, plenty of space to ramble, bike or picnic (even in these Covid-19 times) and easy access. If you are visiting the San Francisco area, you'll find that Quarry Lakes is less than a half an hour from San Francisco International Airport.
Quarry Lakes Regional Recreation Area, 2100 Isherwood Way, Fremont, CA, 94536
Comments
Great article! Most people don't know that portions of Quarry Lakes was part of the California Nursery. The nursery was actually established in Niles in 1884. The 1865 date was apparently tacking in John Rock's San Jose nursery establishment. Where are the mature trees on the east side? I'd like to visit them. I'll be sharing your article on Facebook "California nursery garden club". ...thanks for writing about the trees!!