How to Prevent Fungal Diseases in Conifers
Find out what works and what does not in the battle against fungi.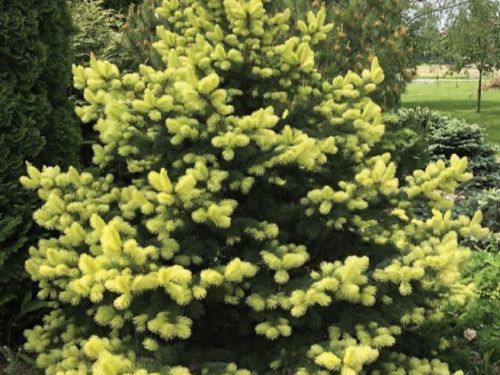 Much of our country has been inundated by flooding this spring. Nothing has been able to hold back the waters. Levees, dams, and sandbags have failed to stem the deluge. "Water wins!" Mary Beth Cunningham, a friend, neighbor, and lake-dweller, said while watching lake waters swell over docks and property.
All residents can do is sit by powerlessly while their lives sink under water. What is going on? What can we do about this, especially when fungus and mold follow on the heels of the floodwaters?
While on tour at Conifer Kingdom, Boring, OR, during our recent 2019 National Meeting, Tom Cox asked me what I wanted to know about conifers. As we walked among the rows of plants, I told him about what has been going on with needle cast on some of the conifers at my home in Adrian, MI; where, to date, it has rained more than 2/3 of the days of each month since April. His answer was simple, profound, and immediate: "It's a drainage issue."
Strategy Development in Conifer Fungal Warfare
A drainage issue? On the plane ride back to Detroit from Portland, OR, I passed some of the time going over what Tom had said. I live in USDA Zone 6b. Decades ago, my zone was listed as 5. The springs have become wetter.
The summers are now characterized by prolonged droughts. The winters are dotted with repeated polar vortexes. Are these elements of climate change, or is nature just running its course? Whatever the causal agent(s), what do I do to combat the negative effects of too much water on my conifers, if I can?
We humans are resourceful. Anthropologists and archaeologists have traced the progression and survival of humankind from isolated clusters of people, to migrations, to the development of tools, to the founding of cities and nation-states. Brainpower and knowledge are what have propelled us to where we are, and brainpower is what will save us, and our conifers.
With the help of others, I have developed a new planting strategy that should help all conifer lovers facing climatic changes. I came by this through trial and error and good luck.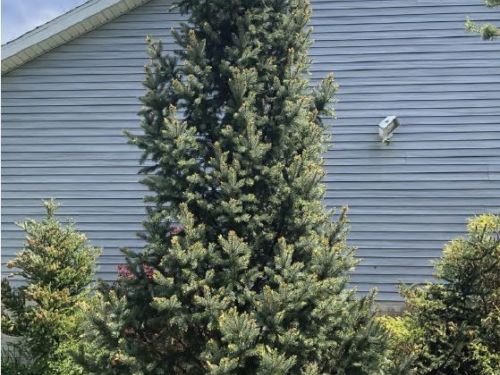 Starting from the Bottom: Foundations
First of all, Michael Lewis (Adrian, MI), the builder of our home, told me that the land we had purchased for our new home back in 2002 was very wet, with a high water table. He advised that we plant Salix babylonica (weeping willow) and Betula nigra (river birch) to suck up the water.
Consequently, I asked him to build the foundation 8-feet above grade with a 14-feet high basement ceiling. He also installed two sump pumps. The new house literally sits on a man-made hill. I knew nothing at the time of the soil type of the property, but I went ahead and bought small-caliper willows and birches anyway, placing them strategically around the mud that surrounded the house.

The wisdom and experience in home-construction Mike had achieved one desired goal right off the bat: to draw the ground water away from the foundation. Then came my own strain of Addicted Conifer Syndrome.
Wrong Tree, Wrong Location
Since I hated raking leaves, I decided to plant easier trees. I began planting conifers all over my property, while disregarding the sizes and environmental requirements of the trees. (I was not a member of the ACS at the time.) A "dwarf" Cupressus nootkatensis (Nootka cypress) landed in the front corner of the house. A happy, beautiful specimen, it has grown to a height of over 20 feet with a circumference of more than 30 feet at its lowest branch flare.
It now covers 1/3 of the front deck and has shrouded all of the front windows and is still growing. My wife, Susan Arena-Elardo, calls it her "ghost tree" and forbids me from pruning it. Beneath the tree is a system of drain tiles and sand and gravel trenches that surround the foundation of the house. "Wrong tree wrong location," as David Olszyk would say. That tree and I will face its as-of-yet unknown comeuppance.
Before we had sold our old house, our son, Joseph, and I moved a large sculpted Pinus sylvestris (Scots pine). The rootball collapsed in the process. Just by happenstance, we simply stuck the tree bare root in the ground, with a shrug of my shoulders, near the top of the mound, on which the house sits, not far from the Nootka cypress that my wife protects. This location, although a fluke, would be the saving-grace for the Scots pine. For it too, stands at the top of the house-mound with manufactured drainage beneath its feet.
Connecting the Black Dots: Fungal Diseases in Conifers
Several years ago I saw black dots on the needles of several of the conifers that I had planted in low-lying areas of my property. Experts told me that fungus was the culprit. One nurseryman even performed an unsolicited inspection of my garden. He offered to "take care of the fungus" for $4,700 dollars per year. He also told me that there would be no guarantee that the conifers would survive the anti-fungus treatment.
My go-to horticulturist, Steve Courtney (ACS National Office Manager), responded to my query about the value of the fungus-eradication program with, "It is a waste of money!" I abandoned the expensive remedy and bought two chainsaws instead, one regular one and one on a pole. However, the question lingered as to how this fungus problem started. What was the beginning?
The Relationship between Fungi, Conifers, and Humans
I threw myself into fungus-research. Fungi have been part of the life of the Earth for over a billion and a half years. There are close to 3.5-million species of fungus on the planet. That is a daunting number. Fungi attack plants and humans alike. For example, Claviceps purpurea (rye ergot fungus), causes ergot poisoning, which, in turn, has been linked to the historical cause of aberrant and hallucination-induced behavior in humans, specifically in those individuals labeled witches and werewolves.
Temporal and secular records of trials from such post-flood areas along the riverbeds of Medieval Europe and into the 16th Century provided researchers the bases for their findings. The Berserker of Scandinavia were subject to the hallucinating effects of fungus, too. Those warriors consumed the mushroom Amantia muscaria (fly agaric), known for its mind-altering effects, in order to rev up their battle-frenzy, der Berserkergang. They fought like men possessed. Fungus on conifers causes the trees to go berserk, so-to-speak, performing a Totentanz, a dance of death. The needles of conifers turn purple, brown, and then abscission drops the needles to the ground where they re-infect the trees.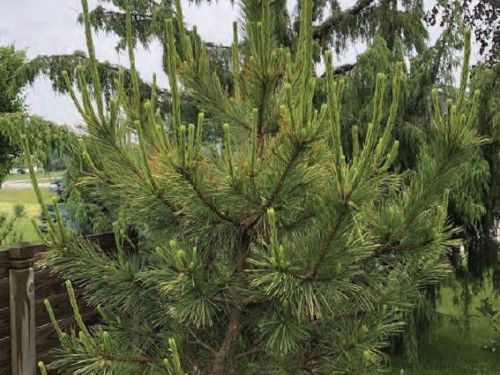 Needle Cast Fungal Disease in Conifers
Two specific fungi, Rhizosphaera kalkhoffii (Rhizosphaera needle cast) and Stigmina lautii (Stigmina needle cast) are needle cast agents. The fungi grow after excessive water, warmth, and lack of sufficient drying time. However, there may be remedies.
Jack Wikle, ACS member and bonsai curator at Hidden Lake Gardens (Tipton, MI), advised me in 2009 to plant conifers high. He even suggested that I bury drainage tile around the rootballs of conifers to keep the trees from sitting in a clay-bowl of water. I followed his advice.
Then I met Jared Weaver, ACS member, former Board member, and City Arborist/ Forester for Bowling Green, KY. Jared has written about the natural dropping of the seeds of trees onto the surface of the ground by birds and wind. Roots begin growing on the surface and, then, reach down into soil. His knowledge challenges the notion that rootballs of trees should be buried below grade or even at grade. Conifers stand a better chance of survival if they are planted high, not in volcanoes, but on the top of slight mounds, above grade, 1-2 inches.
A 3-Pronged Strategy to Fungi Control in Conifers
Then came the analysis Tom Cox provided me. Combine that with the advice of Jack Wikle and Jared Weaver, and we ACS members have and can share this three-pronged response to fungus-causing conifer demise with the general public.
We wrap conifers with burlap to ward off winter scald, erect screens around conifers, plant the trees away from damaging environmental effects, correctly water the conifers in after planting, pay close attention to USDA zones. Now, we can recommend the need to provide proper drainage. If we cannot lick the water and fungus of the environment, we can respond.
Plant certain species of conifers on a slope. Thank you, Tom.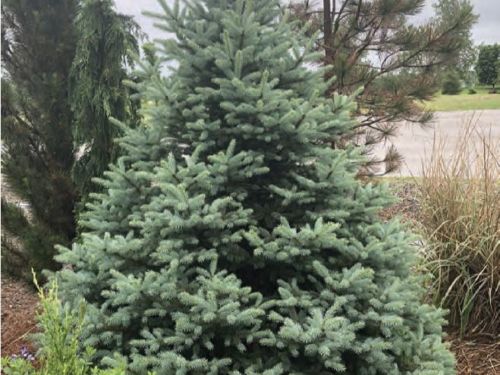 Farewell to the conifers I had planted on flat ground and have removed. The following conifers suffered infection from the fungi mentioned above:
Successes of fungus-susceptible conifers I had planted on a slope:
The Right Location and Good Drainage
In addition, Picea orientalis (Caucasian spruce) is suffering from fungi, too. Picea abies (Norway spruce) and Picea rubens (red spruce) appear immune to Rhizosphaera, but a second killer, Stigmina, has been showing up on Norway spruce and Pinus nigra (Austrian black pine). So, be on the lookout. The battle has been joined.
When I first conceived of this article, I figured that I had put "the wrong conifer in the wrong place". Well, that is partially true. However, if you deliberately choose the right location with natural, decent drainage, or, if you create good drainage via synthetic means, you may have your cake and eat it too.
In my case, starting back in 2002, conifer guardian angels watched over me. When I planted my failures, I must have not yet been to confession that week! These days I will use my brain and plant wisely. It is, after all, all about location, location, location.

Happy, informed planting!
Comments