Planting Conifers in Small Gardens
Find inspiration for your next small garden project from a suburban conifer hobbyist.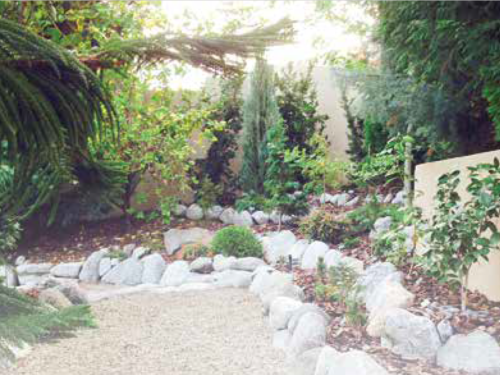 This piece is about a small suburban garden, getting inspired by others in the American Conifer Society, and how I was able to increase the amount (and variety) of conifers to fuss over, enjoy and admire.
My property in Orange, California, 50 miles southeast of Los Angeles, is about 1/3 of an acre, but being on a hill with a very strange pie-shaped lot, concrete takes up a fair portion of the space. I was able to acquire more room for conifers the same way many of us suburban hobbyists get more space: take out more grass. This project was in my back yard.
The original owner/builder of my twenty-eight year old house landscaped the backyard into thirds, going uphill from the back of the house. One third concrete patio, one third grass, and one third 4' high raised planter, totaling about 78' wide by 45' back, up the hill. My newest conifer garden laid out to about 78' by 15'.
Conifers in Small Gardens: Plant Small and Plant Up
Adding another layer of challenge was my lack of soil. I live on a 400' high hill, about 100' from the bottom, which has some sort of volcanic origin. I constantly dig up red, gray, and black lava rocks which have been rounded like river rock, but much of my back yard consists of pyroclastic flow (a volcanic rock mixture which flowed down hill as a molten liquid before cooling and hardening) which is completely exposed in some areas, or lying a few inches below the soil.
Because of these conditions, I have established two very strict gardening principles: plant small and plant up. My new conifer garden would be in raised beds to give me another 10"– 12" inches of soil. I had been planning this new garden for several years, but the horror of having to get all of those rocks, soil, gravel for paths, up all of those steps from the front of the house to the backyard prevented me from moving forward.
As I said, I live on a hill, where the front of the house is two stories, but the back is only one story, the top floor. What really inspired me, and gave me the impetus to get started, was visiting two gardens during the ACS's Western Region meeting in Tacoma, Washington, in September last year. If you have not seen these two gardens, please add them to your bucket list. You will thank me.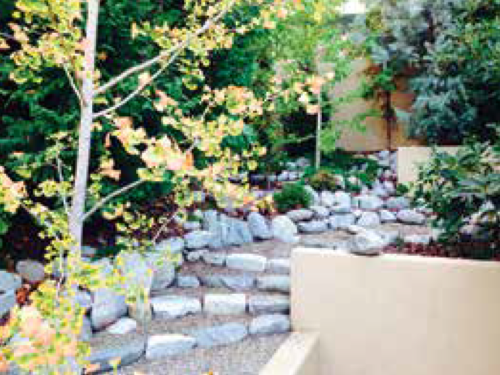 Small-Spaces Inspiration from the American Conifer Society
Will Fletcher and Dave Olszyk have extreme Addicted Conifer Syndrome, as their incredible gardens reveal. I was absolutely amazed at the number of conifers each of these men had been able to plant in their gardens; all the while keeping their gardens looking uncluttered and fantastic.
They have really taken it to another level, and made me realize I had way more room for conifers in my garden and so, I decided to dip my toe in the water, and plant my new conifer garden in that vein, sort of.
The timing was just right to be so inspired, considering I was in the heart of conifer country and we were bidding on plants at auction, as well as visiting some of the best conifer growers in the world. Additionally, the best time for planting in my area is December and January, so all of the stars were aligning.
A Backyard Makeover for Small Conifer Gardens
I had a handful of anchor trees in this area I had planted several years earlier; a 15' Araucaria columnaris, two Ginkgo biloba 'Saratoga', a peach, an avocado, and a couple of sweet gum trees, which were really ideal for the structure and the shade they provided; which is required to grow many of the conifers I had been dreaming about.
Our hot, dry weather, with pronounced lack of winter chill, really limits the number of species which can grow here, and forget about the recommendation of "Full Sun" on the labels and in the books, with the exception of junipers, cedars, and some cypresses. For the most part, full sun equals dead plant in short order.
I decided to make the raised beds with 12" to 16" granite cobblestones with a centered meandering path of ¼" gravel. In some areas, I was able to go two rocks high for a tiered look. I ignored my ego about doing the back breaking task of carrying all these materials up the steps myself and hired some men to do the heavy lifting, but I did place every rock and was the official compactor of soil, and sand/gravel for the path. It was still a ton of work, and one of the three hired hands only made it for day one, never to be seen again.
My little backyard makeover ended up taking 12,000 lbs. of rock, 9 yards of soil, and 5 yards of sand and gravel. Quite an effort just to get started.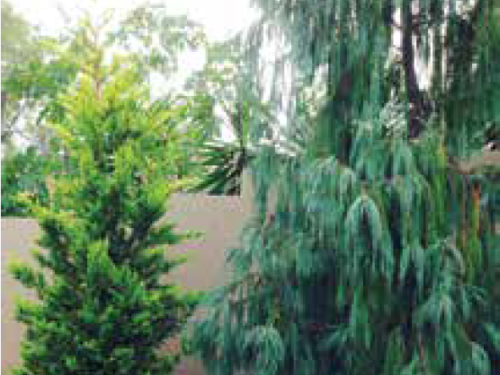 Finding Conifers for a Small Garden
These poor, but well-paid guys crawled away barely alive; so now it was time for the fun stuff; planting about 130 of the most beautiful conifers I had recently purchased. Laying them out to get the best combinations of color, texture, size, form, and architecture, all the while considering sun exposure, was a challenge, but incredibly fun too.
Fir are one of my favorite plants, but also very challenging to grow in our hot, dry climate. Given this new garden had more shade than in other areas of my yard, I decided to give it a go (yet again) with Abies koreana, A. nordmanniana, A. numidica, A. cephalonica, a number of Chamaecyparis obtusa, as well as Cryptomeria japonica, all of which don't do well with sun here.
I also found two darling dwarf seedlings of Abies concolor var. lowiana in our local mountains over the summer,
and was able to bring them home in January while they were dormant. They're fairly blue, with needles about one third the length of the standard Low fir. They also love shade in their natural environment, and all are doing quite well.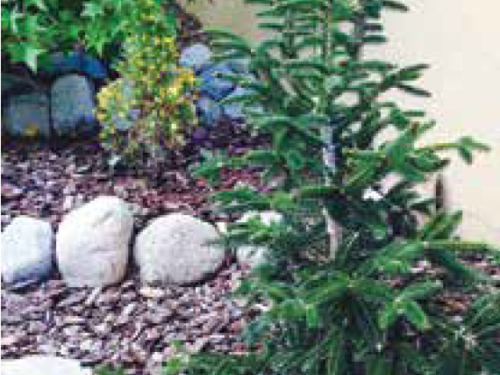 Finding Joy from a Conifer Garden
In the sunnier areas of this new garden, I planted some great cedars, which thrive here, a really cool Juniperus communis 'Oblonga Pendula', and a great variety of dwarf pines; Pinus strobiformis, P. nigra, P. flexilis, P. heldreichii, P. sylvestris. Again, most have done well, losing about 5% in all.
It was quite a transformation from the grass I was used to looking at, and like all of our new plantings, it is such a joy to see the new growth, color changes, and my plans coming together just as I imagined. The bonus for me with this project, as I see it, constantly comes from inside the house, with views from the kitchen and family room. It is also the view any and all see when they reach the top of the stairs, coming from the front entrance down below. It is not grand, but I like it. Only now I have the same old problem: I am out of room for conifers again.
Photographs by Dan Spear.

This article was originally published in the Fall 2014 issue of Conifer Quarterly. Join the American Conifer Society to access our extensive library of conifer-related articles and connect to a nationwide group of plant lovers! Become a member for only $40 a year and get discounts with our growing list of participating nurseries in our Nursery Discount Program.
Comments