Parasitic Wasps in Conifers and Evergreens
Follow the study on the wasp infestation in conifer seeds.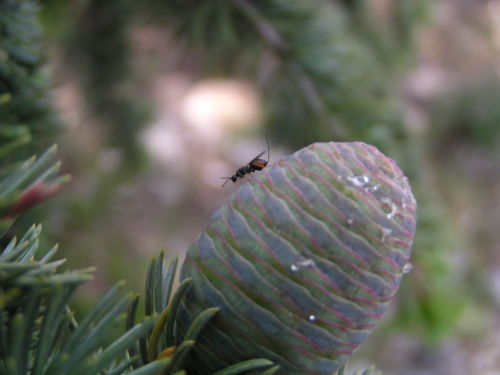 Until last summer, I thought wasps were black and yellow striped annoyances, their sole objective being to test my resolve to remain steadfast in the face of fear, to try my patience through strenuous irritation, and to sting me if I succumbed to either of their first two goals. When Dr. Jean-Noel Candau of the Canadian Forest Service introduced me to a genus of wasps which parasitize conifer seeds, one can imagine that I raised an eyebrow, "They sting pinecones?!"
While not completely true, chalcid wasps of the genus Megastigmus do use their long ovipositors to insert their eggs into the seeds of developing cones in the spring, while the cones and seeds are still fleshy and penetrable. The developing larvae overwinter inside the seeds and emerge in the spring to repeat the cycle by quite literally drilling themselves out of the seed and sometimes the cone, leaving a circular hole as evidence of their parasitization.
Parasitic Wasps and Conifer Seeds
Megastigmus pose issues as native pests, greatly impacting seed production and thereby affecting seed orchard operations and, in some cases, forest sustainability. International seed trade has also introduced several species of Megastigmus in various countries where they became successful invaders. Species of Pinaceae and Cupressaceae in most regions of the world are infested by these insects with the intriguing exception of all but one Cupressaceae species found in North America, including native and introduced species.
Everything known about these insects suggests that they should be able to infest a broad range of North American Cupressaceae, yet there is no evidence that they do. Additionally, the many Cupressaceae which have been introduced to the continent are known hosts to Megastigmus in other locales, yet are not parasitized here. According to the literature and our knowledge, there is only one recorded instance of Megastigmus parasitizing Cupressaceae in North America. Megastigmus thyoides, an undiscovered species at the time, emerged from seeds of Atlantic white cedar (Chamaecyparis thyoides) collected in North Carolina in 1994 (Turgeon et al., 1997).
This discrepancy in distribution is the crux of the current research of Candau, who is responsible for uncovering whether Megastigmus are a present pest of Cupressaceae in North America and the potential extent of parisitization. His work is part of the international research project, "Megastigmus and Conifers: The Biology of Invasion", which has bases in France and Canada. This project may seem as if we were pointlessly searching for a needle in a haystack. Maybe we are, but invasion biology cannot continue to operate as a restoration science. In order to be successful in this field, invasions must be prevented, and that's one specific aim which Candau has through this project.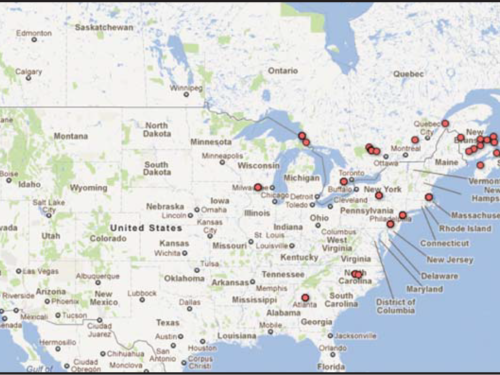 The Introduction of Invasive Pests in Conifers
So why haven't we seen an invasion yet? One opinion is that Cupressaceae species are not as commercially important in North America as are other tree families. Thus, slower trade could have held back an invasion of Megastigmus. Most imported or introduced species also do not arrive on foreign soil as adults, but as seeds or seedlings. If Megastigmus did infest any of the seeds brought to North America, they would have to find a suitable host upon emergence.
They are not likely to find their original host; therefore, another suitable host would have to be close by, and the insect would have to be non-host specific, i.e. having the ability to recognize a different, but similar Cupressaceae species as a host and be sufficiently compatible with it. Another reason includes the vastly different cone morphology within the Cupressaceae family, ranging from Juniper berries, to frail Chamaecyparis tyoides cones, to hearty Sequoia cones. Finding such a host may thus be impossible.
However, in today's economic market, further global transport of Cupressaceae is unavoidable. As more introduced species mature into cone-bearing individuals, and as the sheer number of imports increases, the risk of Megastigmus species managing to survive importation, find suitable hosts, and establish populations inevitably grows, despite the efforts of import regulation bodies. Increased risk or not, a project of this magnitude poses a true dilemma. Though one could never feasibly determine that Megastigmus is absent in North America's Cupressaceae, even getting an idea of its potential presence in the 33 native, 5 introduced, and many other species which are here as ornamentals, is a large task!
Studying Parasitic Wasps in Conifers
In the summer of 2011, I came onboard the project as a summer student. I contacted arboretums, seed orchards, and colleagues from all over North America requesting that they send us Cupressaceae cones in hopes of performing an ample survey of the family, both geographically and taxonomically. We processed over 51,000 seeds in the summer and fall of 2011 from 34 species sampled in 35 locations over 2 sampling periods. In case you're curious, yes, 51,000 seeds are a lot! The cones we received were first inspected for emergence holes and then each seed was removed.
Some cones are essentially wood, which makes it very difficult to extract seeds. In several instances, a blade had to be used to carefully cut the cone apart to uncover the seeds. On the opposite spectrum, fleshy juniper berries could be separated with my thumbnails. This was a welcome relief until I discovered that repeating this for hours causes some inflammation, which makes typing and texting a very painful experience! X-raying the seeds then reveals larva or nymph (more developed embryo) presence and also if the seed is viable.
Seeds which were identified as potentially infested on the x-rays were picked from the samples and put in rearing in emergence boxes in the Great Lakes Forestry Centre insectarium in Sault Ste Marie, Ontario. Reading x-rays can be challenging, particularly for smaller seeds. A conservative approach was taken, and seeds were picked out even when there was only the smallest indication of a possible infestation. Quite quickly, I determined that reading is quite an obscure word for counting 51,000 seeds and determining if they are infested, or viable, or not.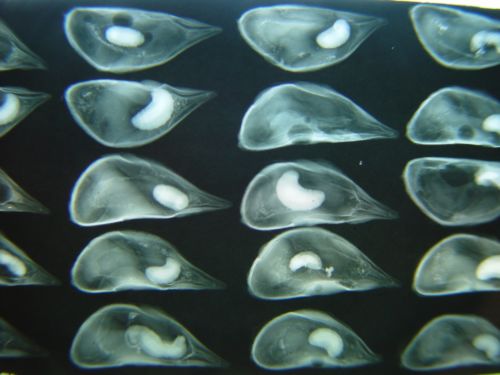 Parastic Larvae in Infested Conifer Cones
When no emergence had occurred by mid-July 2012, we decided to dissect the seeds suspected to be infested from each sample to investigate larval presence. All larvae found were put in alcohol and sent to a colleague in France who used phylogenetic markers to attempt to identify them for us. In total, we confirmed seed infestation in 4 species of Cupressaceae. Infested seeds of Chamaecyparis obtusa were found in cones from the Arnold Arboretum (28/345 seeds infested) and the Morris Arboretum (359/1842).
In Japan, seeds of Chamaecyparis obtusa are infested by Megastigmus chamaecyparidis and Megastigmus cryptomeriae, but, to our knowledge, these Megastigmus species have never been recorded in North America. Chamaecyparis thyoides seeds collected at the University of North Carolina Botanical Garden were found to be infested (3/251). Infestation is likely due to Megastigmus thyoides, as the Garden is near to the site where Megastigmus thyoides infested seeds were first collected.
Seed infestation in Cryptomeria japonica collected at the Morris Arboretum at the University of Pennsylvania was also confirmed (29/413). Cryptomeria japonica seeds are known to be infested by Megastigmus cryptomeriae in Japan, China, and Taiwan, but this species has never been recorded in North America. Finally, Juniperus communis or horizontalis berries collected by Ward Strong at the Shorts Creek Canyon in British Columbia contained one infested seed out of 664 sampled.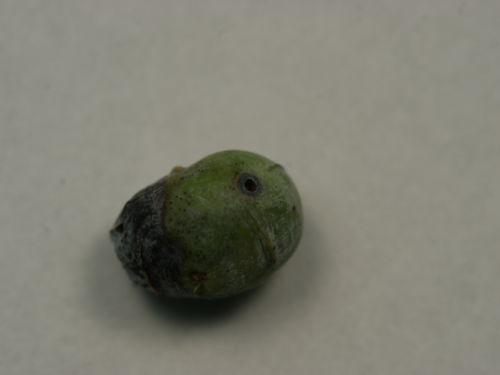 Furthermore, we also collected a number of insects which had emerged from the cones during shipping. 23 insects emerged during shipment of cones of Juniperus communis or horizontalis from Shorts Creek Canyon, and one emerged from a Thuja plicata cone sent from the Saanich Forestry Centre. We will have to wait to confirm the identity of all of these insects to see if they are Megastigmus, but for some of the host species, finding a seed chalcid in their seeds is a novel finding of its own.
But wait! There's more! Megastigmus can remain in diapause for several years if the conditions are not optimal for emergence. Thus, collection for this project will hopefully extend over three years. For more information on the project, please visit the project blog.
This study is funded by the Strategic Project Grants Program of the Natural Sciences and Engineering Research Council of Canada and the Programme Blanc International de l'Agence Nationale de Recherche (France) under the "Megastigmus and Conifers: the Biology of Invasion" (MACBI Project).
We would like to extend an extremely large "thank you" to all of our collectors for the 2011 collection campaign: Arnold Arboretum of Harvard University, Atlanta Botanical Gardens, Cornell Plantations, Beaver Creek Seed Orchard, Dorena Genetic Resource Centre, University of Guelph Arboretum, Huntington Botanical Gardens, JC Raulston Arboretum, Morris Arboretum, North Carolina Botanical Gardens, New York Botanical Garden, Pancake Bay Provincial Park, Sannich Forestry Centre, Natural Resources Canada National Tree Seed Centre, University of California at Berkeley Arboretum, University of California at Davis Arboretum, University of Wisconsin-Madison Arboretum, and Ward Strong of the Kalmalka Forestry Centre. This project would have been impossible without all of your hard work, and the trees of course!
Reference:
Turgeon, J.J., Kamijo, K., and DeBarr, G. (1997) A new species of Megastigmus Dalman (Hymenoptera: Torymidae) reared from seeds of Atlantic white cedar (Cupressaceae), with notes on infestation rates. Proceedings of the Entomological Society of Washington, 99: 608- 613.

Comments