New Cultivars of Conifer and Evergreen Trees: Thuja occidentalis
Learn about conifer cultivars, or cultivated varieties, and how to make new plants from old ones.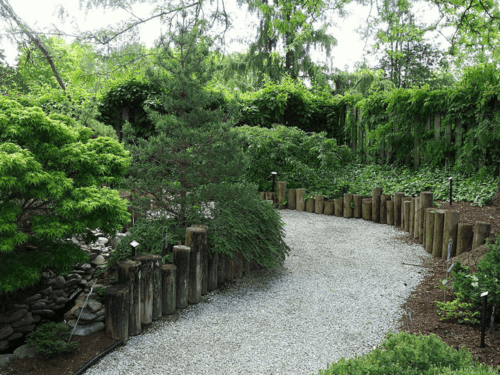 Although not realized at the time, the development of new cultivars of arborvitae, the hobby of one of the authors, took a giant step forward when it was noted in Chub Harper's yard that a Thuja occidentalis 'Filiformis' was producing seed. For 20 years, the senior author had been planting seeds from Thuja occidentalis cultivars (23 different ones) in an effort to develop something new.
The effort met with success on three occasions, an average of one new cultivar every seven years. Perhaps because Chub realized that new cultivars come more readily from witch's broom seed (one of Chub's well known specialties) than from Thuja seed, he gave me carte blanche to pick all I wanted. The yield was not very interesting; half the seedlings had 'Filiformis' foliage and half normal foliage.
For a reason which is now not clear, all were discarded or given away except for one with normal foliage which was planted in the yard. It grew into the large non-descript plant shown and out of curiosity some of its seeds were planted.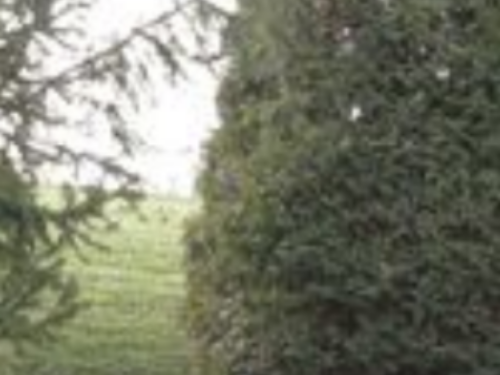 Variable Cultivars from Parent Thuja occidentalis
The result was surprising. The seedlings were a bonanza of unique plants, some with foliage which was most typical of Thuja and others with the threadlike foliage of 'Filiformis'. Of those with foliage resembling Thuja, some were globular, others columnar and a few pyramidal. The amazing part was that they were all progeny of a single, ordinary looking arborvitae.
The uniqueness of such an event is brought home by Humphrey Welch's statement in his Manual of Dwarf Conifers to the effect that the probability of raising a new dwarf from a packet of conifer seeds is in the order of millions to one against.
To the contrary, we had many from a few seeds. Their variability is too great to be described in a few pages. Thus, we have limited the presentation to only a few, particularly those which are older and more mature.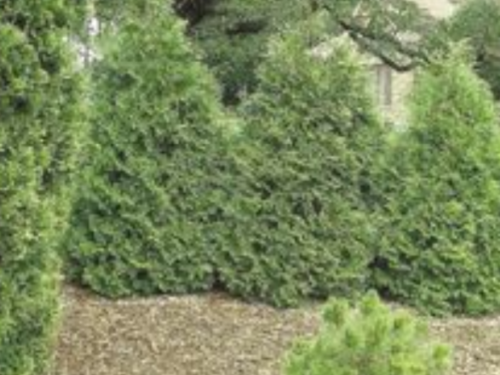 Cultivars with 'Filiformis' or 'Filiformis'-like Foliage
Three plants are described as noted above, all came from seed from the mundane tree. Thuja occidentalis 'Pincushion' is characterized by whip-like foliage so abundant that it is not possible to see the approximately one inch long trunk. Some of the foliage strands have a very short branch at the end.
It is green in color, but interspersed are a few brown filaments making its name appropirate; the less abundant brown filaments can be considered pins stuck in the abundant green foliage, visualized as the cushion.
The original plant, now seven years old, is 27 inches across and 32 inches tall. Rooted cuttings also have foliage making the trunk invisible. A number of young seedlings have foliage similar to 'Pincushion', but differ in that they have easily visible 4- or 5-inch trunks.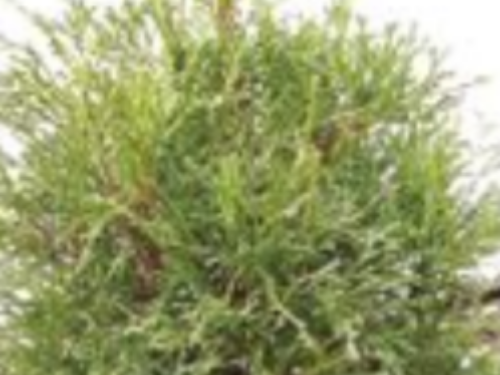 'Pincushion', 'Little Filley', and 'Fuzz Ball' Conifer Cultivars
The foliage on Thuja occidentalis 'Little Filley' is unique compared to that on 'Pincushion'. Only an occasional thread-like strand may be seen. Instead, there are many branches coming off at multiple angles, making the plant very irregular.
The branches and branchlets are all of approximately the same diameter and, since they seem to be the only structures containing chlorophyll, one might expect that the growth of the plant would be slow. So far, at age eight years, it is 15 inches tall and 10 inches wide.

Another unique plant is Thuja occidentalis 'Fuzz Ball'. From a 4-inch single trunk arise several branches (not visible in the photo) which ascend in close apposition for a short distance and then end in threads of 'Filiformis' foliage. The foliage is abundant, largely unbranched, and merges to form a very symmetrical single ball.
If the ball should become very large, it could be a valuable accent plant. Its ultimate size can, of course, not be predicted. The plant pictured is 4 years old and 12 inches tall. One cannot judge the chlorophyll content of this plant from the picture since it was taken in the winter when all plants in this category have foliage which is brown and in some cases almost black. The variability of these plants starts when they are about two years old as demonstrated by the two of this age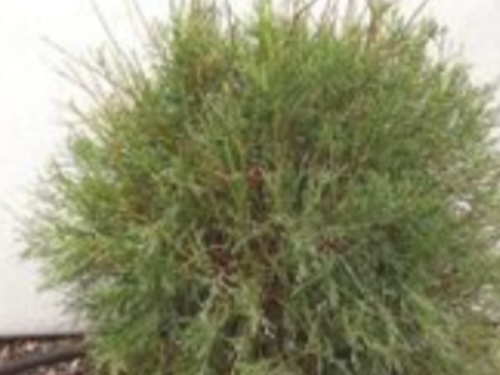 Cultivars with Foliage More or Less Typical of Thuja
Although the plants with foliage closely resembling typical Thuja were, with some exceptions, not as unique and attractive as those in the other group, they nevertheless came in a number of shapes and sizes. Some were columnar, some globular and some roughly pyramidal.
The foliage on many of these was loose and, in the overall, they were not of the quality of many well-known Thuja. As a consequence, they have not been named or propagated. An example of loose and open structure is seen in the three very similar, roughly pyramidal plants. They seem disinclined to grow tall and might be suitable as a low hedge.
The typical Thuja foliage of two in this group was gold in color and not unlike that of other yellow cultivars. One of these had an occasional 'Filiformis' branch. Their poor structure made them inferior to other yellows and, thus, they have not been named or propagated.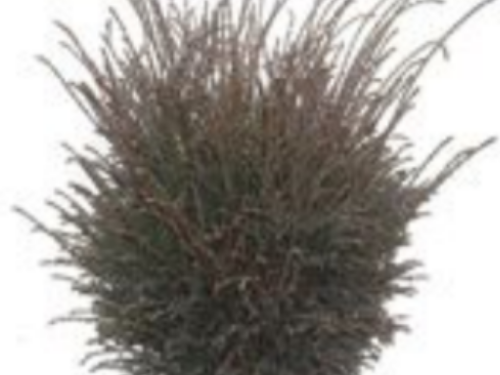 Plants which were virtually identical, but coming from different seed, as was the case with the plants illustrated above, were not unusual. The form which was most often replicated was globular or slightly oval and had finely-cut foliage which vaguely resemble that of Thuja because the foliage was of limited length.
The outline of the plant was more smooth than that of the usual globular plant. Because of these characteristics, the first plant was named Thuja occidentalis 'De Luxe'. The numerous subsequent forms had for added interest typical broad Thuja foliage embedded in the finely-cut foliage. These plants still had a smooth outline and from a distance appeared the same as others. They have not been specifically named. As with many globes, these plants when old and large tend to fall apart with a snow
load.
We are attempting to determine whether any of the many seedlings of this type will be resistant to this kind of damage. So far, those which opened up in the winter closed in the spring. As above we have in a rather cavalier fashion separated these plants into two groups based on their foliage, occasional plants such as that here show characteristics of both groups making them impossible to classify.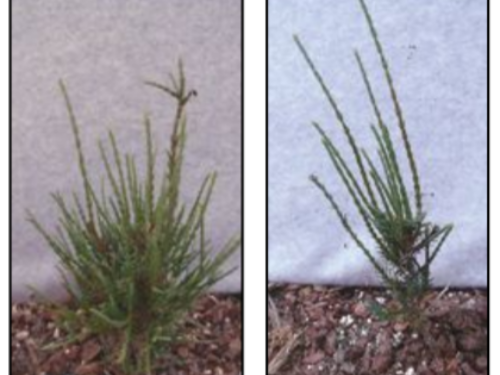 Practical Considerations with Conifer Cultivars
A disadvantage of attempting to duplicate this method of developing new cultivars is the time involved. Thuja occidentalis 'Filiformis' rarely produces seeds. Of two approaching 25 years of age, with which the authors are acquainted, one has produced seed once. Once the seed is procured, there is another long wait for the seedlings to produce seed.
This stage might be hastened by the use of plant growth regulators or by girdling or otherwise injuring the tree. Once the seedling (which would be of the generation of the plant) has itself produced seed, there is another wait before the nature of the final product can be determined. This is, of course, when the fun begins.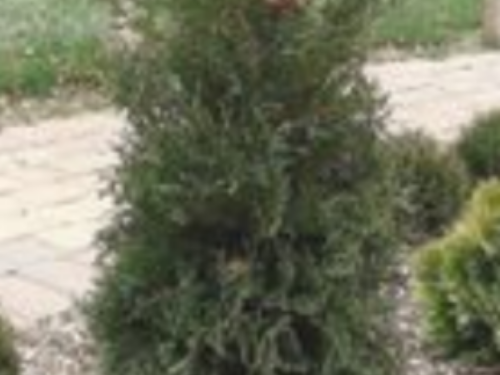 Cultivars: A Result of Genetic Chaos in Conifers?
The variability of these plants appears to be the result of some genetic chaos occurring at the time of pollination. This deviation from normal events appears to affect not only the morphology of the plant arising from the embryo, but also the metabolic processes involved in germination and embryonic growth. The latter disruption is probably responsible for a germination rate for these seeds rarely exceeding 30%, a rate much less than that for most cultivars
Of great practical interest about plants from this progeny is that they seem resistant to burning of the foliage by the sun. Whereas we experienced days, in which the temperature hovered about 100 degrees F and Thuja of other progeny were either partially or completely burned, full sun did not cause burning on plants from this progeny, whether the foliage could be classed as Thuja-like or 'Filiformis'.
For those who may be interested in seeing more of the variability of arborvitae grown from the seed of this plant, 34 different, relatively mature plants are on exhibit at the Stanley M. Rowe Arboretum, 4600 Muchmore Road, Cincinnati, Ohio 45243.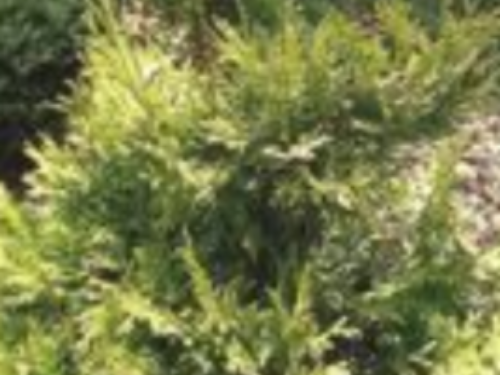 Text and photographs by Clark D. West and Christopher Daeger.
This article was originally published in the Summer 2013 issue of Conifer Quarterly. Join the American Conifer Society to access our extensive library of conifer-related articles and connect to a nationwide group of plant lovers! Become a member for only $40 a year and get discounts with our growing list of participating nurseries in our Nursery Discount Program.
Comments