My Favorite (Unexpectedly) Shady Characters
Conifers in Shady Situations
In the world of plant-speak, the accepted definition of "Full Sun" is six or more hours of direct sun per day. Common knowledge for pines, spruces, firs, junipers, Japanese cedars, cypresses, false cypresses, dawn redwoods, and bald cypresses, unless they are variegated (and sometimes then, too) is that they need full sun to thrive. Following that kind of logic, shady gardens would mostly contain hemlocks and arborvitae, with the occasional Microbiota decussata thrown in for variety.
I beg to differ. Here in the South, full sun is often too much for some traditionally "full sun" conifers and ginkgos, but they will tolerate and even thrive in part shade (four to six hours of sun each day) or even shadier locations. After all, in central North Carolina (zone 7b), "part sun" (or " part shade " - please explain the difference, if you know) is at least as intense as "full sun" in zone 5 or in the rainy, often cloudy zone 7 of the Northwest. What this means for us is that we can grow a lot more conifers in shadier locations than the folks who write up their nursery tags say we can. After all, many of them propagate and sell conifers in the Northwest.
You may be concerned that if you plant a "full sun" conifer in part shade, it will become leggy and unsightly or won't express its normal colors. Some will. I've found that Pinus thunbergii, for example, is happiest in full sun and has no trouble handling our brutal summers. If you've had good success with a given species or cultivar in a sunny location, by all means, continue to site it there. On the other hand, if you've tried growing a species/cultivar in full sun and, more often than not, it dies, usually in the summer, then what harm could it do to try a shadier location?
This brief article profiles my favorite shady characters – conifers that have done just fine in more shade than recommended. I hope that perhaps my success with these trees will encourage you to experiment a bit. I love my hemlocks, and I appreciate the versatility of my Thujas, but this is about the unexpected shady characters that provide variety and enable those of us with limited space and an obsession for conifers to venture into new, shadier ground.
Cryptomeria japonica 'Pygmaea'
'Pygmaea' is one of my very favorite Japanese cedars. It is a lush, soft-looking mound of medium green that adds great texture and color to my garden. Except for removing leaves that fall into its dense foliage, this is a totally maintenance-free plant. Here in the Raleigh area, I've lost quite a few Cryptomerias that I've planted in my full-sun front yard, so I've started planting more and more of them in part sun locations.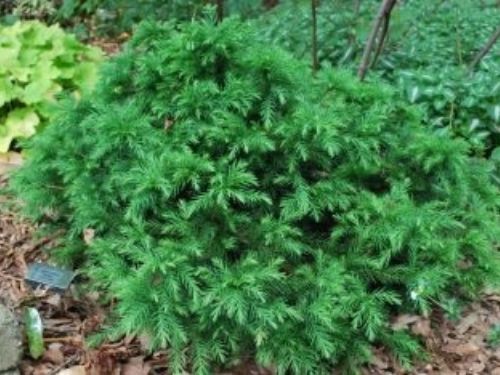 Sciadopytis verticillata 'Picola' As you know, umbrella pines are expensive, and I've bought and killed many of them. I did my best to provide them with everything they needed, including the full sun that conventional wisdom says they require. This 'Picola' is sited in a location that receives at most three hours of direct sun per day, and unlike its predecessors, is doing beautifully. Its somewhat "swoosh" shape is not a result of the lack of sun but illustrates what you may receive when you order an "AB" plant from Iseli. "AB" plants don't meet Iseli's high standards, although you may not be able to even tell the difference, so they are discounted. Personally, I like the shape of this tree, and I especially like that it's alive, which I chalk up, at least in part, to its shadier location.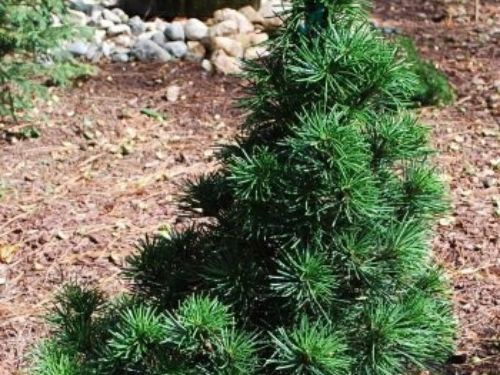 Abies koreana 'Horstmann's Silberlocke' (on A. firma), shown with Thuja occidentalis 'Sunkist' and 'Golden Tuffet'
All three of these plants are capable of handling a whole lot more sun than they get in this shady, back yard location. These trees were all planted in 2013, and while one could reasonably explain why the Thujas are happy, it's harder to explain the healthy 'Horstmann's Silberlocke' fir that receives even less sun than they do because it sits in the shade of the 'Sunkist' arborvitae to its west. The inset shows the young Silberlocke graft that I planted in 2013, so you can see the growth it's achieved in the past four years. These trees get about three hours of full sun, although an hour or so of that is late in the afternoon. They also get several hours of dappled shade, per day.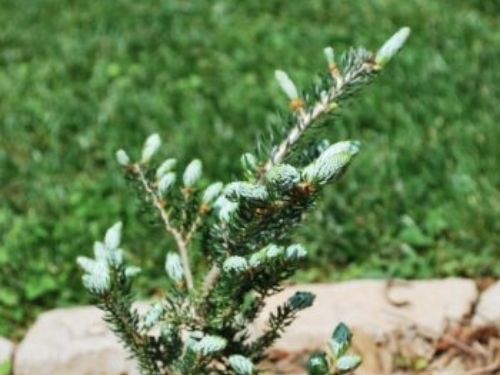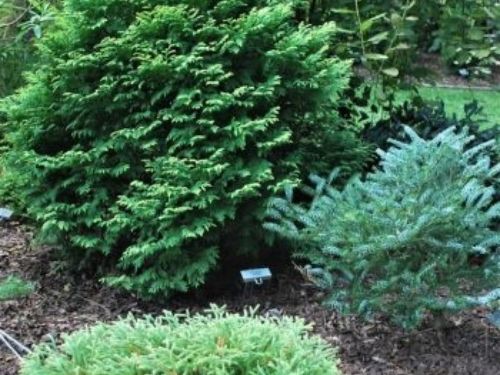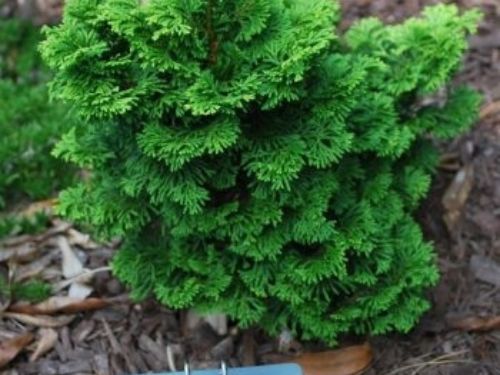 Comments