Looking for the Perfect Bonsai
Getting started with your bonsai hobby is as easy as heading outdoors.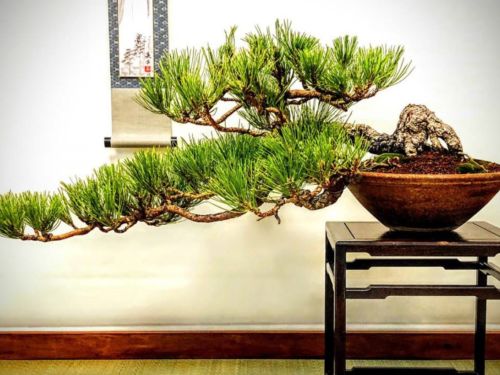 Pinus ponderosa (Ponderosa pine), styled as a semi-cascade bonsai for 12 years by Carl Morimoto who purchased the plant at a regular nursery in California
The Conifer Bonsai Hunt Begins

Spring is here, and I cannot think of a better time to go on the hunt for plants, either to start as bonsai, or to add to an existing collection of bonsai. Nurseries have already begun receiving new inventory for the season. The warmth of the sun beckons us to get out of the house and to be the first in line to view the new stock. Spring can also send us in other directions, in order to investigate sources of future bonsai. You might be surprised to discover, just where new finds exist.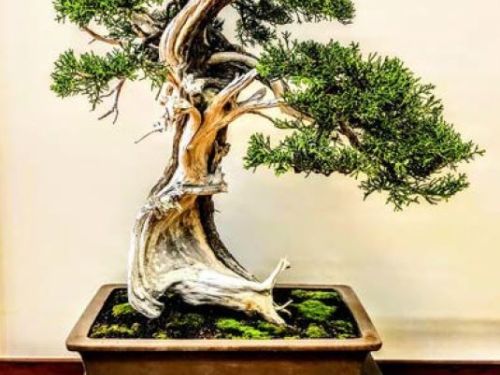 Juniperus californica (California juniper), styled as an informal upright bonsai for 17 years by Seji Shiba who collected the plant in the Mojave Desert, California
Many of my friends have scored specimens by digging up small trees or shrubs. Some plants have been growing in their own backyards. Many times, future bonsai have come from jaunts through the woods. Neighbors in my community have decided to remove plants from their own gardens and have even been willing to dig plants for me. It is exciting to explore the possibilities!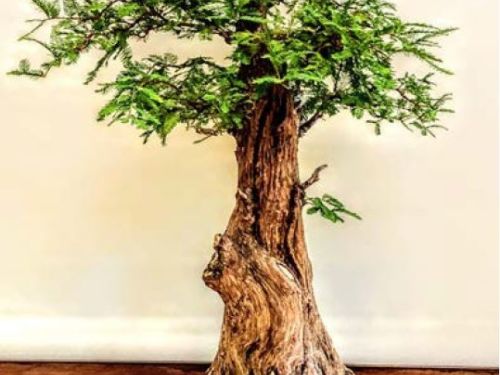 Taxodium distichum (bald cypress), styled as a formal upright bonsai for 21 years by George Shoptaw who collected the plant in Louisiana
An older plant can have a special potential and may reveal interesting trunk shape and branching, well before bonsai-ing. On walks in my community, I have noticed plants I have wanted to acquire. I have gone so far as to ask politely if I might remove a plant in exchange for a new plant of the same size.

Bartering for plants and services rendered can result in a nice payoff. For example, old hedges of Taxus (yew) are a great source of bonsai. The plant hunter might have to go far afield to catch sight of a specimen which is worthy of transformation into a bonsai.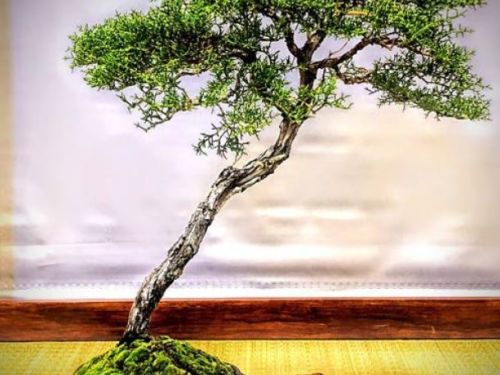 Callitris oblonga (Tasmanian cypress pine), styled as a literati bonsai for 10 years by John Thompson who purchased the plant at a bonsai nursery in California
Scouting for Conifer Location
Mountain areas and forests can yield great specimens. The San Francisco Bay Area, where I live, offers a wide diversity of regions, which are home to many species of conifers. Plants native to the Mediterranean climate grow here and add a new dimension for beginners and also experienced collectors. Always check your USDA zone to find what plants will thrive in your area!
When digging conifers in the wild, the land owner, be it a governmental unit or a private individual, generally requires permission to enter an area and remove plants. Conifers taken from the wild need special aftercare.
Mortality rates can be high. I would not recommend digging a plant, especially if there is no way to ensure a sufficient root ball. A quick Google search will provide sources on trunk caliper versus minimal root ball diameter.

Many of these naturally-occurring trees may live in small cracks or crevices. The weather in these conditions often creates an extreme environment, in which plants may only grow 1 inch or less each year. These plants make for highly desirable, collectible bonsai.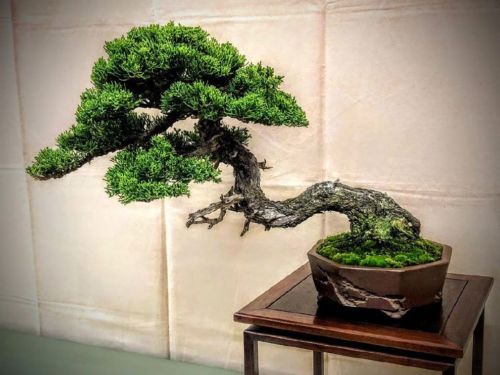 Juniperus chinensis 'Shimpaku kishu' (Chinese juniper), styled as a slanting bonsai for 12 years by the Bonsai Society of San Francisco. The plant had been collected from a garden in California
Club members whom I know have developed their trees over years. They have shown their creations at yearly meetings. The bonsai are wonderful examples of natural art and are often hundreds of years old. It takes a high degree of skill to reveal that hidden beauty. A number of bonsai collectors in different parts of the United States go out and gather plants annually. They sell them, in turn, to other bonsai enthusiasts, or to well-known bonsai nurseries. You can Google "bonsai nurseries" to find the locations of such sources near you.

Other sources, of both developed and potential trees, are bonsai club meetings. Anyone can attend these gatherings. Clubs have annual fundraisers, where members bring in and offer specimens for sale at a good price, in order to raise money for the club. Plants may have already been crafted into bonsai, or may be sold in an undeveloped state. Check your local listings for times and places of club meetings.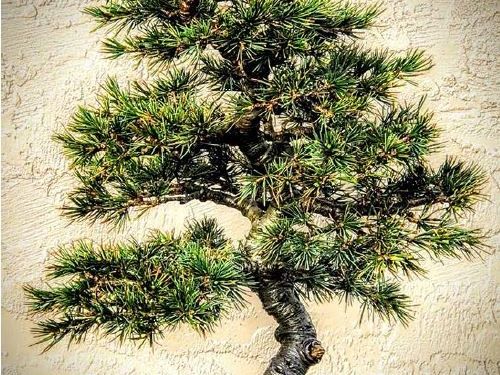 Cedrus libani 'Nana' (dwarf cedar of Lebanon), styled as an informal upright bonsai for 5 years by Jack Christiansen who collected the plant from his garden in Jose Jose, California
Starting your Bonsai Hobby

Whether you decide to start out with a sapling from a nursery, a mature plant from the wild, one from a yard, or even a finished specimen, it is good to understand the time element involved in the development of a tree. It is a good idea to match your bonsai knowledge with the plant you choose to buy. Some developed bonsai can be expensive.
You can also read about bonsai online and in books at your local library or bookstore. With the help of bonsai clubs, workshops, and ancillary materials, any individual can acquire the knowledge to be successful with trees.
I recommend two sources for bonsai history, style, and care:
Herb L. Gustafson, The Bonsai Workshop, Sterling Publishing Co. Inc., New York, New York, 1996.
Amy Liang, The Living Art of Bonsai: Principles & Techniques of Cultivation & Propagation, Sterling Publishing Co. Inc., New York, New York, 1991.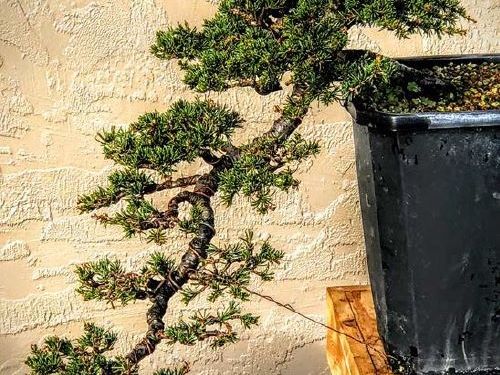 Cedrus brevifolia 'Treveron' (Treveron Cypriot cedar), trained as a sapling and styled as a cascade bonsai for 5 years by Jack Christiansen who purchased the plant at a bonsai nursery in California
Bonsai never have a final stage in development and are always labors of love. It is not unusual for bonsai to be passed down from one generation to the next. There are bonsai which are hundreds of years old. Many are displayed on tour at botanical gardens, such as the Jardin Botanique in Montreal, Canada. The time spent tending your trees will be rewarding for the years ahead.

Juniperus chinensis 'Shimpaku kishu' (Chinese juniper), styled as an informal upright bonsai for 7 years by Jack Christiansen who collected the plant from a neighbor's conifer garden in San Jose, California
It may become more and more difficult over time to get down on the ground and maintain a rock garden, but bonsai trees and pots can be moved for ease of styling and tending. When the weather outside is miserable and forbidding, bonsai can be brought inside and styled. However, when temperatures rise, it is fun to get outside and bonsai.

Photographs by Jack Christiansen.
Jack is an ACS member, an avid bonsai-enthusiast and bonsai-creator. His garden is an excellent example of creative design and the integration of bonsai into the garden. His knowledge and photographic skills are well-known and widely appreciated. He lives in San Jose, California. Over the years, Jack has been a valued contributor to the CQ.
This article was originally published in the Spring 2019 issue of Conifer Quarterly. Join the American Conifer Society to access our extensive library of conifer-related articles and connect to a nationwide group of plant lovers! Become a member for only $40 a year and get discounts with our growing list of participating nurseries in our Nursery Discount Program.
Comments