Landscaping with Dwarf Conifers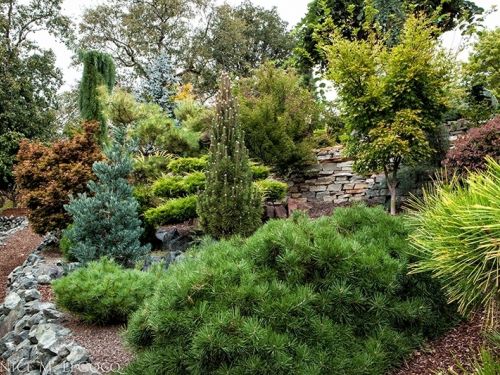 Why Dwarf Conifers?
Most of us think of flowering plants when we envision a garden or home landscape. And not just flowering plants as they are defined by botanists, which includes trees such as maples and oaks, but specifically plants with showy flowers: roses, lilacs, lavender, poppies and the like.
Approximately 20% of the U.S. population gardens, perhaps a little more if we include those who limit their gardening to food crops. Yet 65% of U.S. residents own homes, which means that some 45% of the population, or 148 million people, have yards, gardens or terraces and don't, themselves, garden. If you are one of those people and you are wondering whether to plant petunias or poppies, lobelia or lavender, take a step back and think about beginning with structural plants that add interest all year long: dwarf conifers.
Conifers have gotten a bad rap for decades. Before dwarf selections were available, most conifers simply got too big for any but the grandest and largest gardens. Unfortunately, developers and landscapers often didn't check the growth rate before they planted that cute little tree next to the house, which eventually towered over the roof, way out of proportion and shutting out all light, even in winter. Then there was the fashion in the 1970s of planting beds of nothing but conifers, generally crowded together and left unmanaged and unpruned. It's no wonder that some people shudder when they hear the word. Others, unaware of the vast array of colors, shapes, textures and sizes available, can only think of Christmas trees.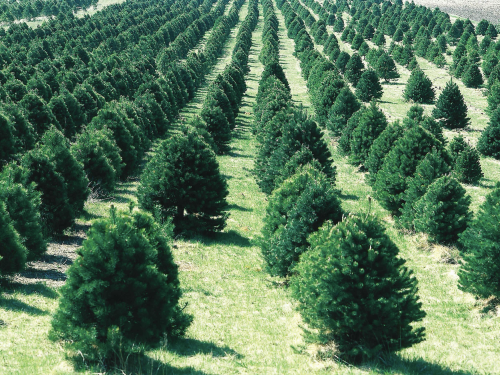 Conifer Sizes and Growth Rates
Approach designing your yard or garden the way that you approach decorating your house: first comes the structure, then the furniture, then the knick-knacks, pillows and other decorations. Conifers represent the structure, perhaps some of the furniture. Flowers represent the decorations. It's also similar to getting dressed; you put on your clothes and then accessorize with scarves or ties or jewelry. Again, those accessories are the flowers.
For the purposes of this discussion, when we say 'conifers' we mean dwarf conifers, which are selections that are slower growing than the wild plants that we find in nature. The ACS has identified four 'sizes' (really growth rates) of conifers. The most useful are those that are designated dwarf, which grow 1-6"/year, and will be roughly 1' – 5' after ten years. Remember, that is 10 years from the time that the plant was started; you will likely be buying a tree that is already several years old. Woody plants (those with trunks and bark) never stop growing, but their growth rates vary widely, and most will slow down as they mature. Arboretums and family estates must think about planting for the ages, but since we can't control what happens to our gardens when we move away or pass on, it is generally most useful to think in terms of growth over a few decades when selecting individual trees.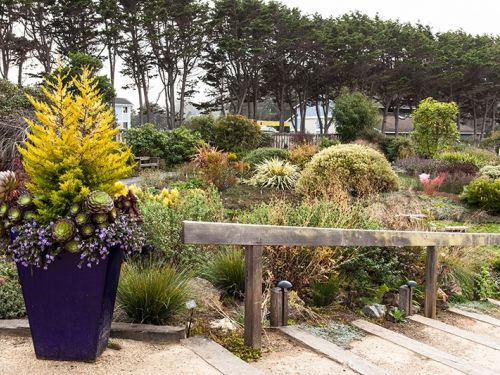 What Makes Dwarf Conifers Good Landscape Choices?
They are structural
They add year-round interest
They are available in a wide variety of colors
They are available in a wide variety of shapes
Their new foliage and cones can be as decorative as flowers
They require little care once established
They provide habitat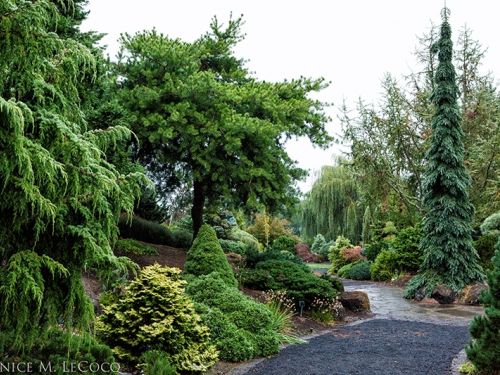 Structure
Woody plants help define spaces in your garden. Hedges function as walls, and overhanging tree limbs can serve as a 'roof', providing shade and shelter. Individual shrubs or trees can provide 'punctuation', serve as a backdrop for showier specimens, and add texture and visual interest.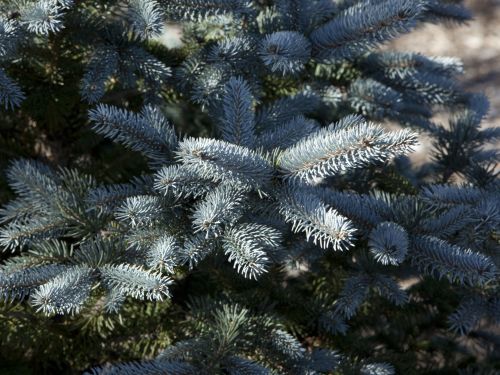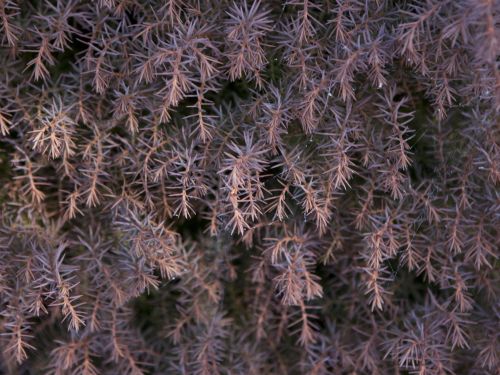 Year-Round Interest
Most (but not all) conifers are evergreen, which means that they will soldier on through the autumn and winter with green needles, providing color, texture and in some cases, privacy, while most of the landscape is bare. Whether you live in Minneapolis or Miami, Seattle or Sedona, some mix of evergreen and deciduous plantings provides year-round appeal and interest. Pairing deciduous trees that color dramatically in the autumn (such as maples) with blue-needled conifers can create breathtaking contrast.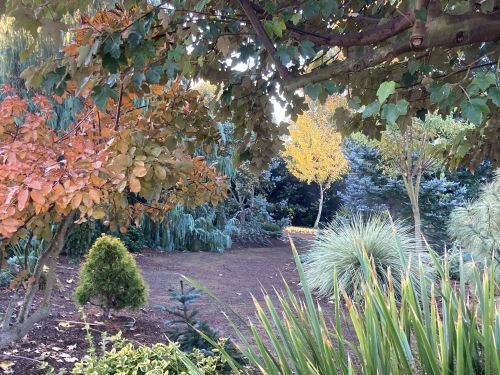 Wide Variety of Colors
Conifers come in practically every shade of green imaginable, from pale gray green to bright chartreuse to rich emerald or earthy olive and finally the darkest, deep green. There are also many blue-needled conifers, with tones ranging from powder blue to silvery, and sometimes even with a teal cast. Some conifers appear almost gray, especially in sunlight. The showiest conifers have golden or yellow needles.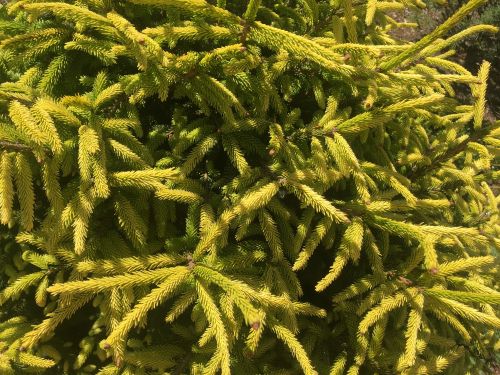 Wide Variety of Shapes
There is a conifer for almost any shape you desire. Conifers can be narrow and upright, broad and spreading, ground-hugging, bun-shaped, weeping and everything in between. Study your garden and decide what shape, or mix of shapes, you want.
View the ACS's list of conifers shapes
You can use our search feature to get ideas. Go to our home page and look for the 'Advanced Search' button. This feature will allow you to search for conifers by shape, color and size.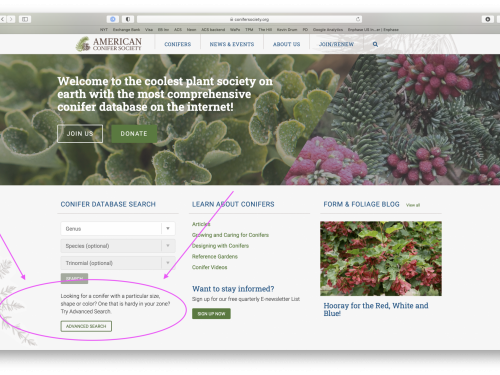 Conifer New Foliage and Cones Can Be as Decorative as Flowers
We all relish the arrival of spring flowers after what always seems like a long winter (although it won't seem so dreary if you have enough conifers in your garden!) You don't have to give up spring interest if you plant dwarf conifers, though. Click through the gallery to view an array of fabulous spring growth and cones. You won't be disappointed.
Comments
I found this site and I am hooked! I am taking interest in small conifer landscaping, and information and pictures are stunning to look at and read. I about can't stop, wanting to look at more and more!!
I built a small planting area this summer just for the miniature and dwarf conifers and I will be ordering more rock and boulders next year to expand, I'm hooked!
Mike I find that the rocks and boulders are great accents for conifers. The small needles need some relief with bigger solid pieces. I find that mixing conifers with plants with big, broad leaves is also a good way to go. I use a lot of big succulents because of my climate (Sonoma County, CA) but maples, rhododendron and the like work well, too.
That's great advise I was having issues with the hot afternoon sun, This year our Temps (Denver) from June thru Sept have been 90's everyday lost 2 trees order replacements from Conifer Kingdom its now down to mid 70's to 80.
Is it possible to control the height of eastern white pines? I have several saplings grew by themselves, can I train them to be short but wide?

you absolutely can! ... but in order to do so, you'll have to learn the art of in-ground bonsai (niwaki). It's a tedious process and a life-long commitment. Plants will need to be worked on twice per year and if you skip a year the plant will respond with a very aggressive, yet spectacular spurt of growth.
I live in Austin, Texas.....Zone 9.
I would like to create a bed with dwarf conifers but I've not had luck finding a nursery that stocks dwarf conifers.
Is mail order my only choice?

Might well be if you can't find a specialty nursery near you. If there is an independent garden center that stocks interesting deciduous trees, you could talk to the owner/manager and see if they order from Iseli or Buchholz, two big conifer growers who also grow maples and other hardwoods. Perhaps someone from your area will chime in with some other suggestions. Mail order possibilities are Conifer Kingdom, Forest Farm, Mr Maple and Singing Tree. There are likely more. Good luck!
I want to create a low hedge to edge my path, can anyone advise me about what spacing to use with these little plants? (9cm or 2L Pot] Dwarf Conifer Juniperus Chinensis Pyramidalis (Stricta) Juniper, I would like a low compact hedge I can trim, a bit like a "box" hedge without the naught moths!