Increase Winter Survival of Conifers
Follow the experimentation saga of a conifer-enthusiast during winter.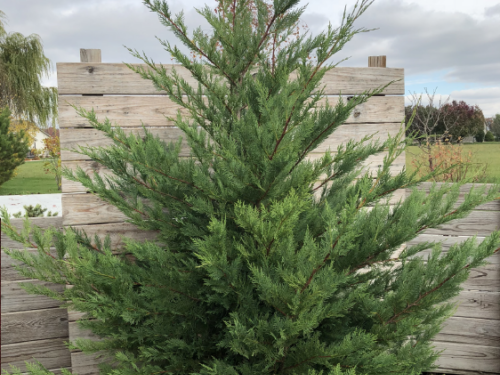 Of late, I have been experimenting with conifers not rated as hardy for my USDA Zone 5. Some say I live now in Zone 6, but I am not certain of this.
All I know is that conifers that are "soft" to my zone have been appearing at my usual conifer haunts. They include: Cupressus x leylandii 'Irish Eyes', Pinus thunbergii 'Thunderhead', Cedrus deodara 'Electra Blue', Cedrus libani var. stenacoma, and Cupressus glabra 'Blue Ice'. I could not hold back on buying them. Their texture, color and shape are way too enticing to pass up. Then, of course, is one of my all-time favorites, Sciadopitys verticillata.
Indomitable Conifers in Winter
'Irish Eyes' Leyland cypress has been in the ground for three winters; this will be its fourth. It's a beauty with wispy foliage, almost lime-green in color. The first season I wrapped it in burlap. For the second winter, I protected it with stakes and a burlap screen.
When the third winter approached, I wished it "good luck" and did nothing. Each year after spring arrived, 'Irish Eyes' came back bigger and even more colorful. Last winter, it lost its top three inches to frost. However, the plant was undeterred. It flourished this past spring and summer.
My conifer confidant, Jon Genereaux, told me to wrap the Japanese umbrella pines (both of which came to my garden via ACS meetings) in burlap. Those two little trees are my 7th and 8th attempts at growing the plant in my garden. Attempt #7 made it through last winter. It was planted behind a giant, sculpted Pinus sylvestris, which I had bare-root planted in 2002. I moved the umbrella pine away from a brick wall which caused it to burn a bit because of reflected, radiant heat. It's still protected today by its bigger brothers and sisters, as is #8.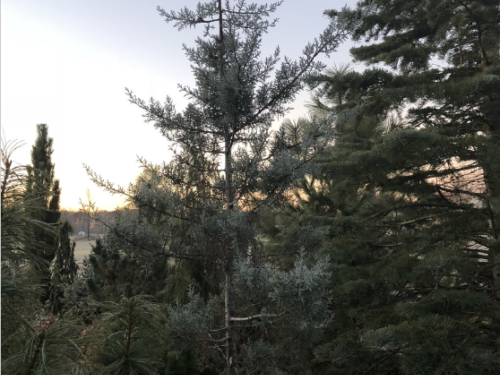 Protected Planting in Conifers
The idea of "protected planting" has become the basis of my experiment. I use other zone-suitable conifers as wind and sun blocks. Two 'Thunderhead' black pines have been happily flourishing and growing nestled among other conifers for three years.
A very large one succumbed to the polar vortex of 2014. It was 7' tall and magnificent. That winter burned it totally all the way down to the snow coverage. It subsequently went to the burn pile. The two nestled ones are so pretty and have been vigorously growing for three years.
I have left the ones I worry most about until now. 'Electra Blue' and 'Blue Ice' could become victims if another polar vortex sweeps in. 'Blue Ice' is awaiting its second winter. It stands with a very large Abies concolor between it and the southern wind and sun.
Last winter it did suffer some winter burn to its older foliage, but it continues to glow that lovely powdery-blue. 'Electra Blue' is really pushing the envelope. Cedrus deodara in Zone 5? I adopted it while protesting its chances with my local nurseryman. Time and Old Man Winter will tell. Fortsetzung folgt, as Martin Luther once said. More to follow in the spring.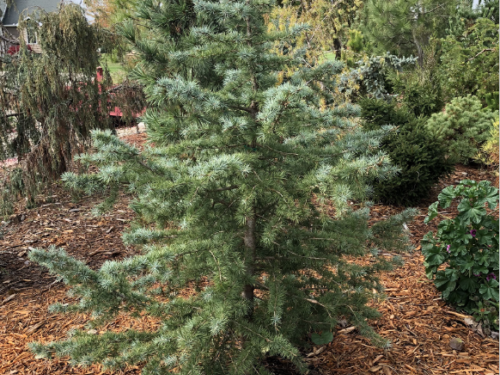 Conifer Care of Winter Houseplants
I left cedar of Lebanon second to the last. In The Harper Collection at Hidden Lake Gardens there stands a very large Cedrus libani var. stenacoma. Jack Wikle, former curator of The Harper Collection, tells the story of its first winter as a rough one. It lost all its needles and looked dead. Then came spring. It came back strong and hasn't wavered since. My stenacoma is protected in my garden, surrounded by other conifers. Winter is the test.
The last conifer out of my zone and in my care is Dacrydium cupressinum. She came to me from the West and lives now as a winter-houseplant until spring comes. "Her" provenance is New Zealand. She could be a "he", in that the plant is dioecious. It is now living in a moderately heated room with light on every sun angle except South. Its care is delicate. It requires average light and a moist soil.
That all sounds rather labor-intensive, but, until spring comes, winter provides just the right contemplative time to fawn over Dacrydium. Once again, we will have to wait until spring to see if my newest conifer has found a comfortable home.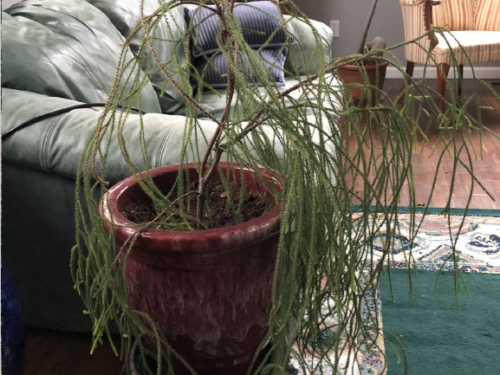 Pushing the Envelope with Conifers
Why, you might ask, would I spend time and money trying to fit a square peg into a round hole? It's the challenge and the desire to rescue conifers and then to test them. I am, after all, on the edge of a change of USDA zones. Our webeditor, Sara Malone, tells me that my Zone 5 is now 6a. That may help the plants that otherwise would not be able to survive in my neck of the woods.
I suspect that some of you have planted conifers that push the envelope in your USDA zone. I would appreciate hearing of both your successes and failures; my greatest and most expensive failure being Araucaria araucana growing indoors, to which my friend Tom Cox said I was "touched" (in the head), meaning "crazy". Tom, you were right. The monkey puzzle tree succumbed. A three hundred pound disaster!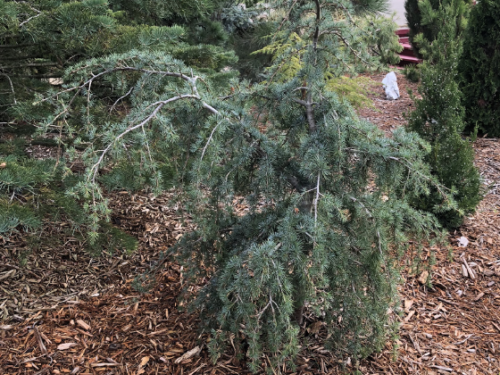 Photographs by Ron Elardo.

This article was originally published in the Winter 2018 issue of Conifer Quarterly. Join the American Conifer Society to access our extensive library of conifer-related articles and connect to a nationwide group of plant lovers! Become a member for only $40 a year and get discounts with our growing list of participating nurseries in our Nursery Discount Program.
Comments