The Importance of Conifer Reference Gardens
Dr. Sue Hamilton talks about how we can preserve and document conifer species with ACS reference gardens.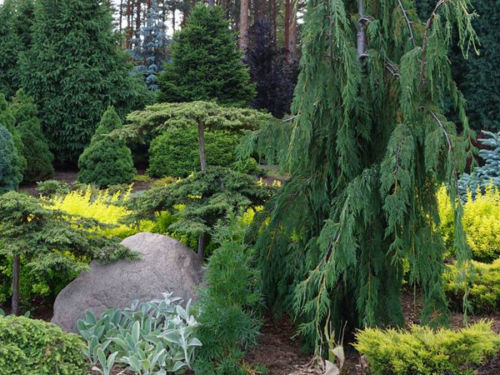 It is estimated that there are 270,000 plant species in the world, and one in eight are threatened with extinction. According to Botanical Garden Conservation International (BGCI), which has just completed the first comprehensive assessment of the threatened plant species in Canada, Mexico, and the United States, only 39 percent of the nearly 10,000 North American threatened plant species are protected in collections.
In the United States, although in commercial production, Abies fraseri, Tsuga canadensis, and Tsuga caroliniana are all imperiled conifers due to a non-native pest, the woolly adelgid (specifically Adelges tsugae; Adelges piceae). If these conifers are not conserved ex situ, meaning conserved in collections outside of their natural habitat, they may not survive in the wild. Whole stands of hemlock in the Blue Ridge Mountains and of Fraser fir in the Great Smoky Mountains are not just threatened, but already gone. Just as the American chestnut was decimated from existence due to a fungal blight, the same could happen to these conifers.

Conserving Conifers in Reference Gardens
Ex situ collections which are well-documented and genetically diverse can directly support in situ conservation by providing seeds or plants needed to reintroduce extirpated populations. (In situ conservation is maintaining populations of plant species in their native habitat, where they are exposed to and affected by natural, ecological, and evolutionary processes).
ACS Reference Gardens are important ex situ plant collections for conserving conifers in the United States outside of their natural habitat, providing a safety net for species whose survival in the wild is threatened. Initiated in 2007, the ACS created its Conifer Reference Garden Program to develop public conifer collections in a variety of geographical locations throughout the United States.
They play an integral role in the mission of the ACS to develop, conserve, and propagate conifers; to educate the public about these unique plant species; and to make existing conifer collections known. ACS Reference Gardens offer visitors an opportunity to see living conifers in a planted setting illustrating their unique characteristics, diversity, colors, shapes and growth habits in their region of the country.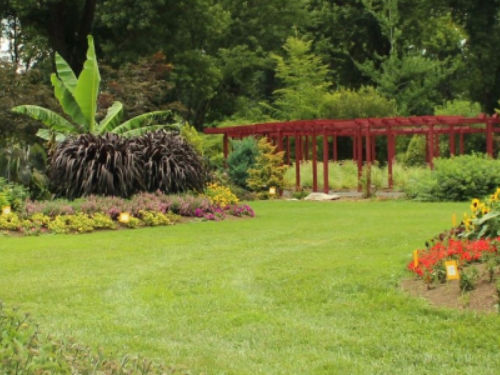 The University of Tennessee Gardens Conifer Collection Development
Being a university garden, we support the teaching, research, and outreach mission of our university. The UT Gardens in Knoxville were awarded ACS Reference Garden status in 2008. This recognition would never have been possible without the invitation to join and get involved with the ACS from members Maud Henne. The passion and enthusiasm which these two women have for conifers and the ACS is contagious and so, through their encouragement, the UT Gardens joined the ACS in 2005.
We only had 70 conifer specimens in our collection at the time. By the time we helped host the ACS National Conference in 2006, we had increased our collection to 185 conifer specimens. By 2008, our collection had grown to 356 specimens and 17 genera and by 2010, the collection had increased to 401 specimens and 17 genera. This tremendous growth in our conifer collection would not have been possible if it had not been for the ACS Reference Garden Grants.
A 2007 grant provided funds for plant acquisition and anodized aluminum permanent interpretive labels. A 2009 grant was used to support a 2010 conifer symposium conference, in which there were 75 participants, 5 speakers, and a conifer plant sale. In the summer of 2010, the UT Gardens participated in the 8th World Botanic Garden Congress held in Ireland where we presented a poster on the ACS and the important role the ACS Reference Garden program plays in conserving the world's conifer species.

Conifers in the University of Tennessee Gardens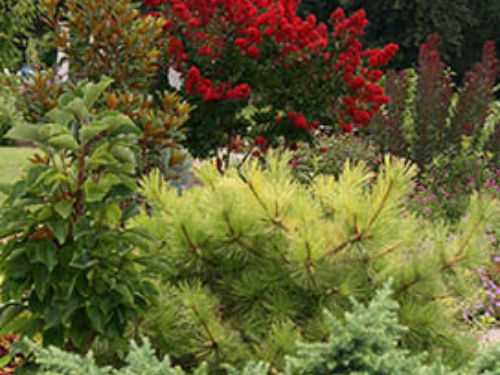 The ACS Reference Garden Program Enhances Student Education
The ACS Reference Garden Program at UT Knoxville plays an integral role in the professional education and development of our students. Student interns employed in the UT Gardens and majoring in plant sciences are involved in all aspects of the Gardens' conifer collection development: accessioning, de-accessioning, database management, planting, labeling, GPS documentation, pruning, and fertilization.
These students receive invaluable education and training in ex situ collection development and management and a unique hands-on opportunity to enhance their understanding of plant conservation. Interns also earn credit towards their degree for their work-study experience with our ACS Reference Garden Program. In addition to interns, numerous students taking plant identification classes in botany, environmental sciences, horticulture, forestry, and ecology are as well exposed to the vast array of conifers in our reference garden collection.
The Long-Term Benefits of a Conifer Reference Garden
More than 200 million people visit botanic gardens every year, and these institutions often provide the only plant focused education programs available to students of any age. Ex situ collections maintained by botanic gardens, if effectively interpreted and incorporated into programming, can play a critical role in providing information about theimportance of plants, the need for their conservation, and the actions people can take to help preserve North America's plant diversity.
The UT Gardens are one of 18 ACS Reference Gardens in the United States which have been established since 2007, when the program was initiated. Although a young program, it shows great promise in encouraging and ensuring the ex situ collection of conifers in all regions of the United States for conservation, education, and research purposes.
According to BGCI, the following conifer genera and species are threatened and should be conserved in ex situ collections. If you know of any of these threatened conifers to be in a collection somewhere, you can report this information here and help in the world assessment of plants in ex situ situations.
Photographs from The University of Tennessee Institute of Agriculture.
This article was originally published in the Fall 2014 issue of Conifer Quarterly. Join the American Conifer Society to access our extensive library of conifer-related articles and connect to a nationwide group of plant lovers! Become a member for only $40 a year and get discounts with our growing list of participating nurseries in our Nursery Discount Program.

Comments