Identifying Conifer Diseases
Discover how ACS member, Leah Alcyon, investigates the culprit of a bristlecone pine disease.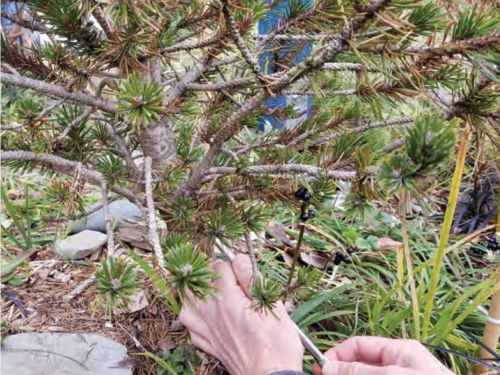 The first thing that anyone does before going to the doctor to get relief from an illness is to Google the symptoms that you are presenting, so that you can tell the doctor what drugs you would like. As an ACS member, I do not Google plant illnesses. Instead, I ask our own conifer medical doctor, ACS Conifer Database Editor David Olszyk (and/or substitute your local ACS expert, depending on where you live), when a plant of mine is ailing.
When my Pinus aristata started losing needles, the first thing I did was to take a photo of it and send it to Dave, who immediately identified the problem as Rhizosphaera needle cast (Rhizosphaera kalkhoffii). That is when I began my own education on the internet.
The Rhizosphaera Conifer Fungal Disease
Rhizosphaera was certainly a possibility, but Wikipedia said that, with a small magnifying glass, you could see black dots. The University of Michigan site indicated the problem could be worse: Stigmina needle cast (Stigmina lautii). My first task was to collect some samples from not only my Pinus aristata (Rocky Mountain bristlecone pine), but also from its neighbor, Pinus sylvestris (Scots pine), just 4 feet away.

Then I got to thinking about other conifers which appeared to be suffering from needle cast. I went to the Hiram M. Chittenden Locks Botanical Garden (Seattle, WA) and collected some small samples there, as well. I collected samples from Pinus aristata, Pinus sabiana (gray pine), Pinus jeffreyi (Jeffrey's pine), and Pinus wallichiana (Himalayan white pine). I asked myself, where does this fungus originate, and why is it only on some plants?
The easy answer is that the fungus is everywhere. It circles the earth and seeks out the weak and vulnerable. An even easier answer is that it especially grows in the Seattle area, where the environment is very wet much of the year. After all, fungus grows in damp, moist areas.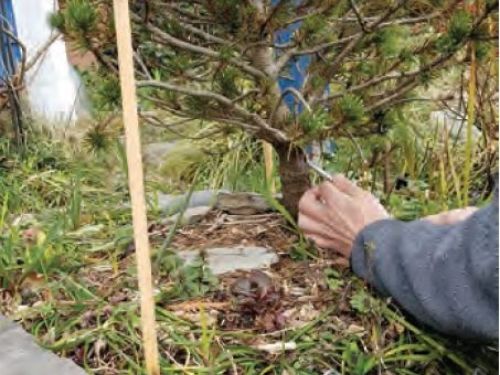 Using Technology and its Tools in Identifying the Conifer Disease
We happen to have a small microscope that attaches to the computer. I can take photos of what I am viewing. It does not produce fantastic quality photos, but it certainly provides some entertainment. The microscope specs are: Vividia 2.0MP Handheld USB Digital Endoscope/ Microscope with 8.2-millimeter tube diameter.
With a 2.0-Mega pixels CMOS sensor, up to 300x-magnification, and six built-in LED's for illumination, this product allows you to view images in high resolution, take standard photos, record videos, and use as a webcam.
Needless to say, using the equipment in the field was difficult, and, after one try, I quit. After that, I took my samples, sealed them in plastic bags, and put them under the 'scope. Here are the results: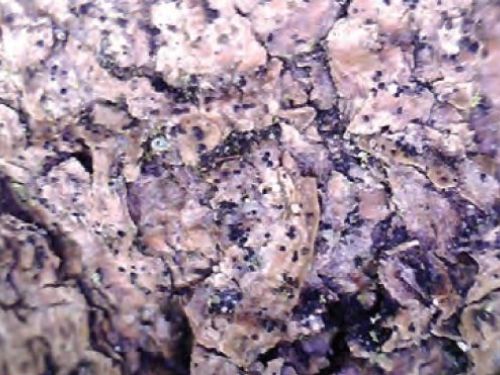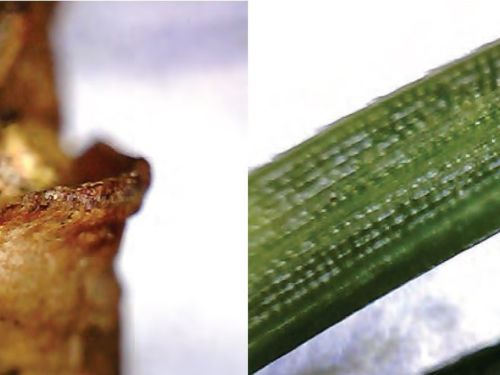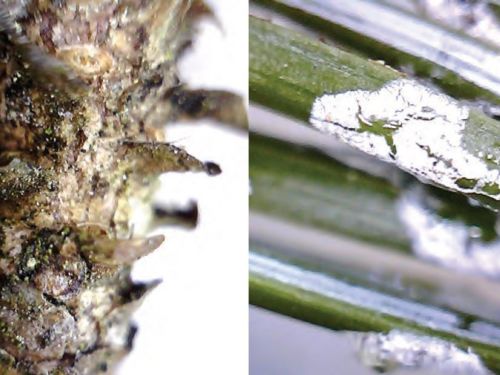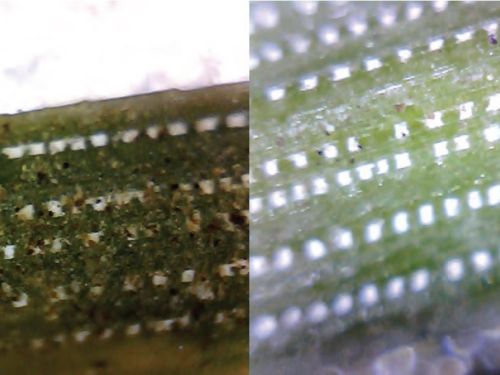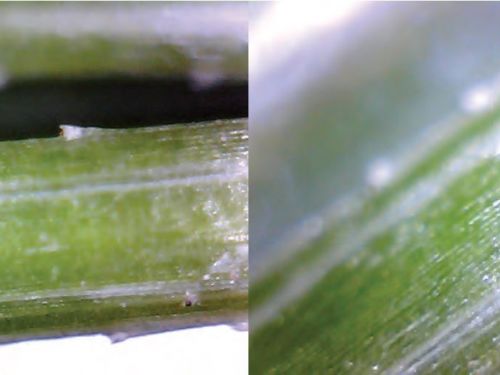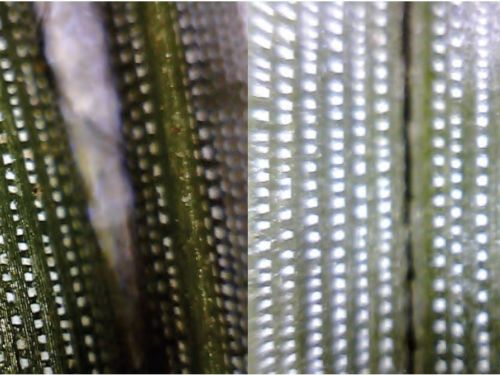 If there is a black dot, there is only one. Just a shot of the waxy deposit on the P. aristata needle, which helped me find this interesting blog: Northwest Conifer Connections.
I use the term "black dots" because I cannot identify what the black dots are that I found only on plants in my garden. I have had a few moments of reflection, since it appears that the easy answer for the black dots is the presence of fungus.
The presence of fungus everywhere is not true, since, in that case and according to research, a conifer like the P. aristata at the Chittendon Locks should be covered with dots. I continued to process the data and am faced with several possible actions:

Your pine looks ill, and you choose to:
a. Dig it out and send it to someplace dry for replanting
b. Spray it with fungicide
c. Cut off all the branches that look sad
d. Take pictures with a microscope and see if someone can identify the problem
e. Tell yourself that the top is nice and deny that there is a problem
f. Cut it down and try to figure out what to do with the corpse, in order to reduce the spread of the fungus spores
Getting Expert Help on Investigating the Conifer Disease
Curses!!! I spent more time in analysis-mode, procrastinated the doing, and then wrote to the Master Gardener program at the University of Washington. The UW website indicated that the staff had the capacity to answer gardening questions.
QUESTION: I have a Pinus aristata which has either Rhizosphaera needle cast, or worse, Stigmina, on the needles and stems. I am using a small home microscope to look at the black dots, but I am wondering if there is someone knowledgeable of these diseases who might be willing to discuss them.

Thanks,
Leah Alcyon
The response came back:
Leah,
Thank you for writing. I am not familiar with either of those diseases, but I hope that the King County Master Gardener program diagnosticians may be able to help you. I am forwarding your message to them, and they may reach out to you for more information about what you are seeing.

Best wishes,
Laura Blumhagen
Information Specialist
Elisabeth C. Miller Library
Box 354115, 3501 NE 41st St., Seattle, WA 98195
School of Environmental and Forest Sciences
College of the Environment
Somewhat interesting is that Washington State University does support gardeners with questions and is located at the same Center for Urban Horticulture as the University of Washington. I gave them a sample and filled out a form. This is what I got back:
March 22, 2108
Leah Alcyon

Diagnostician: bta

We received the branches from your Pinus aristata (Rocky Mountain bristlecone pine) in our Diagnostic Lab and examined them on March 22. You are correct with your diagnosis of a fungal disease on the pine. More specifically, it is a fungal needle cast disease. This should not harm your tree in the long run, but do pick up all the dropped needles, since these will have fungal spores which can re-infect the tree. We are sending a link to several articles on fungal needle cast diseases which give more information on them and also give options for treating the diseases.

Thank you,
WSU Extension, Master Gardener Diagnostic Lab
So, there we are! You got to see some interesting photos of pine needles and some black dots! I have not made a decision about what to do with the P. aristata in question. David Olszyk thought it needed to be removed ASAP, as it was 'wrong plant wrong place', but it is raining today, and no one wants to go outside, not even the dog.
Other Sources of Information
The most common disease of Picea pungens (Colorado spruce) is Rhizosphaera needle cast, a fungal disease that usually requires fungicides for management. Rhizosphaera needle cast causes needles to turn purplish brown and fall from the tree, usually from the inside of the tree working out and from the bottom of the tree working up. For effective control, infected trees should be treated once in mid-May and again four to six weeks later.

Photographs by Leah Alcyon.
Leah Alcyon is a retired industrial hygienist, recently moved back to Humboldt County, California, land of the redwoods. She enjoys conifers with her mother, Carol, and will plant one Sequoia sempervirens 'Loma Prieta Spike'.

This article was originally published in the Summer 2019 issue of Conifer Quarterly. Join the American Conifer Society to access our extensive library of conifer-related articles and connect to a nationwide group of plant lovers! Become a member for only $40 a year and get discounts with our growing list of participating nurseries in our Nursery Discount Program.
Comments
Thx Leah: So - We have a multi-trunked Pi. Aristata that I've bn. carefully pruning for 11 yrs, just noted signs/ black dot, but is it same Rhizosphaera as on 10 blue spruces, that ive had sprayed for $1000/each of 3 yrs! We had a prolonged rainy spring, summer in Nor. OHIO... any advantage to spray it now, since spring spray regimen is done on the blues. - john