How to Protect Conifer Trees from Deer
Find out the ways to protect your conifers from deer damages by nibbling does and rubbing bucks.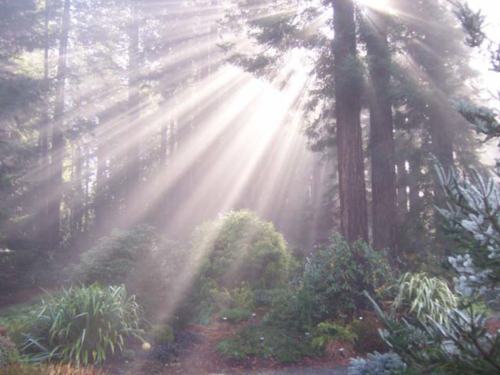 Our gardens at Harmony Woods are nestled into a cathedral of Sequoia sempervirens. To the best of our knowledge, the coast from northern California to southwest Oregon is the only place where the species is found in nature. Under the canopy of the redwoods, we feature over 300 conifer species enhanced by a vast array of plants gracing over twenty beds. By the very nature of the name "Harmony Woods", we imply an attitude of living with nature through gentle guidance.
Deer emerge tentatively from our forest, a doe with two fawns at one time, or two bucks at another. They are alert, but calmly pursue their need of finding food and sometimes resting in the sun on our green. We delight in their presence. Most conifers on our property appear deer proof. Some new growth has been nibbled, but frankly my husband Bob and I can't recall the names of those few affected.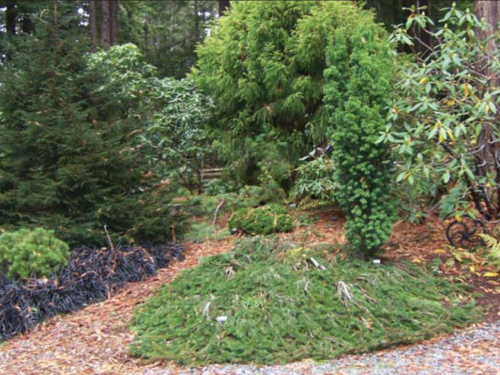 Living with Nature
One key to our success in living with the deer is to plant genera which are not attractive to them. Several months ago I looked up and saw a lovely doe under our plum tree, nibbling the fallen leaves from the tops of the plants underneath. Her lips were so supple, her tongue lifting each leaf with a beautiful grace so that the plants below were not affected. I imagined how delicious the leaves must be to her. She was the perfect gardener.

The conifers under the plum tree include: Abies procera 'Glauca', Cedrus deodora 'Divinely Blue', Cryptomeria japonica 'Compressa', Picea glauca 'Elf' and 'Haal' (Alberta Blue), as well as Picea pungens 'Glauca Prostrata'. In addition, there are Rhododendron, Helleborus orientalis, Darmera peltata, the grass; Hakonechloa macra, the ferns; Pyrrosia lingua, and Sarcococca. Most plants were purchased locally.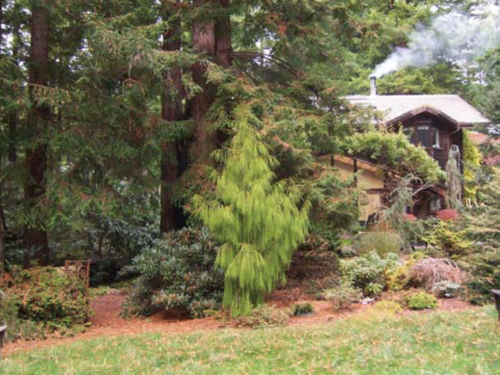 Ways to Keep Deers Away from Conifer Trees
For plants the deer love, our secret is to guide them away with a product called "Liquid Fence Deer and Rabbit Repellent," which is readily available in our local nurseries. The ingredients are harmless and although we cannot smell the odor shortly after spraying, the deer find it offensive.Bob does the rounds every few weeks.
The only deer fencing we have on the property is for the perennial garden and we used a black polypropylene mesh fencing material affixed to redwood posts. Our fencing company purchased the product from Benner's Gardens in Phoenixville, Pennsylvania. It is sturdy and practically invisible. Although we know the fence exists, the plants around it and the gardens beyond catch the eye. Just remember to keep the gates closed!
For the bucks who love to remove the soft velvet from their antlers in late summer by rubbing against tree trunks and often damaging the circle of cambium, we use tall semicircular plant supports sold in many gardening catalogues. Join two together with some twine and you have a temporary fix. The message the doe, a beautiful creature of nature, gives to us is that with well-chosen plants and a few products to guide, a gardener can enjoy the beauty of both the plants and the deer. For us, that is a bonus to treasure and adds a glow to the seasons.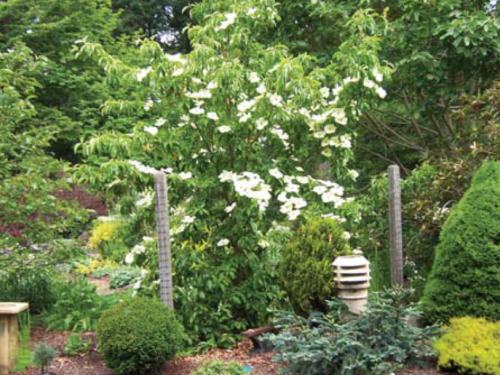 Text by Judy Appel Mathey. Photos by Bob Mathey.
Judy and Bob Mathey garden in a Mediterranean type eco-climate which is particularly suitable to growing tender leaf plants. They avidly collect conifers as well as Rhododendron species, ferns and maples.

This article was originally published in the Spring 2012 issue of Conifer Quarterly. Join the American Conifer Society to access our extensive library of conifer-related articles and connect to a nationwide group of plant lovers! Become a member for only $40 a year and get discounts with our growing list of participating nurseries in our Nursery Discount Program.
Comments