How to Plant Conifer Seedlings the Easy Way
Planting several conifer seedlings at a time? Consider adding the dibble bar to your garden arsenal.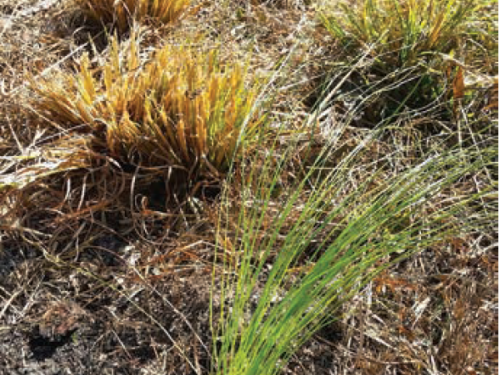 Our journeys with our beloved conifers take us down many paths, many of which are totally unexpected. So it was on a hot, late October's day in Virginia. I would be part of a team of 7 people with conifers and a dibble bar.
We know and cherish conifers, but a dibble bar was a totally new experience for this conifer grower. Simply, a dibble bar is a tool used to plant trees on a large scale, primarily for reforestation projects.
Dibbles consist of a steel blade formed with a 3 to 4 foot handle. It is used by thrusting it into the ground, pushing it back and forth to create a tapered hole, in which to drop a young seedling. Working with a dibble bar is a great aerobic workout and certainly rivals any gym time!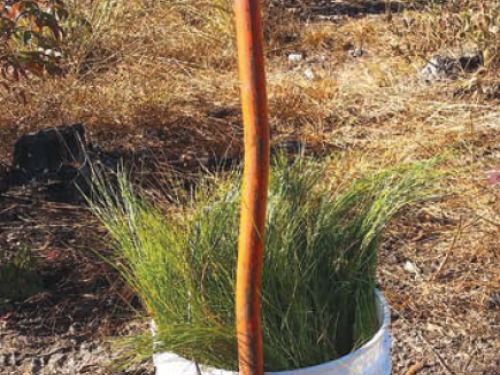 Saving Endangered Conifers with the Dibble Bar
The team I was part of was planting Pinus palustris, longleaf pine (LLP), at Joseph Pines Preserve in Sussex County, Virginia. It was led by Phil Sheridan, Director of Meadowview Biological Research Station, joined by Mike Hammond, Board of Directors member of Meadowview, Richard Curzon, Horticulturalist, Marissa Merhout, Intern, and Mike and Donna Finnegan, Virginia Master Naturalists.
With dibble bar in hand, together we planted over 2,500 Pinus palustris seedlings. The American Conifer Society assisted with a $1,000 grant to Joseph Pines Preserve for seedling propagation in 2014. To learn about the history of the Pinus palustris, click here.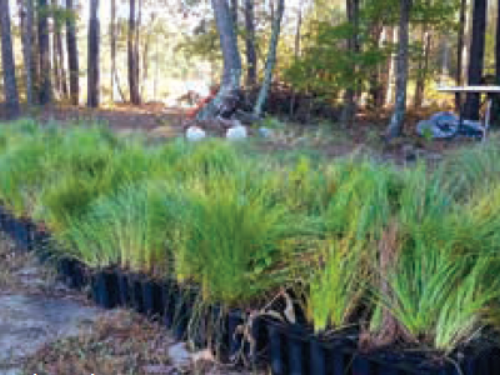 Joseph Pines Preserve and Conifer Reforestation
Our team almost completed the longleaf pine planting of the initial 32 acres at Joseph Pines Preserve (JPP) during October 2015. Thanks in part to the help of the American Conifer Society, JJP has another 25,000 native Virginia longleaf pine to plant—making the JJP nursery the largest in Virginia for native LLP production.
Work will begin in early 2016 to clearcut an additional 50 acres on the preserve. This land will be restored to a native longleaf pine forest with the planting of the two-year-old seedlings. Planting 25,000 seedlings by hand is a daunting task. However, Phil Sheridan feels it is important to vest JJP and Meadowview staff, naturalists and citizens in this effort to restore the longleaf pine.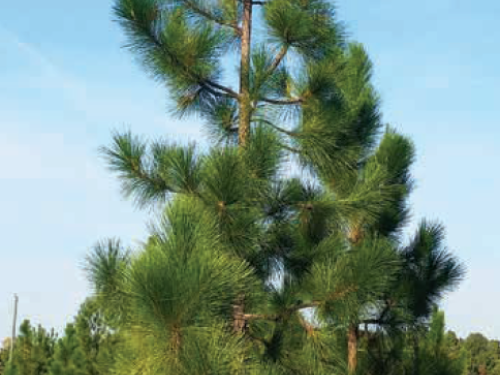 Labors Beyond the Dibble Bar
Participating in the longleaf pine planting is not just the use of a dibble bar. Seedlings need to be transported to the site and watered. The LLP seedlings are grown in IP 45 trays; many of which were bought with an ACS grant. Presently the seedlings are manually extracted by hand, with the use of a wooden dowel and mallet, labor intensive for sure.
With all this energy expended, food preparation for the volunteers becomes another challenge and necessity. This is a group effort, where the help and talents of many people are required.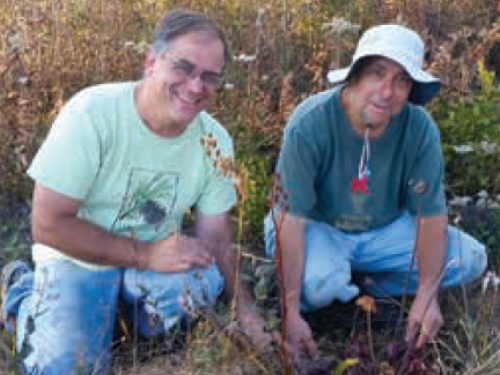 It was encouraging to learn that the American Conifer Society's Southeast Region reached out to Phil Sheridan. Phil and JJP are one part of an extensive effort in the Southern United States to restore Pinus palustris to its traditional range. I hope the ACS continues to find ways to expand its support of JJP and other conifer related conservation projects.
For myself, I like the dibble bar and the outcome of planting longleaf pines for future generations to enjoy. Odds are I will return to Virginia this October, to experience Dibble Bar 201 and help to plant those 25,000 seedlings which the ACS helped to create.
Photographs by Larry Nau.

This article was originally published in the Summer 2016 issue of Conifer Quarterly. Join the American Conifer Society to access our extensive library of conifer-related articles and connect to a nationwide group of plant lovers! Become a member for only $40 a year and get discounts with our growing list of participating nurseries in our Nursery Discount Program.
Comments