How to Plant and Care for Cedars
Read about planting and caring for a favorite ornamental conifer: the cedar.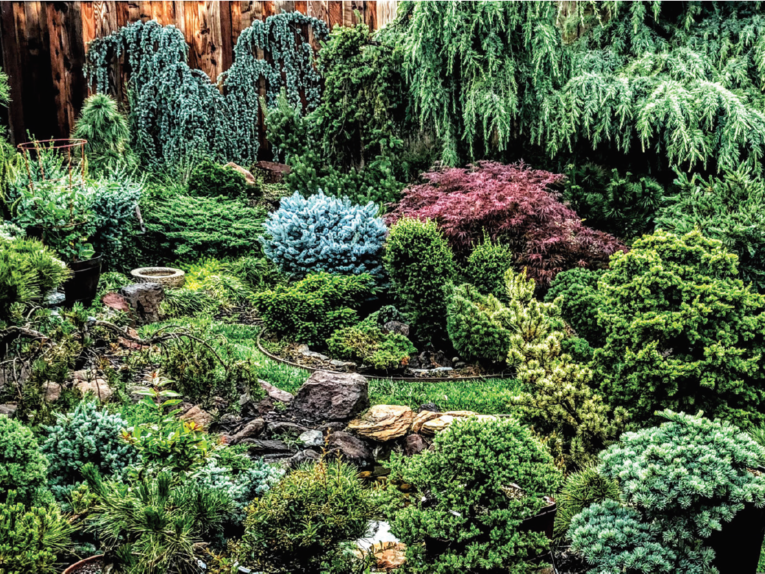 When I first started my garden 10 years ago, I did not have a clue as to what kind of plants I would use to fill it. My son and I installed tons of rock for the hardscape, but I didn't have a clear idea of how or what I wanted to plant. It was when I attended a bonsai show in San Jose, CA, and met a vendor therewho used Cedrus (cedar) for his bonsai that I was hooked.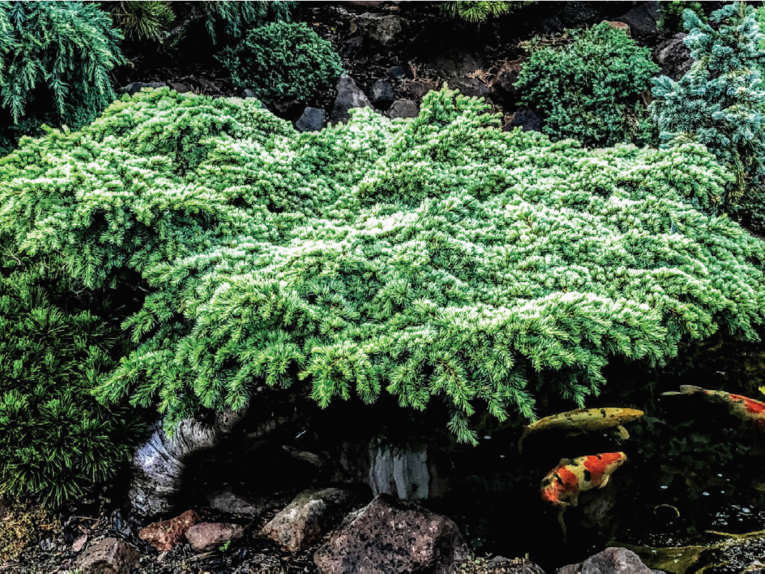 Starting a Cedar Conifer Collection
Conifers were seldom seen at local nurseries in the San Jose area at the time, and, what was offered was not that inspiring. The vendor at the bonsai show displayed a particular cultivar, Cedrus libani 'Green Prince'. That plant, like no other on display, made my heart skip a beat. Even now, many years later, 'Green Prince' still mesmerizes me.
I enjoy many species of conifers, but none more than Cedrus. Everywhere I look in my garden, there is a cedar.
My go-to handbook for finding cedars back then was the catalog Larry Stanley had published for 2007-2008. I spent a lot of time reading it from cover to cover. Although all of the conifers listed interested me, I opted to buy as many dwarf cedars as I could. Yes, the Addicted Conifer Syndrome set in, and there was no turning back!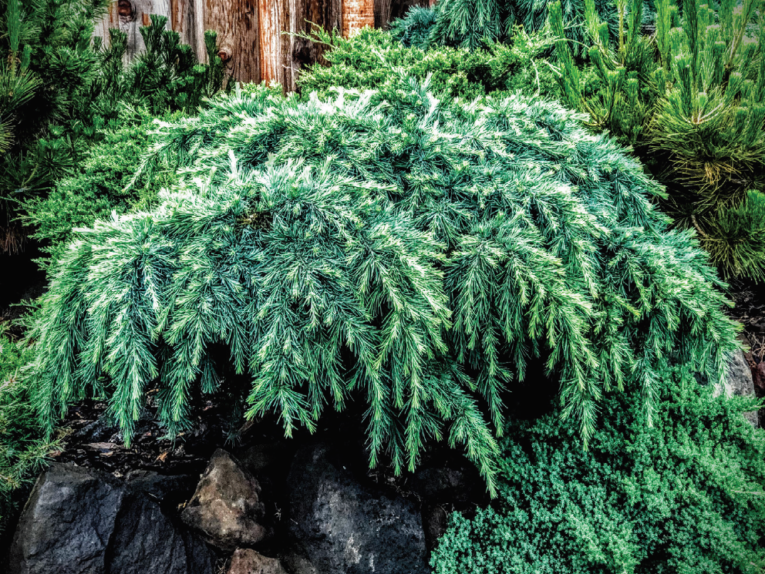 Seeking Rare Cedars
I was determined to search out places in Oregon and Washington that listed hard-to-find cedars. I mused about what those unique plants would look like in my rock garden. I asked myself if they would grow, and what kind of shape they would take over the years?
I have 23 cedars in my garden now. I also appreciate the large ones that were planted in my community decades ago. Cedars have always been my favorite trees in the landscape, but I never knew the names of the trees or the number of varieties.
I hope you enjoy the pictures of some of the different cultivars growing in my garden.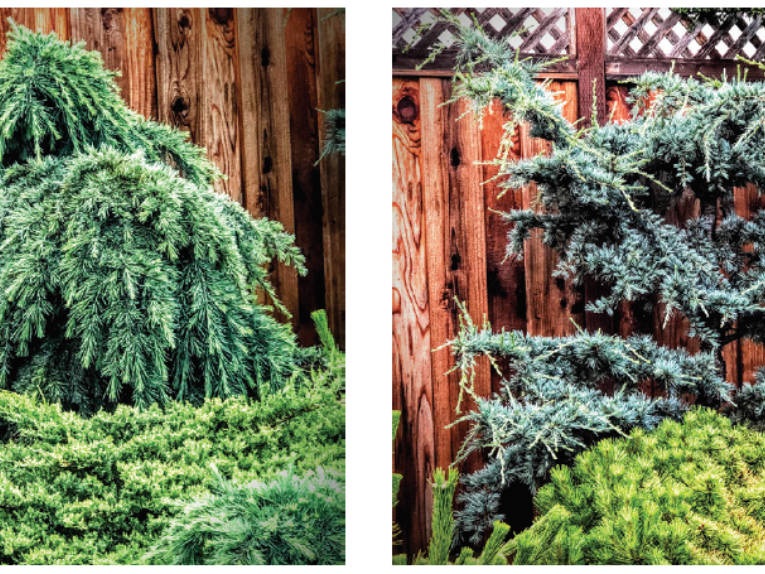 Tips for Planting and Growing Cedars
My experience choosing and growing cedars taught me the following:
Only purchase a plant that can grow in your USDA zone. Cedars will not fare well with long periods of hard freezes or humid summers. Some varieties are more cold-hardy than others. Check the zone where you live and compare the recommendations of the grower for best results.
Make sure that the plant you purchase is compatible with the size of the space you have in mind for it. With good pruning skills, you can generally make it fit. Cedars come in various sizes, from miniatures to full-sized trees. Check the 10-year size estimation tag for the best placement.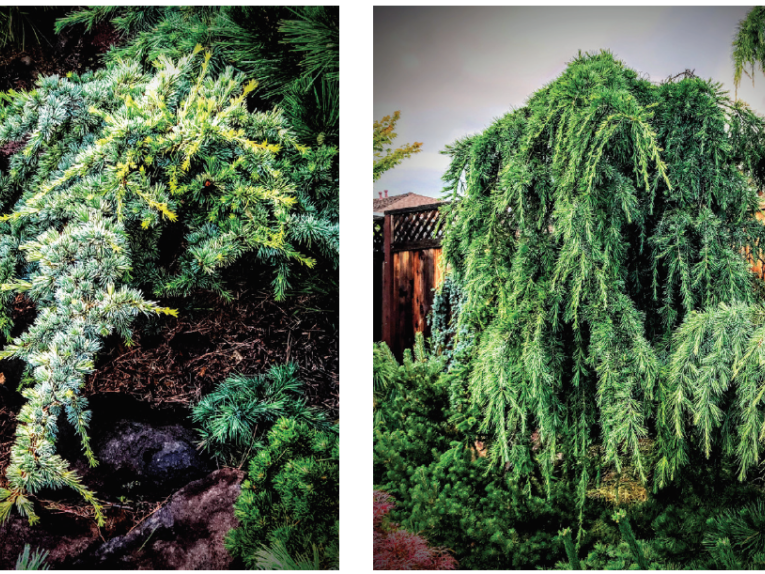 Cedars prefer a soil that drains well. Here in Northern California many of us have heavy clay. Planting on mounds or slopes helps with drainage and keeps the plants happy.

Cedars do not like to be drenched by heavy watering. Once established, cedars are very drought-tolerant. New plantings need to be watered regularly for at least the first couple of years.

I have found that cedars are quite free of insect damage. Newly planted trees watered from overhead can develop fungus during the heat of summer. Spraying the cedars against fungus will ensure healthy and happy plants over time.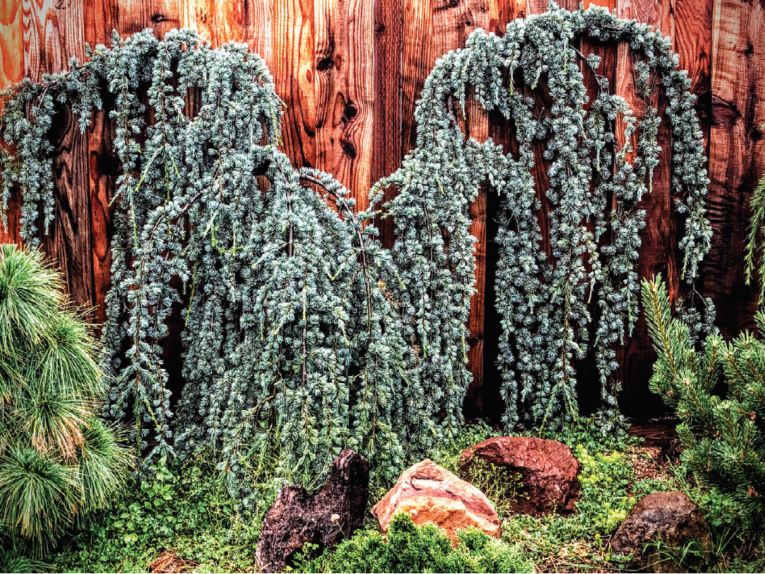 In my experience, the best time to transplant cedars from containers into the garden is when they have finished their first spring growth, and after that growth has hardened off. Your own zone and climate may dictate different timing.
Unless you want your plant to grow as a ground cover, many cedars will need staking to get them up off the ground and to encourage them to grow upward. I have allowed some plants to grow naturally and have trained others to be more vertical. It is up to you. Just be mindful of the size parameters of the plant and where you place it.
Do not be overly concerned if your newly planted cedar does not take off immediately after planting. Cedars need time to establish a good root system. Position the young plant where it gets sun, but not hot wind and extreme heat. Newly planted trees usually start growing sometime in the third year.
I wish you well enjoying cedars!
Photographs by Jack Christiansen.
This article was originally published in the Fall 2019 issue of Conifer Quarterly. Join the American Conifer Society to access our extensive library of conifer-related articles and connect to a nationwide group of plant lovers! Become a member for only $40 a year and get discounts with our growing list of participating nurseries in our Nursery Discount Program.
Comments