How to Improve Conifer Health with Mycorrhizae
Beneficial fungi help conifer growth, hardiness, and disease resistance. Read on to find out if they are for your garden.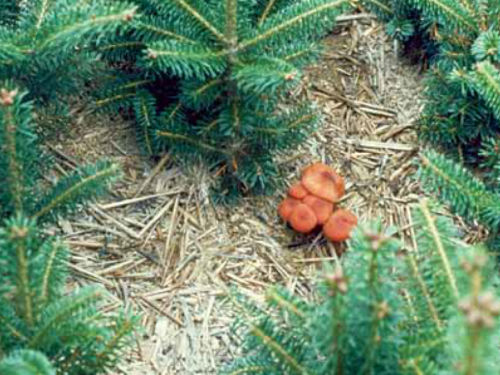 Mycorrhizae are a subject which generates a lot of discussion among people who grow conifers. Whether they are foresters, nursery managers, Christmas tree growers, or conifer gardeners; everyone seems to have an opinion on mycorrhizae.
With an increasing array of mycorrhizal products on the market, the discussion around mycorrhizae and their importance in conifer health continues to intensify. Below are some key things conifer enthusiasts should understand about mycorrhizae.
What are mycorrhizae?
Mycorrhizae are associations between fungi and plant roots. The term mycorrhizae comes from the Greek mykos "fungus" and riza "roots". Mycorrhizae are an example of a symbiotic relationship between two organisms, in which both organisms benefit, referred to as a mutualistic association. In the case of mycorrhizae, the fungus gets energy in the form of photosynthates from the plant. The plant, in return, gets an increased ability to absorb water and nutrients from the soil, resulting in more efficient resource uptake.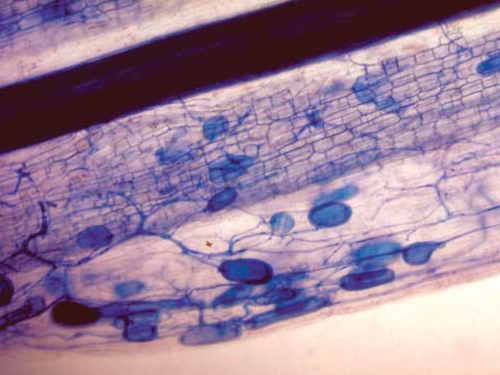 How many types of mycorrhizae are there?
Mycorrhizae are generally described as one of two types; ectomycorrhizae and endomycorrhizae. In ectomycorrhizae, fungi produce threadlike structures (hyphae) which form a network of cells in the intercellular spaces of the root (Hartig net), but do not penetrate the cortical cells of the plant root.
Ectomycorrhizae also form a sheath of hyphae around the outside of the root (mantle). In endomycorrhizae, fungi form structures (arbuscules) which penetrate inside the roots of the host plant, most common in forest trees. Although both types of mycorrhizae increase nutrient uptake, endomycorrhizae have been specifically linked to improved phosphorus nutrition. There are numerous fungal species involved in both ecto- and endo-mycorrhizae, and host fungus associations are often species- or genus-specific.
What kinds of trees are infected by mycorrhizae?
Most land plants, including conifers in the family Cupressaceae (cedars), form endomycorrhizal associations. Ectomycorrhizae only occur in about 10% of plant families, but they are important for conifer growers because all members of the pine family including true firs (Abies), spruces (Picea), pines (Pinus), Douglas-fir (Pseudotsuga), and hemlocks (Tsuga) form ectomycorrhizae.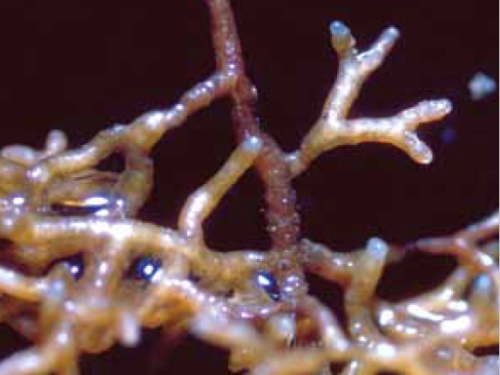 Can I tell if my trees are mycorrhizal?
Structures associated with endomycorrhizae fungi are not visible with the naked eye and require specific microscopic examination; however, it is often possible to determine if roots are infected with ectomycorrhizae by visual examination. The root tips of conifer roots infected with mycorrhizal fungi may split off into pairs at the ends, referred to as bifurcations.
In other situations the hyphae of the fungus form visible matting (mycelia) on the roots. Also, the fruiting bodies of many mycorrhizal fungi are mushrooms, so their presence can also indicate that conifers are mycorrhizal.
Does artificial inoculation with mycorrhizae improve tree performance?
The beneficial association of mycorrhizal fungi and tree roots has been known for decades. Some of the most classic examples of the essential role of mycorrhizae in tree growth and development come from attempts to establish conifers as exotics. For example, early efforts to establish Monterey pine (a North American native) in Australia and New Zealand failed due to a lack of appropriate mycorrhizal fungi.
Similar failures of afforestation efforts in grassland areas have also been attributed to lack of mycorrhizae. Numerous studies of artificial mycorrhizal inoculation of trees have found significant benefits including increased survival, growth, drought hardiness, nutrient uptake and disease resistance. However, results of artificial inoculation are often highly variable, and many studies show only modest benefits or no improvement at all compared to plots or trees not inoculated.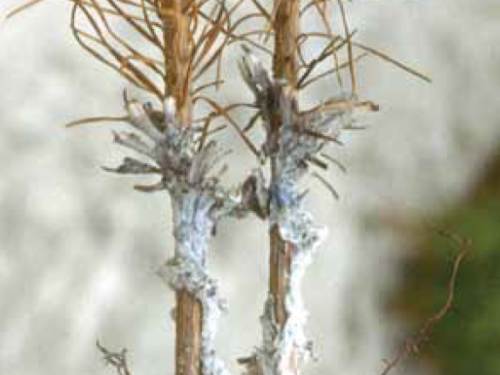 If mycorrhizae are essential for conifer growth and development, why doesn't mycorrhizal inoculation always provide a benefit?
There are several reasons why inoculating with mycorrhizae may not improve tree performance. First, in areas near native woodlands, native mycorrhizae spores are likely already present in the soil. For example, European researchers inoculated Norway spruce and Scots pine seedlings with three known mycorrhizal fungi prior to field planting. After three years, the only fungi they could isolate from the trees were native types, not the ones they used for inoculation.
It is also important to remember that mycorrhizal fungi are host-specific. In other words, trees species and fungal species have to be a match. Since many conifer gardens may contain dozens of tree species, it is possible that one source of inoculum will not work on all species. In a study in Canadian nurseries, researchers used six types of fungal spores to inoculate lodgepole pine, white spruce, black spruce, Scots pine and Siberian larch. Some fungal types showed consistent benefit, but two types did not improve seedling growth compared to un-inoculated controls.
Trees may also fail to respond to inoculation due to problems with the inoculation procedures. In some conifer nurseries, beds are inoculated using soil from local woodlands, which presumably contains mycorrhizal spores and mycelia. More commonly, bareroot and container nurseries now use commercially produced spores or inoculum containing ground mycelia.Inoculum can remain viable for months or even years when stored at room temperature or refrigerated, however, viability will ultimately decrease with age or extreme storage conditions.
Lastly, inoculation may not improve tree performance if site resources are not limiting. Conifer enthusiasts often fertilize and irrigate their gardens, potentially limiting the benefit of improving nutrient or water uptake by adding mycorrhizae. In addition, high nutrient levels can also reduce the success of mycorrhizal colonization. High soil phosphorus levels, for example, can inhibit endomycorrhizal colonization.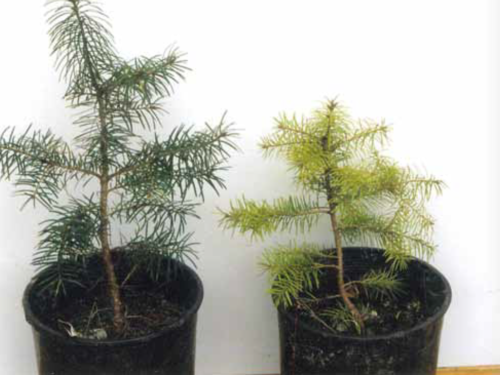 Should I inoculate my trees with commercial mycorrhizae?
For most conifer gardeners the answer is, "Probably not." As noted above, mycorrhizal spores are likely already present in your soil. Moreover, it is also highly likely that the seedlings and transplants you purchase from your nursery supplier are already colonized by mycorrhizal fungi when you receive them. For conifer gardeners who live in areas where few conifers are present, there may be situations where native mycorrhizal spores are not present, or are present in low quantities, and artificial inoculation may be beneficial. This could include gardens in the Great Plains, or planting in new developments where top-soil has been removed.
Because of the complexities associated with mycorrhizae, it is difficult to predict with 100% certainty, under which situations inoculation may or may not improve performance. Conifer growers who wish to experiment with mycorrhizae should keep several points in mind: keep careful notes on species, stock types, source nursery, and inoculum source and growing conditions. As noted, there is a good likelihood that your plants and/or soil already contain mycorrhizae, so it's important that you are able to convince yourself that that expense and effort of adding them are warranted.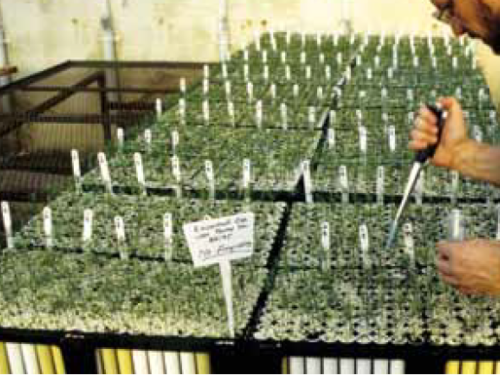 Where can I learn more?
The USDA Forest Service "Reforestation, Nurseries, and Genetics Resources" website (www.RNGR.net) has several excellent resources on mycorrhizae under their "Publications" section. Two particularly good references are Chapter 20 in the Bareroot Forest Nursery Manual, "Mycorrhiza Management in Bareroot Nurseries" by Randy Molina and James Trappe and Volume 5 of the Container Nursery Tree Nursery Manual, "The Biological Component: Nursery Pests and Mycorrhizae" by Michael Castellano and Randy Molina. The latter chapter includes one of the most comprehensive lists of mycorrhizal incoculum × conifer species matches available.
References:
Castellano, M.A. & Molina, R. (1989). Mycorrhizae. IN: Landis, et al. The Container Tree Nursery Manual. Vol. 5. USDA Forest Service Agric. Handbook 694. p. 101–167.
Khasa, P. D., Sigler, L., Chakravarty, P., Dancik, B. P., Erickson, L., & Mc Curdy, D. (2001). Effect of fertilization on growth and ectomycorrhizal development of container-grown and bare-root nursery conifer seedlings. New Forests, 22(3), 179–197.
Menkis, A., Vasiliauskas, R., Taylor, A. F. S., Stenlid, J., & Finlay, R. (2007). Afforestation of abandoned farmland with conifer seedlings inoculated with three ectomycorrhizal fungi—impact on plant performance and ectomycorrhizal community. Mycorrhiza, 17(4), 337–348.
Molina, R., & Trappe, J. M. (1984). Mycorrhiza management in bareroot nurseries. In Forestry Nursery Manual: Production of Bareroot Seedlings (pp. 211–223). Springer Netherlands.
Perry, D. A., Molina, R., & Amaranthus, M. P. (1987). Mycorrhizae, mycorrhizospheres, and reforestation: current knowledge and research needs. Canadian Journal of Forest Research, 17(8), 929–940.
Text by Dr. Bert Cregg. This article was adapted from a related article published in the Great Lakes Christmas Tree Journal.
Dr. Bert Cregg is an Associate Professor in the Departments of Horticulture and Forestry at MSU.
This article was originally published in the Spring 2016 issue of Conifer Quarterly. Join the American Conifer Society to access our extensive library of conifer-related articles and connect to a nationwide group of plant lovers! Become a member for only $40 a year and get discounts with our growing list of participating nurseries in our Nursery Discount Program.
Comments