How to Design Your Personal Conifer Garden: Color, Texture, & Size
Get started on designing and landscaping a conifer garden with your personal style.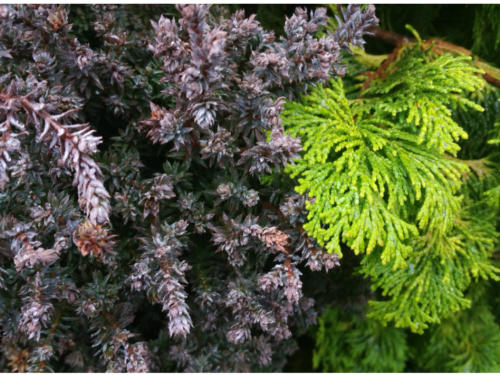 "How do I begin?" In my garden designing career, I have often heard this question from new gardeners who want to start a conifer garden with a few tiny conifers.
"What could you do with these tiny conifers, plant them into a balcony container or right into the ground?" Well, I have some ideas to assist you in creating a personal conifer garden.
Designing and Landscaping Questions to Ask Yourself
As a designer with artistic training, I'm going to suggest that you view each specimen, asking these plant-relationship questions:
Are all the conifers dark green?
Are they the same genus (cedar, spruce, or pine)?
What's their needle shape or texture?
Answering these questions will enable you to create your own unique, personal garden.
First of all, read about your trees prior to planting. Consult the ACS' Conifer Database on the website. When you do, you will ensure that you site your conifers knowing their soil, water, 10-year size, and sun requirements. Your specimens will reward you for your research.
Experimenting with Conifer Colors in the Garden
Then, arrange and rearrange your conifers. Experiment with blue next to chartreuse, dark-green next to applegreen, white-tipped next to solid-colored.
Mix up the needle sizes: pine next to Cryptomeria, Chamaecyparis next to yew, Taxus baccata (English yew) next to Sciadopitys verticillata (Japanese umbrella pine), large needles next to small, wide fan sprays next to spiraled, rope-like needles.
Keep shifting the plants into a variety of combinations. You will begin to notice how each plant's individual characteristics of color and texture play off the others.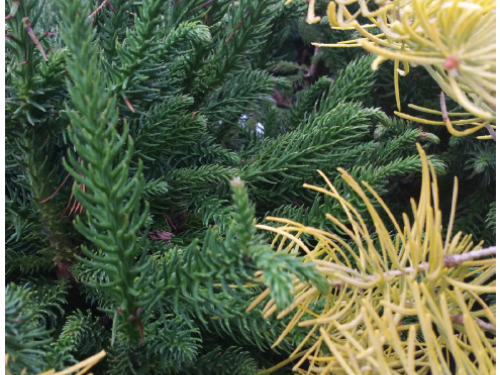 Playing with Texture of Conifers and Evergreens in the Garden
Chartreuse Taxodium distichum (bald cypress) next to blue Picea pungens (Colorado spruce); rough-textured Juniperus scopulorum (Rocky Mountain juniper) next to soft-textured Abies amabilis (Pacific silver fir); short Pinus mugo (mugo pine) next to tall Chamaecyparis lawsoniana 'Wissel's Saguaro' (Wissel's Saguaro Lawson cypress).
Your conifers are the "bones" of your garden. Place each one as if it were the sole plant within your line of sight. When you place larger conifers, situate them in primary positions: on top of a mound, off center within a large, flat area, or near a substantial rock formation.
These then become your focal points. The second tier of planting will be mid-sized conifers, offset from one another to enhance the taller focal points. Think of the soft undulations of branch structure, needle texture, and transitioning heights to connect the two levels.

The Role of Space and Positioning in Designing Conifer Gardens
When I design, I often work with tracing paper over an outlined garden sketch, drawn roughly to scale. Doing so allows one to play with a variety of options on paper first, before committing to planting. You can place potential designs over your scale model until you achieve a pleasing visual arrangement.
Continue trying new ideas until you find just the right combination and design for you. Lay out your plants in a swirl or in concentric circles or in contiguous circles, keeping a focal-point conifer at the center of each formation.
As the conifers fill your garden space, a structural framework will emerge. For example, you may want to grow only conifers, or you may wish to add herbaceous perennials such as Echinacea, Lithodora, or hellebores to provide extra color. The silhouette of evergreens will remain your visual focus in winter when seasonal color has died down, and the perennials have gone dormant.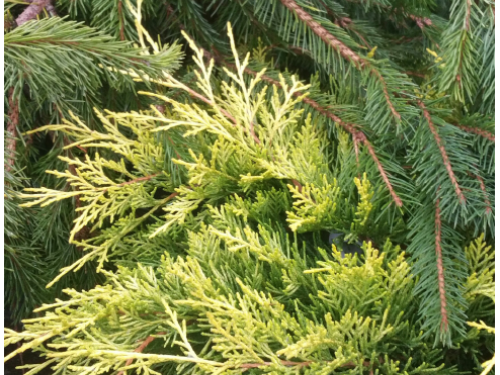 Contrast, Higlights, and Foliage Characteristics in Conifer Gardening
Consider Hakone grass, a mix of ferns, or species tulips that flourish in drier environments to compliment your conifers. Some combinations that I like to include are:
Consider foliage thickness or opaqueness as well as height in your arrangement. These elements add "weight" to your configuration of plants. Dark colors and foliage dense plants "weigh" more.
Chamaecyparis lawsoniana 'Filiformis' (threadleaf Lawson cypress) may be tall, but its airy structure is lighter than the solid Picea abies 'Nidiformis' (bird's nest spruce) of the same height that might be situated nearby.
A planting of Abies nordmanniana 'Golden Spreader' (Golden Spreader Nordmann fir), with its yellow highlights and lateral habit, will provide more contrast to a setting than a grouping of blue-green Podocarpus lawrencei 'Blue Gem' (Blue Gem mountain plum-pine).
Working with the Bigger Picture of Your Conifer Garden
The island planting bed is an ideal place for your most significant conifers. You can view it "in the round" and from multiple angles. Dividing available space exactly in half results in a contrived arrangement.
Remember, your foundation conifer is the reference point, from which you place the remaining plants. Walk around your planting area as one does as the first step in a pruning job. Your goal is to work the entire composition.
Refrain from beginning your garden scene in one corner; rather, sketch and work the entire space. Direct your focus to the bigger picture, growing your specimen collection organically, so that it looks as it would in nature without human intervention.
If you have multiple Mugo pines, consider their structural characteristics and create a windswept arrangement, or place a taller weeping tree to cascade downward toward a spreading dwarf groundcover.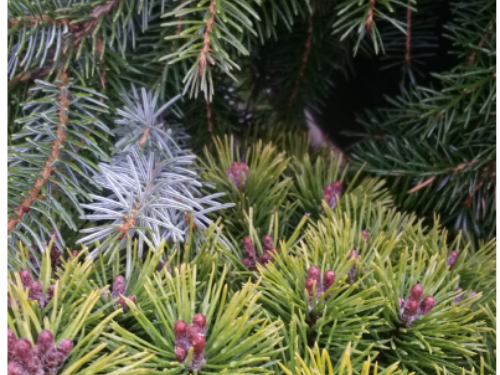 Grouping Conifer and Evergreen Trees for Effect
Use groupings for volume. In this way, your eye will travel naturally from one plant to another:
Including a variety of color, texture, and form will enhance viewer interest.
Finishing your work involves planting smaller species or flat specimens at the front edges or along pathways, or as connections between diverse plantings. You needn't place every tall plant to the rear, or place the lowest/ flattest conifer in the forefront.
Intersperse low with high, and wide with conical. Most importantly, refrain from lining conifers in a straight row. That creates too much rigidity.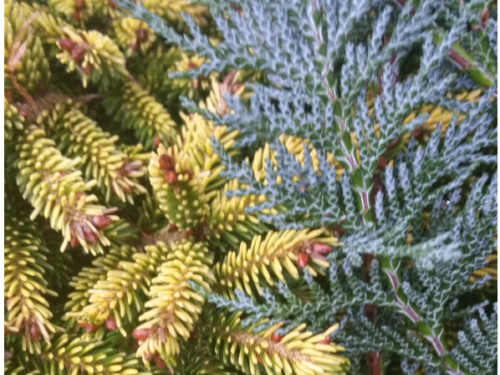 Maintaining Your Conifer Garden
If you have limited space for planting, such as a balcony, close-range planting is an option for designing with tiny dwarf conifers with growth rates of 1/4 inch per year.
Sharon Elkan's container plantings with conifers that were featured in the Fall 2019 CQ are prime examples. A small collection of tiny conifers can be grouped to represent a forest.
Aesthetic pruning will maintain your smaller conifers in a mid-sized, urban landscape and also keep all specimens proportional as they mature. See the Spring 2017 CQ for a discussion of aesthetic pruning by Maryann Lewis.
In ensuing years, your garden will begin to suggest other selections of conifers. A deeper understanding of color, texture, and form will guide you as you choose new plants. Don't put limits on yourself.
Above all, enjoy the creative process you develop in fashioning a garden that reflects your own taste and your own artistic vision.
Text by Mary Warren. Photographs by Mary Warren, with thanks to the West Seattle Nursery and Garden Center and Bill Hibler, Conifer Buyer and ACS Member.

Mary Warren earned her BFA from California College of Arts and Crafts and a Master of Fine Arts Degree in Sculpture from the University of Washington. She has been gardening since the age of four, when her mother showed her how to plant fragrant sweet peas.
Mary Warren, Gardening Artists, 11/15/19, (206) 348-9332 c, 1816 N. 49th St. Seattle, WA 98103 Email:
[email protected]
This article was originally published in the Winter 2020 issue of Conifer Quarterly. Join the American Conifer Society to access our extensive library of conifer-related articles and connect to a nationwide group of plant lovers! Become a member for only $40 a year and get discounts with our growing list of participating nurseries in our Nursery Discount Program.
Comments