How to Avoid Cedar Apple Rust and White Pine Blister Rust in Conifers
Learn how to avoid or control rust fungal diseases of cedars and pines.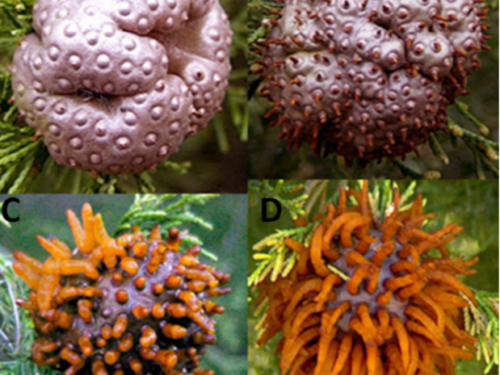 When I originally branched out to learn about gardening, I was intrigued by the idea of companion planting. My first foray was to plant marigolds among the tomato plants. I appreciated the symbiosis and interdependence of nature, recalling the beneficial relationship between barnacles and whales. What I was not prepared for was my discovery of plants which are inhospitable to other plants. Becoming a coniferphile, my interest was in protecting my personal collection. Two 'incompatible' plants to conifers are explored in this article.
Cedar Apple Rust Disease in Conifers
Cedar Apple Rust is caused by the fungus Gymnosporangium. Although it is detrimental to the economic industry of apple trees, as it causes unsalable fruit to eventual death of the tree, it gets more attention in reference to apples than to conifers, due to the financial impact to the industry.
Even though the common name of this disease refers to cedar, most likely referring to eastern red cedar, which is not a cedar at all in taxonomy, but rather is Juniperus virginiana. It does affect several Juniperus spp., such as eastern red cedar, southern red cedar, Rocky Mountain juniper, red-berry and Utah junipers, and some Chinese and prostrate junipers, making them look shabby and unsightly until the tree declines into ultimate death.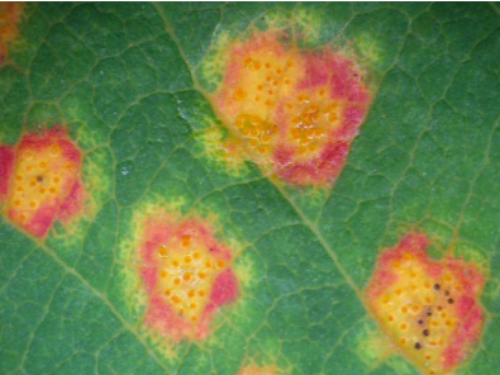 Cedar Apple Rust Disease Cycle
Migration of Gymnosporangium from apple (Malus) to cedar (Juniperus) occurs during the summer in the form of aeciospores, a chain like formation of the fungus spores, overwintering until spring to morphosis into galls which eventually produce teliospores, a two-celled spore which germinates, producing basidiospores, the reproductive form of the fungus spores.
In the second crossover phase, the basidiospores migrate to apple trees, causing fruit lesions and rust leaf spot in the form of aeciospores, which, going back to the beginning of the cycle, re-infect the cedar. In Malus, yellow hued lesions bordered by a red band infect the leaves, decreasing the amount of photosynthesis the tree is able to do. In Juniperus, the galls destroy branches from its insertion point to branch tip, disfiguring the tree until the infestation continues to destroy all the growing tips, and the tree dies.
A complete life cycle of Gymnosporangium takes two years. The fungal damage can be noticed sooner in apples than in junipers due to the many different stages of the disease, which cause the infection to go undetected. Physical eradication of either host plant has shown to be effective, but that requires as little as a quarter of a mile to several miles of clean area. The further geographically south, the more distance needed for removal of host plants.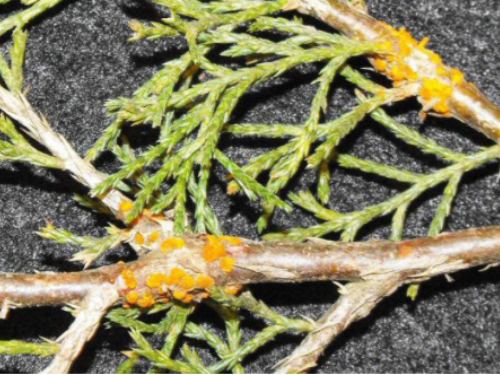 How to Control Cedar Apple Rust Disease
Control of Cedar Apple Rust can be done by pruning galls on junipers during the winter months, but this must be accomplished before the telial horns have been produced. In the situation of several juniper trees in the area being infected, pruning does little good.
Fungicides have proven to protect apple trees along with control on cedars. Spray schedules are different for apples and for cedars. Special attention should be given to selecting a fungicide which is effective on apples and then on cedars. This may require use of more than one product. The extension office for your state will have more detailed information on which fungicides to apply for integrated pest management (IPM) practices which are specific for your area.

For those who have low risk tolerance, Diseases of Trees and Shrubs lists Cedar Apple Rust resistant junipers as:
The sage advice is to plant disease resistant plants. For many conifer collectors, this will only be considered a challenge of man versus Mother Nature.
References:
Sinclair, Wayne A., and Howard H. Lyon. Diseases of Trees and Shrubs. 2nd ed. Ithaca: Cornell University Press, 2005. Print.
"Cedar Apple Rust." Oklahoma Cooperative Extension Service. Oklahoma State University, n.d. Web. 21 Sep. 2011. [Read more here.]
"Cedar Apple Rust – Focus on Plant Problems." University of Illinois Extension, n.d. Web. 21 Sep. 2011. [Read more here.]
White Pine Blister Rust Disease in Conifers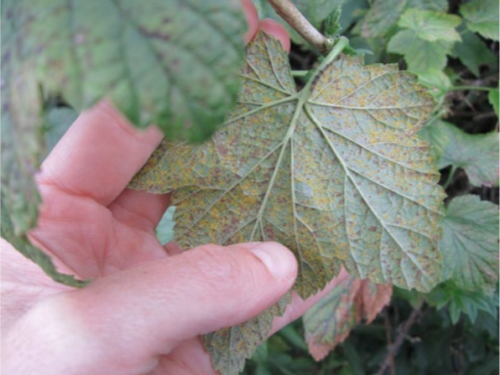 White Pine Blister Rust is caused by the fungus, Cronartium ribicola, to which the five-needle and stone pines are highly susceptible. Diseases of Trees and Shrubs lists the following as being most commonly affected as:
It is not a disease which can be passed from pine to pine, but it needs a host plant of Ribes to complete the devastating life cycle of White Pine Blister Rust. More common names of the Ribes species are gooseberry and currant.
White Pine Blister Rust Disease Cycle
The resulting infection of White Pine Blister Rust requires the migration of the Cronartium ribicola in the form of aeciospores, a chain like formation of the fungus spores, from a canker on white pine to Ribes and then back to white pine in the form of basidiospores, the reproductive form of the fungus spores.
A germination stage on Ribes is crucial for the Cronartium ribicola to become damaging to Pinus. Therefore, without the alternate host plant, it is unable to complete its life cycle. This is not to say "down with Ribes" any more than "down with Pinus", but it is more the idea of leaving two teenagers alone for the weekend to feed off of each other's bad ideas and cause trouble.
Cool and moist conditions in the late summer and early fall seasons facilitate the transfer of basidiospores from the Ribes to Pinus. The further geographically north a combination of Pinus and Ribes are planted together, the more likely the outbreaks. The cycle can be broken, since Cronartium ribicola does not overwinter on Ribes.

Major Ribes eradication happened throughout the US during the 20th century along with federal bans on growing certain currant cultivars. The federal ban was lifted in the 1960's although several states continue the ban on all or some Ribes species. For those who desire to plant Ribes, simple internet searches, or contacting your state's Cooperative Extension office, will provide further legal information on possession to propagation of this once popular fruiting shrub.
In most cases when symptoms are noticed, it is too late. With Pinus, only after the cambium layers of a branch have been destroyed, might the branches show signs of chlorosis, stunted growth, or death because the transportation of water and nutrients have been hindered or eliminated. Resin may be noticed oozing from diamond shaped cankers of greenish yellow to orange colors.

On Ribes, orange urediniospores, the pustule form of the fungus, builds up on the undersides of the leaves until late summer and early fall. They give rise to telia, which look like orange-brown hairs. Pines infected with White Pine Blister Rust can have the affected area pruned out, but, in most cases, branches are infected too close to the main leader, or the trunk itself is infected.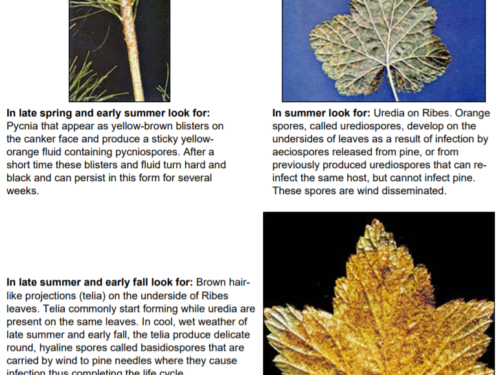 Control of White Pine Blister Rust Disease
There is no chemical application to control the spread of Cronartium ribicola. Since there is more value placed on pine forests in the U.S. and Canada, the impact of a widespread outbreak would be far-reaching from the environment it provides for wildlife and other plant species to the topographical erosion and adverse effects on forest watersheds. It is more practical to control the use of Ribes, which is a non-native species to North America.
Further study of White Pine Blister Rust, Cronartium ribicola, and the various forms it takes, rivaling Lady Gaga for costume changes during a concert, can be found in the cited literature used to compile this article. Excellent pictures of Cronartium ribicola in various stages can also be found on the internet.
References:
Sinclair, Wayne A. and Howard H. Lyon. Diseases of Trees and Shrubs. 2nd ed. Cornell University Press, 2005. Print.
"How to Identify White Pine Blister Rust and Remove Cankers." USDA Forest Service Northeastern Area. Web. 21 Sep. 2011. [Read more here.]

"White Pine Blister Rust and its Threat to High Elevation White Pines." USDA Forest Service Northeastern Area. Web. 21 Sep. 2011.

"White Pine Blister Rust." Forest Pathology. Web. 21 Sep. 2011. [Read more here.]
Comments