How I Started My Evergreen Garden
Follow a conehead's first foray into gardening with evergreens.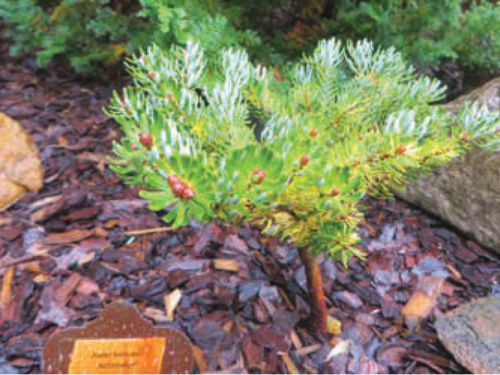 My first adventure with conifers began when a friend took me to a nursery specializing in them. I was going only to look, not buy, but when a group of silvery Abies koreana 'Horstmann's Silberlocke' kept winking at me, I couldn't resist. I bought the smallest plant, barely a foot tall. But back home, reality came crashing in. It didn't belong in my garden at all, sigh.

After moving to Portland, Oregon, from New York City, I'd been smitten with flowering perennials and roses. By the time I'd discovered Silberlocke, my garden was an acre of island beds and borders overflowing with color, largely inspired by English cottage gardens. Where on earth could I put a conifer?
In a pot, of course, where I could enjoy it as a treasure, all on its own. I gave Silberlocke a place of honor close to the house where I'd see it every day. As it developed, I repotted it into a larger, more attractive ceramic container. But surprisingly, instead of growing taller, it burgeoned sideways. Instead of staking it, I let it have its way, and enjoyed its interesting asymmetrically wide shape.
Pottering around with Conifers and Evergreens
Eventually, when Silberlocke tipped over its pot, I figured it was telling me to plant it in the ground. I placed it at the edge of a border, right along a path, where it framed the shrubs and perennials behind it beautifully with its calming silver tints. It was the perfect low hedge, better than any boxwood.

By then, I craved another Silberlocke which stood up straight, to plant against a cedar fence. It's especially gorgeous when it catches the winter sun, which makes the needles sparkle even brighter.
When a gorgeous purple smoke tree and a Florida dogwood both succumbed to fungal disease in a prominent bed, I grieved. But sadness turned to joy when I realized I could grow more conifers in containers there. Since they were difficult to place amid flowering perennials, I could group them together in this problem bed, as a collection.
Of course I would also need some beautiful new containers. Now I had a perfect reason to hunt for more conifers—and for more ceramic containers. I could hardly contain myself!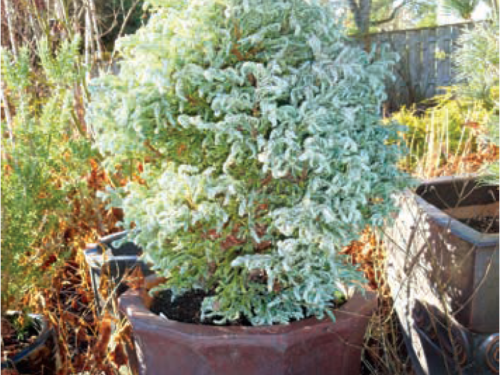 Visits to the Conifer Nurseries
Fortunately we have quite a few conifer nurseries on the outskirts of Portland, and winter visits help liven up our rainy season. Even wholesale nurseries willingly welcomed me when I'd organize my gardening group of some twenty avid gardeners to descend as a pack. Some even gave us an informative tour, narrated by the owner.
Conifer growers around here tend to hold forth passionately about their plants, with so much detail and enthusiasm that I nearly exploded with impatience to grab some! After a typical tour and talk, our group would finally disperse into a buying frenzy, doing our best wrangle politely over the rarest specimens.
After Silberlocke I fell for 'Kohouts Icebreaker,' an even more radiant fir, with tinier needles which recurve so strongly the nearly-white undersides are fully displayed. 'Kohouts Icebreaker' simply glows. Slow growing, it's taken a couple of years to come into its own. Did I mention that conifers can be expensive?
I tend to buy the smallest sizes out of frugality. I've convinced myself that it's a greater pleasure to watch these infant plants grow up than to get instant gratification from a mature conifer.
Adding to My Collection of Conifers and Evergreens
Even though it's considered a dwarf, the Chamaecyparis pisifera 'Curly Tops' I saw in a friend's garden was over six feet tall. Each branchlet curled back so that the impression was of a silvery blue mass of curls. The most dynamic conifer I'd ever met, it was so adorable I couldn't live without it. I found a one-gallon plant for sale and potted it up in a black container for contrast.

I began noticing more conifers whose branches wiggled every which way, like Cryptomeria japonica 'Spiraliter Falcata,' with short needles in a lively shade of green. Its gracefully twisting nature makes it super appealing, and so interesting to contemplate that I placed it at the edge of a bed all by itself, instead of in a group.
Similarly eye-catching, Pinus strobus 'Vercurve' has longer twisted needles in bundles of five. The plant looks fluffy and friendly. When I saw it in a friend's garden, a stab of envy told me I needed one. Thus began my interest in many more dwarf white pines, twisted or not. I probably bought P. strobus 'Shaggy Dog' and P. strobus 'Sea Urchin' for their names, but so what! All are soothing shades of blue-green, and look charming in containers.
Pinus strobus 'Louie' was my first golden pine. I'd seen it repeatedly in at least four garden centers before I got over the sticker shock. Lusting after it was relentless, and there was no doubt that I'd succumb—it was just a matter of when. I'd run my fingers through the soft golden needles and sigh, then leave without the plant. Until finally, desire triumphed over economy, and I bought it, singing "Louie, Louie" all the way home.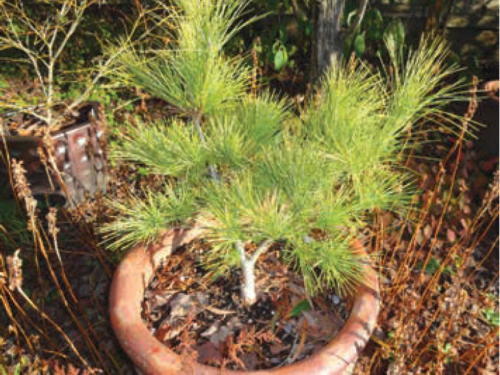 Another favorite is Abies pinsapo 'Aurea' for its stiff, tightly woven needles, blue-green below and yellow at the tips. Especially in winter, this fir is eye-popping and as architectural as a piece of sculpture. Another conifer intriguing for its texture, Chamaecyparis obtusa 'Tsatsumi Gold' has threadlike foliage, glittering with gold.
More varieties of Chamaecyparis obtusa followed, like 'Nana Lutea,' 'Sunny Swirl,' and 'Melody.' These three need at least partial shade, for their needles burned in full sun. 'Butterball' is especially sensitive and needs full shade to be happy.
'Butterball' led me down the path of globe-shaped dwarf conifers, and before long I had acquired Chamaecyparis pisifera 'Spaan's Cannonball', 'Cream Ball', and 'Silver Lode'. These three ball-shaped conifers make a quirky group which tickles me every time I pass by it.
"Threadleaf", or Sawara false-cypress, is less costly than most dwarf conifers, so I'm more likely to spring for it impulsively. Since the first three were so affordable I splurged on a larger Thuja occidentalis 'Linesville', aka 'Mr. Bowling Ball'. I admit that like 'Louie', it might have been its name which grabbed me.

Final Thoughts on Gardening with Evergreens
Sometimes I must have a conifer to evoke a scene from the past. Years ago, on a freezing winter day, my father and I drove over to Wave Hill, as was our tradition when I visited him in New York, regardless of the weather. I stood in front of a mature Pinus wallichiana 'Zebrina' in a trance of delight, mesmerized by the shimmering tree with striped needles. I don't really have the right place for one in the ground, so I bought one for yet another container.

My father has passed on some years ago, but 'Zebrina' lives on in my garden. As it glimmers in the winter light, memories of our many visits to Wave Hill come flooding back, especially the pleasure of that one winter day.
This article was originally published in the Summer 2016 issue of Conifer Quarterly. Join the American Conifer Society to access our extensive library of conifer-related articles and connect to a nationwide group of plant lovers! Become a member for only $40 a year and get discounts with our growing list of participating nurseries in our Nursery Discount Program.
Comments
What a wonderful article. I understand how conifers can transport you and how some call your name for a while before finally coming home. My dad is the only person I know who will nerd out with me on conifers. He is in love with the Chief Joseph Pinus contorta. I know I'll get one eventually, but sticker shock is always an issue. They're also sporadically available. I just started a new border that's full of lots of little dwarf conifers and am trying to mix in some peonies and other herbaceous perennials. I'm hoping that planting them all as babies will help them get along. If anyone has tried this, I would love to hear how it went.