Growing Conifers in Hot and Humid Climates
Follow a Raleighite's adventure in growing his conifer garden.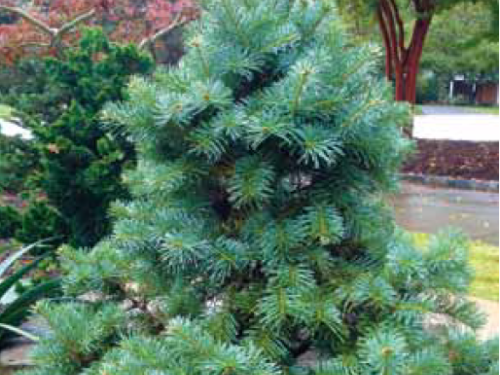 According to conventional wisdom, the only fir which will grow in North Carolina outside of the mountains is Abies firma. Conventional wisdom also suggests that Abies firma is not a particularly attractive tree. About eight years ago, however, as I was trying to establish the most attractive landscape possible, it was clear that I needed to include Abies plants, if possible, and I could not find evidence, anecdotal or otherwise, which would verify these myths.
Therefore, I decided to give it a go and, in 2007, began planting every Abies species I could get a hold of which I thought might have a chance in our hot, humid climate. In 2008, I began finding Abies grafted onto Abies firma and nordmanniana and I bought almost as many as I could find over the years. My interest in growing Abies has also led me to other notable gardens in the area where firs are growing. Thus, I now have gathered quite a bit of anecdotal experience about growing Abies in central North Carolina. The purpose of this article is to share my experience, to open up more discussion and trialing of Abies, and to motivate more growers to graft firs on Abies firma rootstock.
Conifer Growing Challenges in the Southeast
Raleigh certainly does not seem like a great place to grow firs. The soil is the traditional southern red mud: slick when wet, hard as a brick when dry, and drains poorly all the time. The weather is hot and humid, and the summers are long. We typically get long stretches, up to six weeks, during the summer, when the low temperatures do not dip below the low 70's. It is not rare to have months where the highs stay in the upper 90's to over 100. Summers usually last for four months with hot temperatures beginning no later than mid-May and lasting through mid-September. This climate is certainly not the cool dry mountain habitat where I think of firs thriving.
Nonetheless, the allure of firs is strong. No other genus offers the same bright green soft foliage with the sparkling silver undersides of the needles. Keteleeria comes close, but can't rival the beauty of Abies with its perfectly symmetrical form and tiered layers of branches. Then Abies offers so many spectacular cultivars with weeping and pendulous forms and a broad range of green, yellow and blue hues. The cones of many firs are also particularly noteworthy; most have fragrant needles (when crushed); and some even have fantastic bark (e.g. Abies squamata). The desire to grow Abies is probably obvious to any member of the American Conifer Society.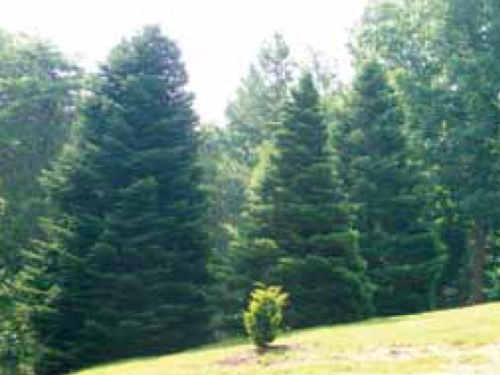 Preparing for a Conifer Garden in a Hot and Humid Climate
Despite the climate and soil challenges, I remain surprised that there is not more available information about growing firs in the Southeast. There is a strong horticultural tradition in North Carolina with the mountains' Christmas tree industry and particularly in Raleigh, the home of North Carolina State University. The late NC State horticultural professor, JC Raulston, is credited with originating the idea of grafting firs onto Abies firma rootstock, but it is still extremely difficult to find even first-year grafts available for purchase in Raleigh or elsewhere in the Southeast.
Eight years ago, even with limitless information and sharing of ideas on the Internet, I could find no specific information about the survival of any fir other than Abies firma. Even today, Tom Cox and John Ruter's recent excellent book, Landscaping with Conifers and Gingko for the Southeast, is the only publication I am aware of which discusses growing this genus with any degree of thoughtfulness.
My story begins in the spring of 2005 when my wife, two small kids and I moved to Raleigh for my work. After moving five times in nine years, we wanted to find our long-term home. We bought a house near downtown Raleigh on just under a half-acre lot which was covered in loblolly pines which had been haphazardly scattered across the backyard. These trees were messy, unattractive (in this setting) and their placement made it hard to throw balls and play games with the kids, and, as a result, we had them removed before we moved in August of 2005.

Starting a Conifer Garden in the Southeast
I immediately went about correcting this insult to Mother Nature by planting trees in more suitable positions in my yard and did as much research as I could to find the best and most beautiful trees possible. The Internet was quite helpful, and I also discovered Michael Dirr's Manual of Woody Landscape Plants in 2005. I read it cover to cover and searched long and hard to find trees like Emmenopterys henryi, Davidia involucrata, Stewartia monodelpha, and Cornus controversa 'Variegata.' In 2005, since I had a long timeline, I was willing to start with some small trees, but I wasn't willing to take much risk on a tree's survival. For the first several years of my yard, I did not include conifers since I was under the impression they would not do well.
In 2007, my family (now three kids) took a walk through nearby Duke Gardens. I was particularly impressed with a pendulous form of Picea omorika as well as a specimen of Sequoia sempervirens 'Henderson Blue,' and the "game" in my yard suddenly changed. During the next several years, my "yard" transitioned to a "garden" as I included conifers. Other factors were also coming into play. My plants required quite a bit of water, and we were in the middle of a severe drought. Restrictions on irrigation were instituted in Raleigh, and, as a necessity, I had a well drilled in our yard so that I could irrigate as much as needed (all my woody plants are on drip irrigation).
I also realized that these conifers, with which I had been fascinated, would benefit from better drainage. I began bringing in the first of what would be hundreds of cubic yards of specially mixed topsoil with 30% PermaTill to simulate Rocky Mountain soil the best I could. My wife was really patient with me as we seemed continually to have piles of topsoil in our driveway for a couple of years so that I could make elevated planting beds. The kids loved to climb these alluvial hills, spreading dirt everywhere, including inside the house. Finally, in 2010, my wife and I added a covered porch to the back of our house so that we could enjoy our "garden" (she still calls it our yard). I took the occasion of this renovation project to have stacked stone walls added to border the elevated beds and also to create stone walkways which would wander around the yard. Thus, a reasonably good setting for conifers was created.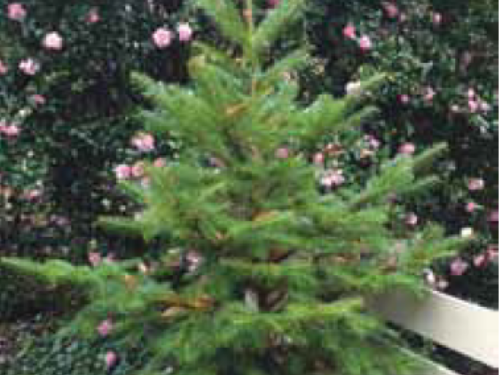 Sourcing Conifer Seedlings from Warmer Regions
In 2007, I began ordering seedlings of firs from China and the Mediterranean region, since these areas seemed to have heat similar to ours. Most of these species seemed pretty obscure, and I thought it was possible that they had not been grown here before. I did realize that JC Raulston had access to just about every plant in the world, but thought it was possible that he may have gotten distracted from experimenting with Abies. As mentioned above, I could certainly find no record or person who remembered his growing some of these obscure species.
When my first Abies plants arrived, it turned out that some had been grafted (Abies nebrodensis, Abies cilicica) presumably onto Abies balsamea root-stock. I also bought an Abies koreana 'Horstmanns Silberlocke,' beautifully grown in a three gallon container from a reputable grower, but likely grafted onto Abies balsamea, as well. Each of these "heat tolerant" firs which had been grafted were dead by late June of 2007—consistent with conventional wisdom! I also bought Abies bornmuelleriana, Abies x borisii-regis, Abies cephalonica, Abies homolepis, Abies koreana, Abies numidica, Abies chensiensis, Abies fabri, Abies delavayi, all of which eventually died.
During this period I also bought seedlings of Abies firma, Abies recurvata var. ernestii, Abies pindrow, Abies holophylla, and, a year later, Abies nordmanniana, all of which remain alive and appear to be quite healthy. I did lose an Abies nordmanniana and I also chose to remove a living Abies sachalinensis var. mayriana. It was a beautiful little tree, but it appeared to be struggling while my other seedlings appeared to be thriving. Impatience compelled me to yank it out after it had survived five summers. It also helped that I had one grafted onto Abies firma rootstock.
Success Stories from a Conifer Garden in the Southeast
Over the last 7 years, I have been able to make some observations about these plants. I realize that my experiment with these firs is far from scientific. First of all, I bought only one of most of these firs, and I also had to rely on the seller for their true identity (it's hard for me to distinguish young specimen of Abies cephalonica from Abies holophylla). The planting conditions also varied in terms of sun exposure, drainage and watering. Thus, my comments on these individual species are anecdotal.
Nonetheless I am particularly impressed by Abies recurvata and Abies holophylla. Both are growing vigorously and have added almost 1' of growth each of the last two years. The Abies recurvata is particularly impressive since it was not planted in particularly special soil, and its root zone has definitely extended into the native North Carolina clay. However, I'm not convinced that either of these plants offers much which visually distinguish it from Abies firma, but it is possible the whiter undersides of the Abies holophylla needles may make it more attractive. I have seen several very attractive older specimens of Abies holophylla at the Arnold Arboretum in Boston. Abies firma grows quite well for me and I find it can be a very attractive tree.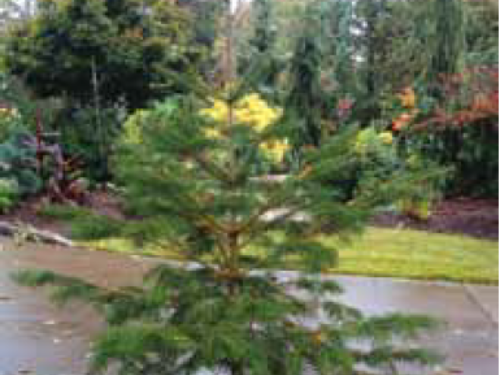 I have read observations that it is more "open-growing" than other firs, and that the course needles are unattractive. In Raleigh, we are fortunate to have quite a few mature Abies firma trees planted around town and most have beautifully tiered dark green layered branches. While I also prefer the firs with shorter, softer fragrant needles with white undersides, from a distance, large healthy Abies firma specimen are gorgeous conifers. Abies nordmanniana and Abies bornmuelleriana seem to be borderline here in Raleigh.
There are some large specimens of Abies nordmanniana about 30 miles northeast of Raleigh in Hillsborough NC, and Tony Avent is growing a beautiful specimen (about fifteen years old) of Abies bornmuelleriana at Juniper Level Botanical Gardens at his Plant Delights horticultural nursery about 15 miles southeast of Raleigh. I think these two species are particularly beautiful, but I have not had the greatest success with them. My one living Abies nordmanniana lost its leader last year, but still grew about 5" this year. It looks quite healthy, but I'm not confident that it's thriving yet.
On the other hand, I am excited about the prospects of Abies pindrow. I bought one of these in the fall of 2007 and thought it was so attractive that I bought another the following spring. The long light-green, soft needles are beautiful, and the branches are pendulous with up-growing tips. They are native to what I'm told is a very wet part of western China. So far, our moisture hasn't seemed to bother them as both of my seedlings seem to be quite healthy. I have one tree in mostly sun, and another in almost full shade, and both seem to be reasonably full in appearance. There does seem to be a question about the cold hardiness, but mine survived 8°F this past winter, and the specimen at the Arnold Arboretum in Boston is very healthy and has been growing for at least ten years.
Lessons Learned from a Heat-Tolerant Conifer Garden
While I was buying seedlings in 2007, I was also trying to find grafted firs which might survive our heat. Since firs grafted onto Abies firma rootstock were so scarce, I experimented with other rootstock. I bought quite a few on Abies nordmanniana rootstock. Three of my most beautiful firs are grafted onto Abies nordmanniana rootstock. I have four firs which have survived at least six summers in my yard. My Abies magnifica 'Nana' is probably the biggest surprise. This western North American fir is not one I would expect to do well here, but is full, colorful and grows at its expected rate of 3"– 4" per year.
My Abies nebrodensis x umbellata ((Abies homolepis x firma) x nebrodensis) certainly should be heat tolerant given its parentage and has not disappointed. It is almost 6' tall, has the most luxuriant soft blunt dark green needles with bright silver undersides and grows 6"– 8" a year. Similarly, my Abies pinsapo 'Glauca,' which was bought as a 2' 6" B&B plant in spring of 2009 looks great, grew 12" last year, and is now about 5' tall. Unfortunately, I have had more failures than successes on Abies nordmanniana rootstock, even with plants which should be heat tolerant.
I have lost three Abies koreana 'Horstmanns Silberlocke', an Abies koreana 'Aurea,' an Abies pinsapo 'Aurea,' an Abies numidica and an Abies concolor 'Blue Cloak' I thought would take our heat. I even bought several firs grafted onto Abies koreana rootstock. This reputable grower suggested that drainage was the key to success and that the Korean fir rootstock was heat tolerant. I planted all of them in perfectly draining soil, but all were dead by mid June of the year I received them. To their defense, however, these plants were all dwarfs which have also proven to be challenging even on Abies firma.
Text and photographs by Harrison Tuttle.

This article was originally published in the Winter 2015 issue of Conifer Quarterly. Join the American Conifer Society to access our extensive library of conifer-related articles and connect to a nationwide group of plant lovers! Become a member for only $40 a year and get discounts with our growing list of participating nurseries in our Nursery Discount Program.
Comments
I have a Christmas tree farm in Miner Bluff GA minutes from Western NC and southeastern TN. I am attempting to grow Canaan firs, but I would like to grow grafted firs on momi rootstock or any albies stock that is hardy. My elevation is between 1650' on my top field and 1400' on the bottom. Please direct me to where I can get grafted nursery stock. I just joined the conifer society.