Fighting Conifer and Evergreen Insect Pests
Get to know the common invasive species in conifers: the hemlock woolly adelgid and Asian longhorned beetle.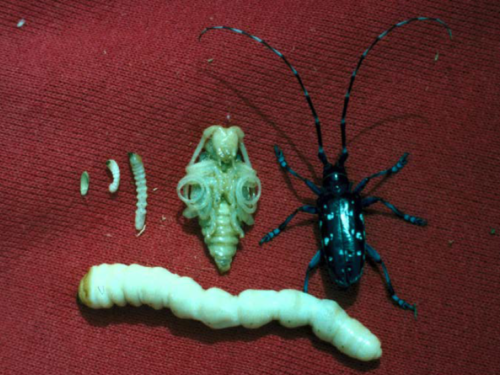 In the 2017 Fall Issue of Conifer Quarterly, we looked at the threat invasive species pose to our environment and some of the economic costs. We also discussed our experience with some invasive species, and the importance of early detection if we are going to be successful in controlling, suppressing or, preferably, eliminating new invasive species. This article focuses on two invasive species that can affect a very large geographic area of North America.
The Hemlock Woolly Adelgid (HWA)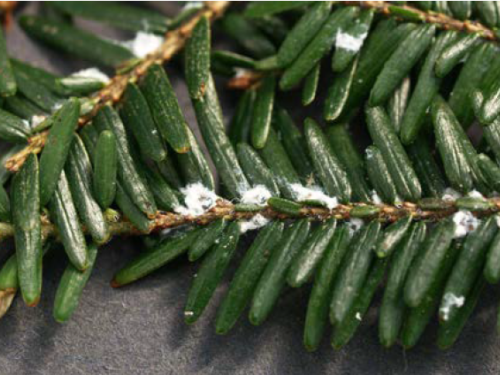 Hemlock woolly adelgid (Adelges tsugae) was first reported in the eastern U.S., in Virginia in the 1950's. Feeding on the sap of hemlocks, HWA increases in numbers until the health of the tree declines, the needles drop, and the tree dies. This can take as little as two years.
The range of HWA is now Maine to South Carolina and west into Ohio, Pennsylvania, Kentucky and Tennessee, with an expansion rate of about 15 miles per year. Both northern hemlock (Tsuga canadensis) and Carolina hemlock (Tsuga caroliniana) are preferred hosts for the woolly adelgid, which has now killed tens of thousands of trees. In some areas, over 80% of the native hemlocks have been killed.
DNA evidence indicates the HWA found in eastern North America likely came from Japan, not from the western U.S. Hemlock woolly adelgid was first reported on western hemlock (Tsuga heteropyhlla) in the 1920's. Western hemlock and mountain hemlock (Tsuga mertensiana) appear to be resistant to HWA. Some spruces (Picea) of Asian origin are reported to be alternative hosts, but seldom are.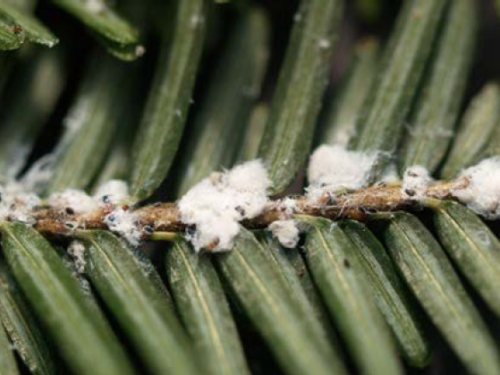 Winter is the best and easiest time of the year to see hemlock woolly adelgid. Simply look at the base of the needles, where they meet the twig, for the distinctive white tufts. If you are monitoring in mature forests with large hemlock trees, binoculars can be helpful. If you are in an area that does not have an established population, and you discover HWA, please take photos and inform your state Department of Agriculture, the Sentinel Plant Network, or the National Plant Diagnostic Network.
In many areas, hemlocks are under quarantine and cannot be moved unless certified to be adelgid-free. Please respect such quarantines and prevent the more rapid distribution of hemlock woolly adelgid.

The Asian Longhorned Beetle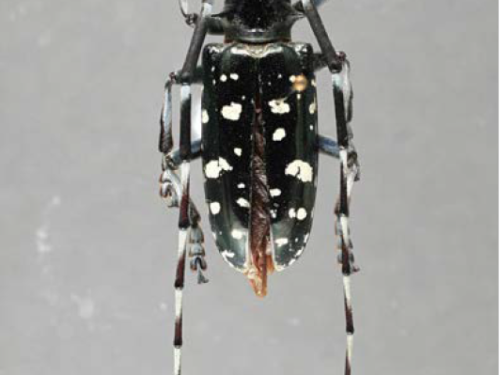 Asian longhorned beetle (Anoplophora glabripennis) is a more recent introduction to North America, first identified in the U.S. in 1996. Asian longhorned beetle has been discovered and suppressed many times in areas including Chicago, Illinois, New York City, Cincinnati, Ohio, Boston, Massachusetts, and New Jersey. The introduction of ALB is usually associated with solid wood packing materials from Asia, and the beetle can be moved in logs, firewood, and other wood products.
Asian longhorned beetle attacks at least 18 species of hardwood trees, including maple, birch, horse chestnut, poplar, willow, elm, ash, and black locust, with maples the preferred host. ALB attacks both stressed and healthy trees. Tree mortality is the most readily identifiable symptom, but bark cracks and branch dieback usually are apparent before death.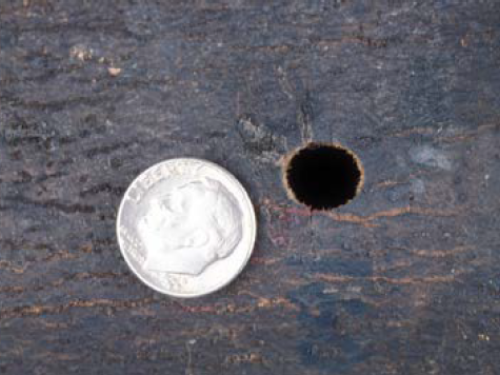 Female adult ALB lay eggs in divots they chew in the bark. Larvae develop in the sapwood and then move into heartwood where they mature into adults. The sapwood feeding interferes with xylem and phloem transport of the host trees, eventually resulting in the death of individual branches or the entire tree.
Emerging adults leave distinctive holes about 3/8 inch in diameter, a little larger than the diameter of a pencil. Exit holes can be virtually anywhere on the tree and can number in the hundreds. The adults emerge usually between June and October. While seldom seen unless the host tree is cut, larvae are yellowish-white grubs of up to 2 3/8 inches long and of up to 3/8 inch wide.
Adults beetles are very large, from one inch to one and one-half inches long and have banded black and white antennae at least as long as their bodies, and usually longer. The body is shiny-black with white spots. In some regions of North America, there are other borers that can look similar. Capturing an adult and providing it to the National Plant Diagnostic Network is the best way to affirm its identity.
Fighting Conifer Insect Pests as a Community
You can help in monitoring for invasive insects by being aware of what is happening in your garden. If you see something that looks suspicious, take a photo and then contact a Sentinel Plant Network member garden for help in identifying the insect or disease. The USDA provides additional information, educational modules and trainings at https://firstdetector.org/.
To learn more about either hemlock woolly adelgid or Asian longhorned beetle, please call any of the Sentinel Plant Network member gardens of the American Public Garden Association, or visit www.bugwood.org.

Click here to learn how to control conifer pests, or here to read more about other conifer pests like the parasitic wasp and the Siberian silk moth.
The Center for Invasive Species and Ecosystem Health at the University of Georgia provided much of the information for this article.

This article was originally published in the Winter 2018 issue of Conifer Quarterly. Join the American Conifer Society to access our extensive library of conifer-related articles and connect to a nationwide group of plant lovers! Become a member for only $40 a year and get discounts with our growing list of participating nurseries in our Nursery Discount Program.
Comments