Featured Conifer -Taxodium distichum at Moore Farms Botanical Gardens
Text and photographs (except as noted) by Leanne Kenealy, former production coordinator at Moore Farms
Right now, the bald cypress is dropping its leaves in swamps of southern Illinois at the same time that one of their submerged knees is knocking against the side of a kayak in south Florida. It's native to areas of southeastern Texas, all the way north to Delaware. Regardless of its four season aesthetics, the story of this ancient deciduous conifer and its wide native range should be enough to sell anyone on this plant. We hope to join a very small group of people conducting research on this species, and hopefully this results in a broader appreciation for this beautiful plant.
When describing the ideal location for a thriving bald cypress (Taxodium distichum), one would also be describing the climate and conditions of Moore Farms Botanical Garden. Located in coastal South Carolina, frequent periods of flooding following heavy dry spells, accompanied by high heat and humidity, make Taxodium one of our most content inhabitants. The multiple iconic displays of bald cypress at Moore Farms Botanical Garden led me to the same appreciation as the rest of the staff for the potential and variation of this tree. This variation among cultivars quickly became a central theme of my tours and one of the primary reasons for starting an official collection of Taxodium distichum at the garden.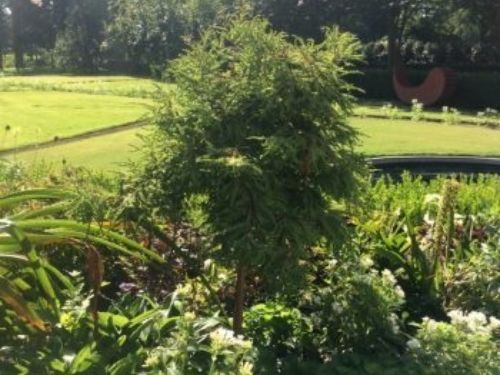 We decided to collect as many cultivars as possible and place each one in a designated location to conduct side by side comparisons. We also decided that grafting would be our best method of increasing our collection. Although rooting Taxodium cuttings is possible, there is a lot of disparity in rooting percentages based on each tree's cultivar and age. Bud wood also stays viable for much longer than cutting wood, and with the high quantity of buds on Taxodium, less is needed to start several new grafts.
I've always loved grafting, but what little experience I had was limited to chip budding and T-budding on peach trees. That was until February of 2015 when I drove to Raleigh and met with Pat McCracken, an old friend of the garden and an extremely talented grower, who agreed to show me how to do side veneer grafts on Taxodium. While we sat on folding chairs in one of his greenhouses, his dog darting through rows of potted plants, he told me that he wouldn't show me how to do the second cut of the graft until I got the first one right 100 times in a row. I sat struggling while he flew through Japanese maple grafts (far more difficult than Taxodium), until he graciously taught me the second cut. He sent me home with bud wood from every Taxodium in his collection and one of the most gratifying and valuable skills I'll ever have.
That winter I grafted 250 Taxodiums—52 different variations in total. The surprise I felt at my own success might have been equal to that of the rest of the horticulture staff, some of whom had been taking bets on my union percentages. Those grafts are now 5 gallon trees in the nursery. Although this is still a very young collection, we're excited to make comparisons and create protocols for cultivar evaluation in the near future.
Here are some of our favorites:
As far as dwarfs go, 'Gee Wizz' has been a phenomenal performer. Coming from witches broom at Michigan State, this slow growing mound of a bald cypress has been very uniform and compact in its growth habit.
We've had many other gardens and institutions contribute to our collections, either through donation or classical horticultural bartering. Dr. David Creech at Stephen F. Austin has been extremely generous with his plant material and, even more importantly, his knowledge of the species. He's traveled all over the world learning about Taxodium, and took the time to come visit Moore Farms Botanical Garden and our collection. One of his new selections, 'Banita', has one of the best displays of fall color I've seen on a Taxodium.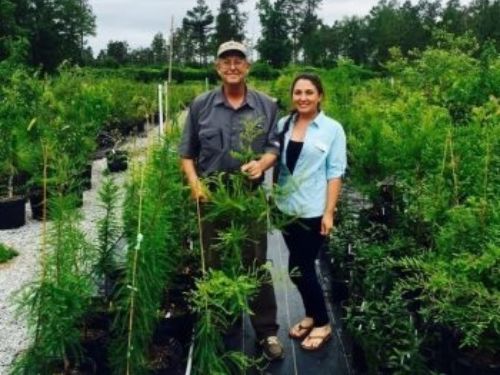 'Cascade Falls' isn't a new variety, but one that has become a landmark at our garden. We have trained them up our fire tower to create a more romantic display to juxtapose the angular and metallic tower.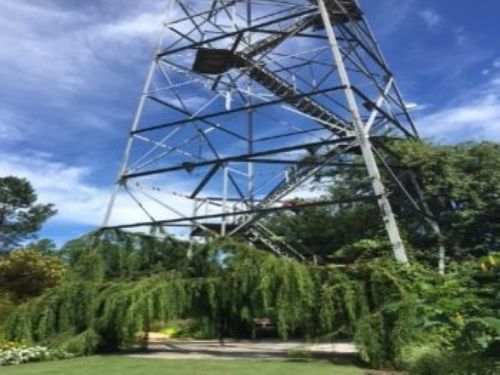 'Peve Yellow' is a brilliant display of the bright chartreuse color that Taxodium can have, but ours display the malleability of this tree. We limb and shear them twice a year to create a hedge, and where most trees would show some distress, these seem to get brighter and more vigorous each year.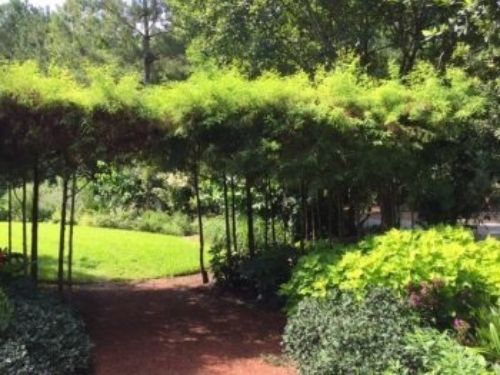 We hope our collection will encourage others to consider Taxodium in all of its different forms and functions. The collection here at Moore Farms Botanical Garden is still very young, but eventually our side-by-side comparisons can be a tool for monitoring different characteristics and growth habits, potentially creating more commercial demand for this stunning native tree.
About the Author: Leanne Kenealy is the Production Coordinator at Moore Farms Botanical Garden and has worked there for two and a half years. Originally from Jupiter Florida, she fell in love with the plants of the Carolinas during her time at Clemson University where she earned a MS in Plant and Environmental Science.
Excerpt from the September 2016 Southeastern Conifer Quarterly. Gain access to archives of past newsletters and the National Conifer Quarterly by becoming a member of the American Conifer Society.
Comments