Featured Conifer - Cunninghamia lanceolata
Text and photographs by Bradley Roberts, Brookgreen Gardens, Murrells Inlet, South Carolina
When we talk about conifers for the Southeast, we have to include
Cunninghamia lanceolata
. This giant of the landscape holds a special place in the realm of southern gardening, as it has historic significance as a "southern heritage" tree. It is commonly found growing around old homesteads and cemeteries throughout the southern United States.
Cunninghamia lanceolata, commonly called China fir, is an evergreen conifer that is native to areas of China, Taiwan, and Vietnam where it can reach heights up to 150 feet (50 m) tall. In cultivation, it commonly grows 35 to 70 feet (10 - 20 m) tall. It tends to sucker and often grows in a multi-trunked form with sharply-pointed, (specific epithet means spear-shaped) finely-toothed foliage. The green to blue-green needles grow up to 2.75 inch (7 cm) long. Foliage may bronze in cold winters. China fir displays oval to globose fruiting cones 1.5 inches (3.75 cm) in diameter that appear in small groups of 1 to 3 at the shoot ends. The brown bark of mature trees exfoliates in strips to reveal reddish-brown inner bark. This is a prized timber tree in China, named after James Cunninghame (died ca. 1709) who was a surgeon for the East India Company in Amoy, China.
Best grown in moist, acidic, well-drained soils in part shade to full sun and hardy in USDA Zones 7 to 9, China fir will experience foliar damage in extreme winters, and its use is questionable north of Washington D.C. Branches killed by winter should be promptly pruned out. Cunninghamia lanceolata 'Glauca', an attractive blue form, reportedly has better winter hardiness (to -10°F / -23°C). In warm winter climates, China fir can develop into a beautiful tree. Its sheer size and uniqueness of texture make it a compliment to the landscape if given enough space to flourish.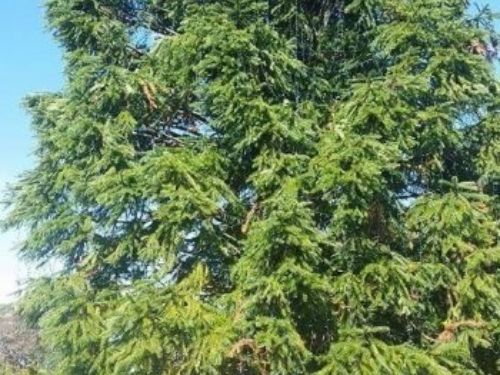 An amazing specimen of Cunninghamia lanceolata is on display in the arboretum of Brookgreen Gardens in Murrells Inlet, South Carolina. This gigantic tree is over 80 feet (25 m) tall, and was planted in 1968 by horticulturist and garden director Gurdon L. Tarbox. This significant specimen has served as a landmark over the years. During the holiday season, it is decorated with lights to become the focal point of Brookgreen's holiday spectacular, Nights of a Thousand Candles (NOTC). Jon McGann, Horticulturist and NOTC Exhibits Supervisor, Brookgreen Gardens, says, "This year our China fir is decorated with 130,000 white and colored LED lights. It took four of our horticulturists 10 days, with four lifts, to complete this project. This tree has become a symbol for Nights of a Thousand Candles and the holiday season throughout our area." For more information about Brookgreen Gardens and Nights of a Thousand Candles please visit www.Brookgreen.org.
Excerpt from the December 2016 Southeastern Conifer Quarterly. Gain access to archives of past newsletters and the National Conifer Quarterly by becoming a member of the American Conifer Society.
Comments