Conifer Fasciation with Cryptomeria japonica 'Cristata'
Learn about the unique phenomenon of conifer cresting.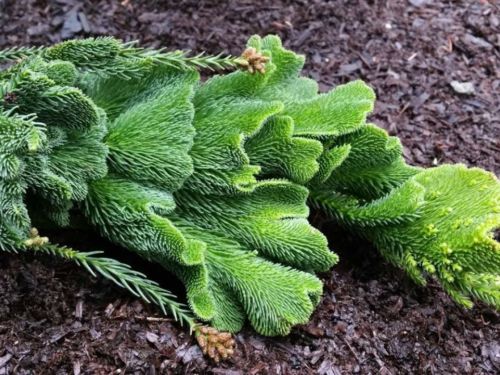 Dan Gurney submitted the photo of 'Cristata' to the Conifer Quarterly. You would agree that it is most intriguing. When I looked up Cryptomeria japonica 'Cristata' (cristate Japanese cedar) in the ACS conifer database, what I found spurred me to investigate the possible reasons for this phenomenon, known as cristation, or fasciation.
The cultivar name 'Cristata' comes from the Latin adjective cristatus which, in turn, is related to fasciate. The noun, fasciation, describes the banded or bundled growth at the tips of the branches of a plant. Cristate means having a crest-shape, like the cockscomb on the head of a rooster.
Scientists believe that cristation, or fasciation, results in the tip of the branch growing outward, rather than growing farther along the stem. They attribute this fan-shaped growth to hormonal imbalance, insects, diseases, or physical injury to the plant.
A Natural Occurrence in Conifers
The strange growth is most likely caused by phytoplasma, which are bacterial parasites of the phloem tissue and of the insect vectors involved in plant-to-plant transmissions. The fan-shaped protuberance appears on many genera of plants: cacti, roses, and beefsteak tomatoes, to name but a few.

As a consequence, since cristation is a cellular deviation, it may be the result of a genetic predisposition inherent in the plant, which causes division of growth and consequently that characteristic spreading-out at the tip of the branch. It would be interesting to hear from you, the membership, on this subject. In the meantime, a Google search will yield an array of beautiful pictures of plants with fasciation and cristation.
A Hidden Conifer Gem in Woodinville
Dan Gurney reported that this particular cristate Japanese cedar is 50–60 years old and 50-feet tall. It has been growing in Woodinville, Washington, 20 miles northeast of Seattle at the JM Cellars Winery of Peggy and John Bigelow. The previous owners of the winery, Jan and Smitty Smith, were conifer collectors.
In the ACS conifer database, one can see an excellent closeup of the cockscomb-like growth on a 'Cristata' specimen at the Cox Arboretum and Gardens in Canton, Georgia.
Photograph by Dan Gurney.
Dan Gurney is co-owner of Gardening Artist with his wife, Mary Warren. They reside in Seattle.
This article was originally published in the Spring 2019 issue of Conifer Quarterly. Join the American Conifer Society to access our extensive library of conifer-related articles and connect to a nationwide group of plant lovers! Become a member for only $40 a year and get discounts with our growing list of participating nurseries in our Nursery Discount Program.
Comments