Fairy Gardens, with Conifers!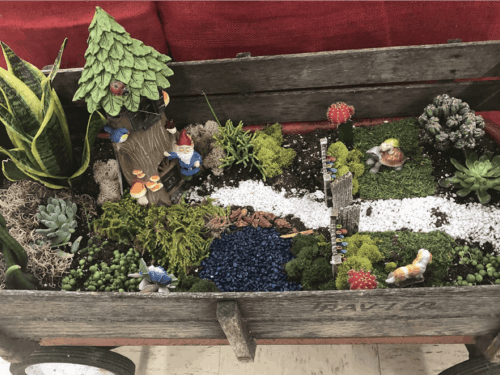 Fairy Gardens, with Conifers!
Text Elden Wheaton Photography Ron Elardo
With little fanfare, a new form of gardening has been rapidly gaining ground. Extensive displays of miniature figurines, furniture, and tiny plants, all sold at nurseries, are the telltale elements found in what are known as fairy gardens. They are popping up mostly as indoor gardens and containers, set outside during warm weather in garden beds, or simply maintained in homes and on porches. They meet the need for wanting a garden without having the space or time for a large one. Then there's the whole cuteness of creating and playing in your own tiny, secret garden, decorated with things like furnishings and accouterments of dollhouses.

At our local nursery in Adrian, MI, the phenomenon has added new kinds of plants, too, many of which are conifers. I have been creating small garden bowls with little conifer forests in them for quite some time. Lately, little conifers have started catching on at our fairy garden classes. Enthusiasts have added conifers among their tchotchkes, /choch-kees/ (Yiddish for a small object, a trinket). The result is a personal expression of one's imagination, like a bridge to a castle nestled in the woods, or a witch's hut secluded in the shadow of trees, waiting for Hänsel and Gretel.

The tchotchkes represent anything you can think of; the sky's the limit. Figurines include gnomes, fairies, animals, and seasonal characters like Santa Claus. A Halloween scene might include scary ghouls and goblins. You can find them all, either online or at your local nursery. Check out the Internet, too. You'll be surprised what you'll find when you Google "fairy gardens". DYI fairy garden ideas will pop up. Stores selling tchotchkes are relatively easy to find. North of Adrian, in Brighton, MI, there is a Fairy Garden Super Store. Suppliers will ship supplies free with certain orders. Also, magazines run how-to articles on fairy gardens. It's dizzying.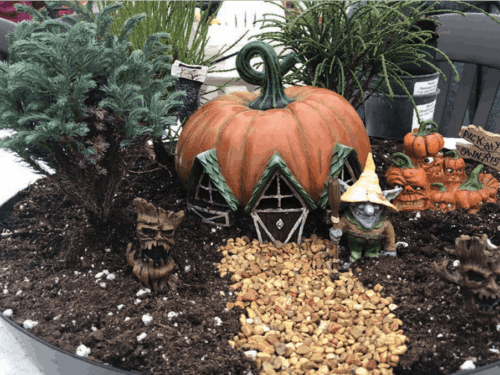 Fairy gardens are very easy to create and manage. So, let's start with some basic elements:
• You will need a container, something colorful with an interesting shape, but not too deep, to house the garden.
• The soil medium needs to be the kind that holds moisture and allows for good drainage.
• For the planting medium, mix peat, sand, fine basic compost, topsoil in equal amounts, and a handful of horticultural-grade charcoal pieces for improved drainage and moisture retention.
• Save the medium mixture in an airtight container for future gardens.
Now for the conifers.
Any small conifers will work. These will be "baby" conifers that, when planted in the garden, can reach mature heights of 35 feet or taller. One of your jobs with these conifers will be to keep them small. Over time, you will find that the little trees will look mature even though they are kept tiny. Trunks and branches will thicken and give your plants a look of being old. You may even find your trees resembling bonsai. There is ample online information on pruning and keeping miniature trees little, including the tools to do it. I prefer using spruces like Picea mariana 'Blue Planet' (Blue Planet black spruce), Picea glauca var. albertiana 'Elf' (Elf dwarf Alberta spruce), 'Pixie' (Pixie dwarf Alberta spruce), and 'Pixie Dust' (Pixie Dust Alberta spruce), but any conifer genera will do. Just start with small specimens, no more than six inches tall. Next, the plants have to be prepped for planting in a semi-shallow container of no more than 12 inches deep.
It's best to clean the rootballs of their original planting soil. Snip the root tips just a little bit, so that they will be stimulated to grow and grip the new planting medium. That way the roots will begin to spread out and multiply. Gently dig a small place for each plant. Once installed, gently press down the soil around the conifer. Next, use a small cooking baster or eyedropper to water the plants. Like all containerized plants, your new garden should never be allowed to dry out, at least not during the growing seasons (spring, summer, and fall). Use a water probe to know when to water.
During the growing seasons, the fairy garden will need fertilizer. Osmocote 15-9-7 is the best formula. I mix a teaspoon full of fertilizer with water in a bowl for easy application. Just remember that less is better. Too many plant parents think they need to overfeed their babies. Also, pay attention to sun requirements that will depend on the numbers and kinds of plants you install. Most conifers like full sun. However, remember that plants in small containers need to be protected from the sun's hot, direct rays. Some fairy garden practitioners place their miniature gardens here and there under trees and other plantings in the garden to create surprises.
In Winter, your fairy garden will require more moderate light and minimal watering. If the rootballs freeze, stop watering until spring comes, and the rootballs thaw. Garages with windows are good places to overwinter your conifer fairy garden(s). Attached, unheated garages rarely reach freezing temperatures. Three-season porches are good storage places, too. I say "gardens" because, once you do one, you will want to do more. At a recent fairy garden workshop, one participant created her 24th fairy garden to join all those already housed throughout her home! She was not alone in having a collection of fairy gardens. One definitely leads to several.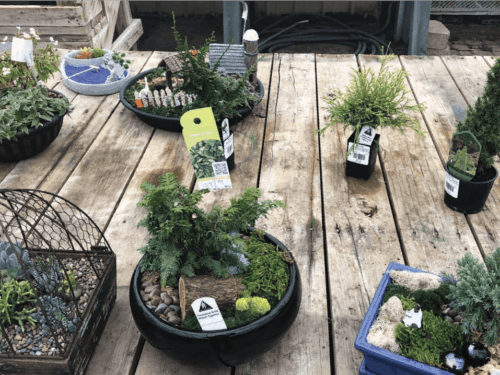 Other living elements can be added to complement the conifers. Natural moss can be the lawn. Varieties of small hostas, sedum, and other ground cover perennials can also simulate a lawn. Hillside effects are fun to create, in order to enhance further a three-dimensional landscape. Small-sized gravel and wood chips can duplicate pathways, while stones can mimic rocks and outcroppings, even mountains. Once you have decided on the physical landscape, it's time to add things like wells, houses, fences, figurines, or whatever else you can find. Even ponds can be simulated with pieces of blue or green plastic.
Fairy gardens are not just for older gardeners. Parents and grandparents have shared the fun with children, who, in turn, exhibit a genuine love for tiny gardening. Children take to it easily and reveal their own flair for the fantastical. In Adrian, containerized conifer classes have been held for children at our city library, private homes, and nursery schools. Children regularly accompany family members to fairy garden classes at our nursery. They like building and tending their own gardens.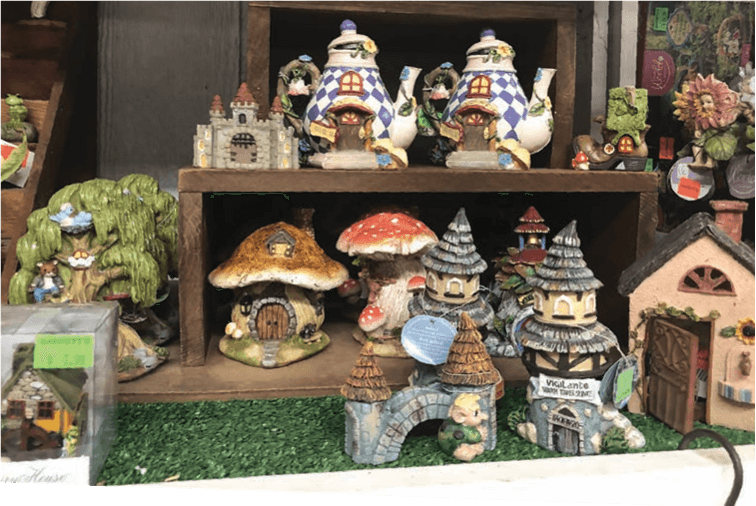 ACS members will be gratified to know that conifers have now become part of this activity. Who knows? Maybe the youngsters creating fairy gardens today might be planting full-sized conifers in their gardens tomorrow and might even be joining the American Conifer Society. Whatever the age, fairy gardens are showing up all over. They're fun to create and they bring joy to their owners.
Elden Wheaton is nursery manager at Barrett's Nursery and Landscaping in Adrian, MI. He is a certified landscape designer, educated at Michigan State University.
Comments