Exciting New Conifers of Northern Vietnam
By Scott McMahan, Manager of International Plant Exploration, Atlanta Botanical Garden
I have had the pleasure of botanizing in many areas of southeast Asia over the past 20 years, but few places have provided such botanical surprises as northern Vietnam. Most people would probably guess that the climate throughout Vietnam is tropical and for the most part, that is correct. However, the steep karst mountains that make up the border between China and Vietnam are home to the tallest mountain in Indochina—Fan Xi Pan—topping out at 10,312 feet (3,143 m) above sea level. Hidden within these mountains, one may find plants ranging from alpine to subtropical, but the area that I am most interested in is the remarkably diverse temperate zone, found somewhere in between.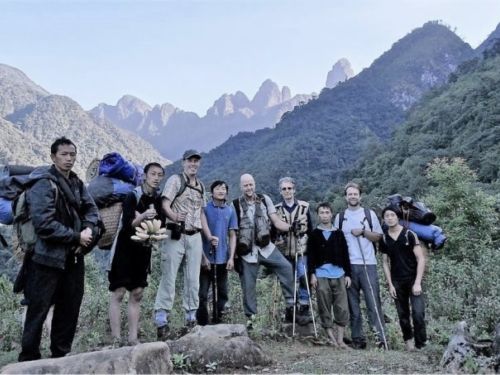 In the fall of 2013, I helped plan yet another return trip to a few very interesting spots in Vietnam along the Chinese border with my usual traveling mates—Dan Hinkley (Heronswood Garden), Ozzie Johnson (Atlanta Botanical Garden), and Andrew Bunting (Chicago Botanical Garden). We began our trip by exploring an area called Five Fingers that, except for a few hunting trails, was virtually unexplored, at least by westerners. The botanizing in this area was so enthralling that we really didn't notice that our "guide" hadn't the faintest idea where we were or which way to proceed after the first couple of days. We decided to follow the treacherously steep river gorge, imagining that it would lead to civilization, which it eventually did. However, during the course of the day trying to get out, two of our party became dangerously exhausted and dehydrated, which was exacerbated by a snafu with our lighter the day before, leaving us without any way to purify any of the water that surrounded us. Let alone the fact that we hardly had enough food for the planned excursion, this extra time in the woods left us with virtually nothing to eat.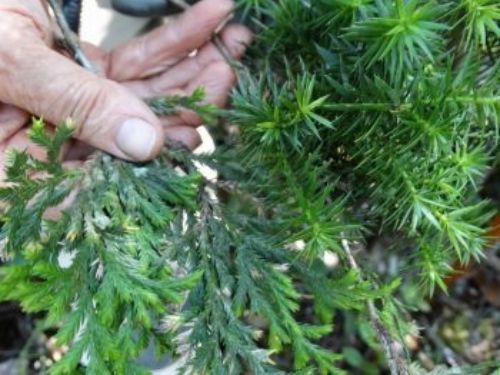 It is times like these that truly bring to light the fact that plant exploring isn't always as "romantic" as it sounds. The first excursion of the trip was becoming less fun and more dangerous by the minute, but we finally made it out the following day and were met by a small army of locals who had formed a search party to come hunting for us. They had food and water, so we sat in the middle of the road and gorged ourselves until we could hardly move.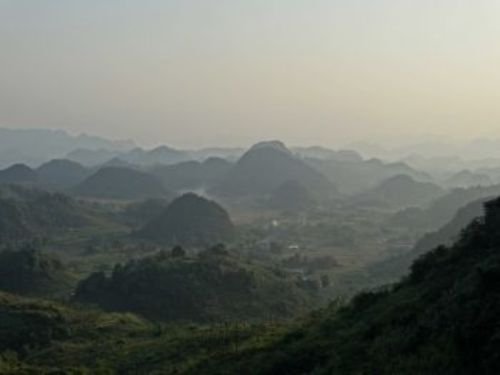 The next day we all awoke extremely sore and stiff from the Death March we had just endured. Rather than go out on another trek immediately, we decided to get in the jeep and head to the northeast to give our muscles a rest for the day, to look for the exceptionally rare Vietnamese Golden Cypress (Cupressus vietnamensis). We spent the next day and a half bouncing along dirt roads through sweltering lowlands, but we finally arrived at a remote town in Ha Giang province. That evening, we planned our route and, early the next morning, we set off. Since we had decided to take LONG day hikes in this area and stay at the one hotel in town, we could travel light and with a very small group, allowing us to cover a lot of ground in a day. Since we were only at about 6,000 feet (2,000 m) elevation, the temperature was much warmer than it had been on Five Fingers, and the humidity was stifling during the heat of the day. By lunchtime, we had reached an area on the ridge where the forest began to thicken. In an effort to get just a little higher to get a better lay of the land, Dan suggested we climb a small knoll to have lunch. We did just that, and as we began to take our packs off, we noticed, right on top of this little limestone knoll, a scraggly but surviving Cupressus — the only one we would find on this trip. Not only is this tree a relatively new species, it is also in peril since there are only 560 individuals known to exist on just 10 square kilometers of habitat. This indicates that the genetic diversity is quite low, which does not bode well for the long term survivability of the species. Interestingly, we found the cypress growing with Mahonia, Aucuba, and several species of terrestrial and epiphytic orchids. We spotted the main goal of our trip fairly quickly, but none of us were ready to make the long return journey just yet, so we carried on in that area for several days and eventually found an equally rare species called Amentotaxus hatuyensis. This tree has great potential for introduction, but conservation measures must first be put in place as there are only 250 mature individuals known to still exist. The resinous, long lasting timber makes both Amentotaxus and Cupressus vietnamensis a favorite for building materials, but soon there will be none left, if the current rate of destruction continues.
Now, several years later, I have just returned from my 6th trip to Vietnam this past April. We are now working with a team from the University of British Columbia and the Vietnam Academy of Science in an effort to formalize the conservation of a few of these highly diverse areas that are under siege. With some luck, the next couple of years will see positive changes in the habitats that surround these sensitive areas.
Text and Photos by Scott McMahan, Manager of International Plant Exploration, The Atlanta Botanical Garden
Excerpt from the June 2017 Southeastern Conifer Quarterly. Gain access to archives of past newsletters and the National Conifer Quarterly by becoming a member of the American Conifer Society.
Comments