The Endangered Vietnamese Golden Cypress
Learn more about the newest golden cypress that was discovered in Vietnam.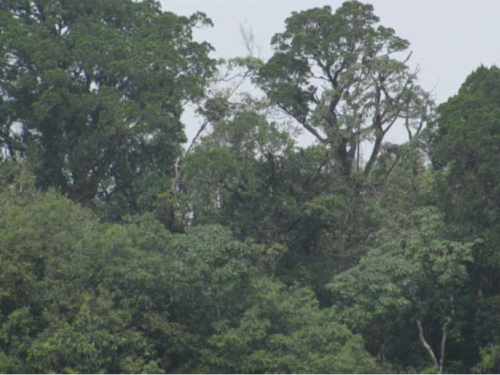 In 2008 Chris Reynolds, Curator of the Bedgebury National Pinetum in Kent, and Dan Luscombe, Assistant Curator, traveled to Vietnam as part of Fauna and Flora International's Global Trees Campaign, which works to save threatened trees from extinction.*
Bedgebury is the world's leading conifer collection, managed by the Forestry Commission. The task of Dan and Chris was to offer advice and expertise to the Centre for Plant Conservation (CPC) in Hanoi on measures to conserve five rare and highly endangered conifer species, all of which have been seriously affected by logging, habitat loss, and are likely to be further threatened by climate change.
A New Member of the Conifer Family
Among these endangered trees was the Vietnamese golden cypress, Cupressus vietnamensis (previously known as Xanthocyparis vietnamensis), which in 1999 became the world's most recently discovered conifer genus. Its predecessor was Australia's Wollemi pine in 1994. Only three or four new conifer species have been discovered in the last fifty years.
Basing themselves at the Bat Dai Son Nature Reserve in northern Vietnam and accompanied by staff from CPC, Chris and Dan scaled the remote limestone karst mountains to where the few known golden yellow cypresses grow. Fewer than 500 individual trees are known in two small pockets, making it a very high priority for conservation.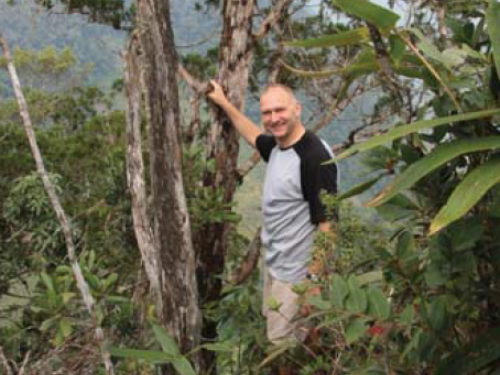 A Golden Cypress in Trouble
Field surveys by CPC, supported by the Global Trees Campaign, had established that low reproduction in the wild was one of the problems facing the species; and, attempts by the CPC to produce seedlings in a special tree nursery at Bat Dai Son to supplement the wild population had met with very limited success.
In 2009, Matt Parratt from the Alice Holt Forest Research Centre in Surrey made a follow-up trip to Vietnam to try and establish why the Vietnamese golden cypress was not reproducing from seed. He was available to advise on the optimum time to collect seed from the species and on identifying which cones might potentially provide viable seed.
During the following year, Nguyen Quang Hieu from CPC visited Bedgebury Pinetum with seed from the golden cypress. Using x-ray equipment from Alice Holt, they identified which seeds appeared to contain embryos. These were sown in seed trays in the nursery at Bedgebury in May 2011.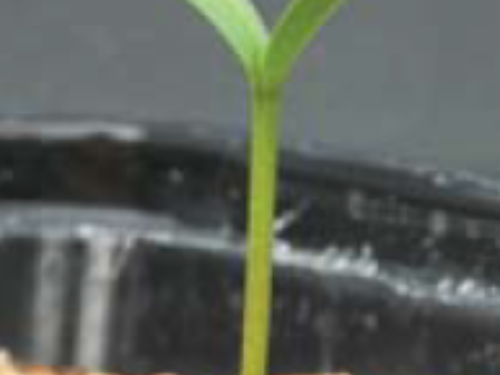 Sprouting Hope for the Golden Cypress
So far, fourteen seedlings have germinated, for the first time outside Vietnam. In addition, these are the only surviving seedlings in captivity anywhere in the world. In four years time they will hopefully mature enough to be planted out in the Pinetum, joining nine other golden cypresses grown from cuttings donated by the Royal Botanic Gardens Edinburgh and planted in 2005.
They are also the first ever planted outside Vietnam. Despite the much colder British climate, these specimens are doing well. The lessons learned on how to germinate and grow these rare trees from seed will be shared with CPC in Vietnam to enable them to produce seedlings to reinforce populations in Vietnam and support conservation of the species in the wild.
While the successful germination was taking place, CPC staff discovered a new stand of just fourteen golden cypresses in northern Vietnam. Although most of them were dead or badly damaged, one surviving tree stood 20 meters tall (60'), with a diameter of 1.2m, making it the largest specimen yet discovered. Seed from this new population has been collected by the CPC staff, and the Bedgebury team hopes to raise seedlings from it, in order to increase the genetic diversity of this endangered species.
*The Global Trees Campaign, a joint initiative between Fauna and Flora International (FFI) and Botanic Gardens Conservation International (BGCI) works to secure the future of the world's threatened tree species and their benefits for humans and the wider environment. In addition to working to save rare conifers in Vietnam, the Global Trees Campaign and its local partners are also saving baobabs in Madagascar, magnolias in China and other highly threatened trees around the world. See www.globaltrees.org.
Text and photographs by Dan Luscombe and Chris Reynolds.
This article was originally published in the Spring 2012 issue of Conifer Quarterly. Join the American Conifer Society to access our extensive library of conifer-related articles and connect to a nationwide group of plant lovers! Become a member for only $40 a year and get discounts with our growing list of participating nurseries in our Nursery Discount Program.
Comments